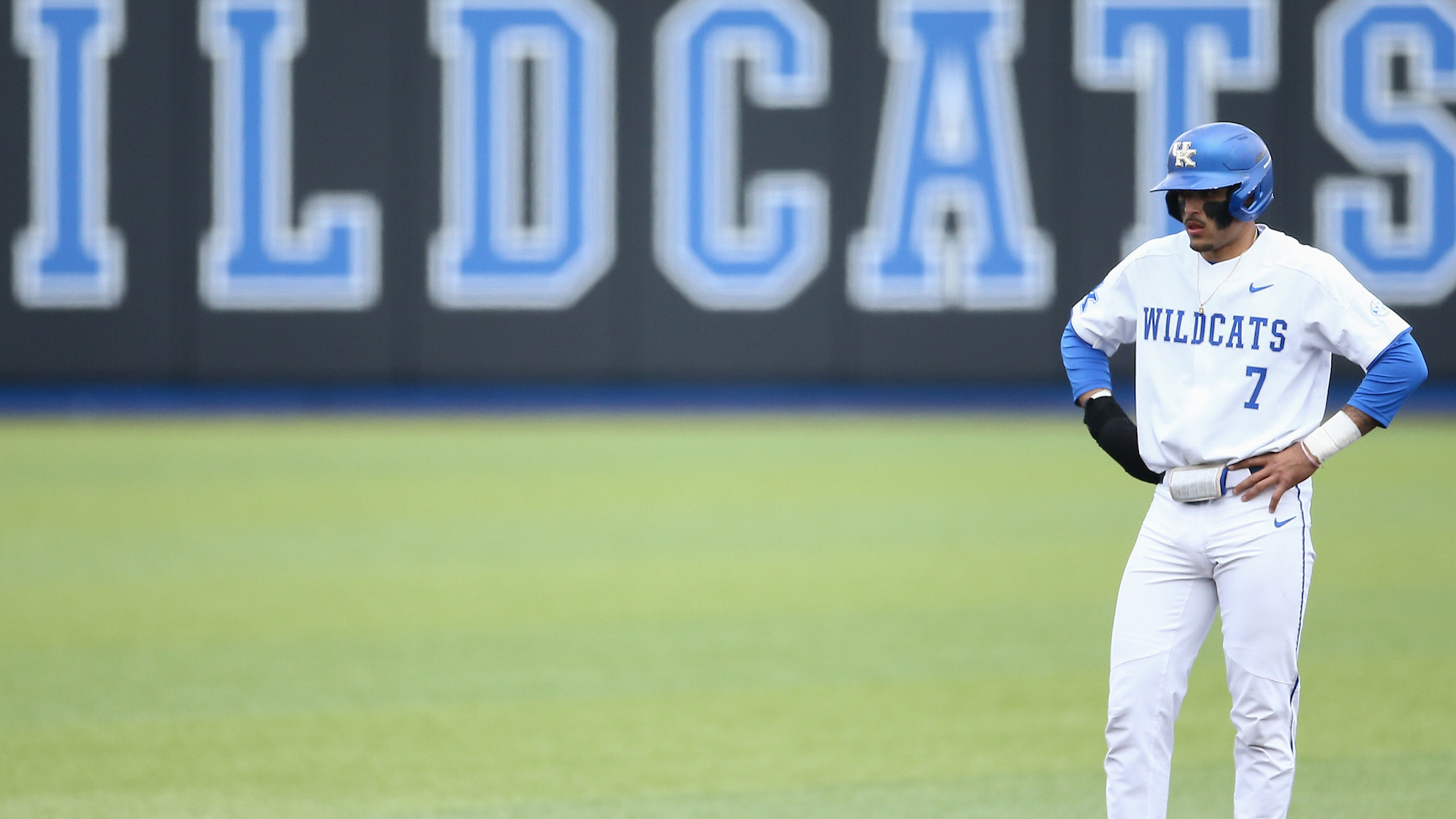 Kentucky Baseball set an all-time single-game school attendance record but were unable to provide the fireworks the Kentucky Proud Park crowd was hoping for in a 7-0 loss to No. 21 Louisville, the Wildcats' first midweek defeat in 10 outings this season.
A crowd of 5,292 showed up on a picture-perfect night to see a pitchers' duel through six innings before the Cardinals broke it open with a three-run seventh.
Kentucky native Travis Smith was electric in a career-high 5.0 innings, striking out eight. The lone blemish was a home run by Jack Payton that hit the top of the centerfield fence just out of the reach of Jackson Gray and caromed over onto the concourse.
Offensively, the Wildcats (30-10) hit the ball hard throughout the evening but saw the Cardinals' defense track down nearly everything. The bright spot was Gray reaching base safely in all four of his plate appearances (single, three walks) for the second consecutive game.
NOTES
UK set an all-time single-game attendance record with 5,292 fans on Tuesday night
UK Coach Nick Mingione is in his seventh season at the helm and now owns a 206-139 career record.

Kentucky is 128-39 in non-conference games under Coach Mingione.
Mingione is 92-46 at Kentucky Proud Park.
UK is 9-1 this season in midweek games.
UK is 19-3 in non-conference games this season.
UK is 49-51 in the month of April under Coach Mingione.
Mingione now is 3-9 vs. Louisville.

UK is 6-4 this season vs. ranked opponents.
Outfielder Jackson Gray went 1-for-1 with three walks.

He has a season-high nine-game hit streak.
He is now 9-of-14 in his last five games.
He has reached base safely in eight consecutive plate appearances (HR, 1B, BB, 3B, 1B, BB, BB, BB).

The last UK player to do that was T.J. Collett in April 2021.

Outfielder Nolan McCarthy has reached safely in 19 straight games.
Pitcher Travis Smith allowed one run and in a career-high 5.0 innings.

He struck out a career-high eight batters.
He threw a career-high 76 pitches.
 ON DECK
Kentucky travels to No. 5 Vanderbilt on Friday at 7 p.m. ET.  The radio call will be on the UK Sports Network (630 AM WLAP, locally) and it will be streamed on the SEC Network+.