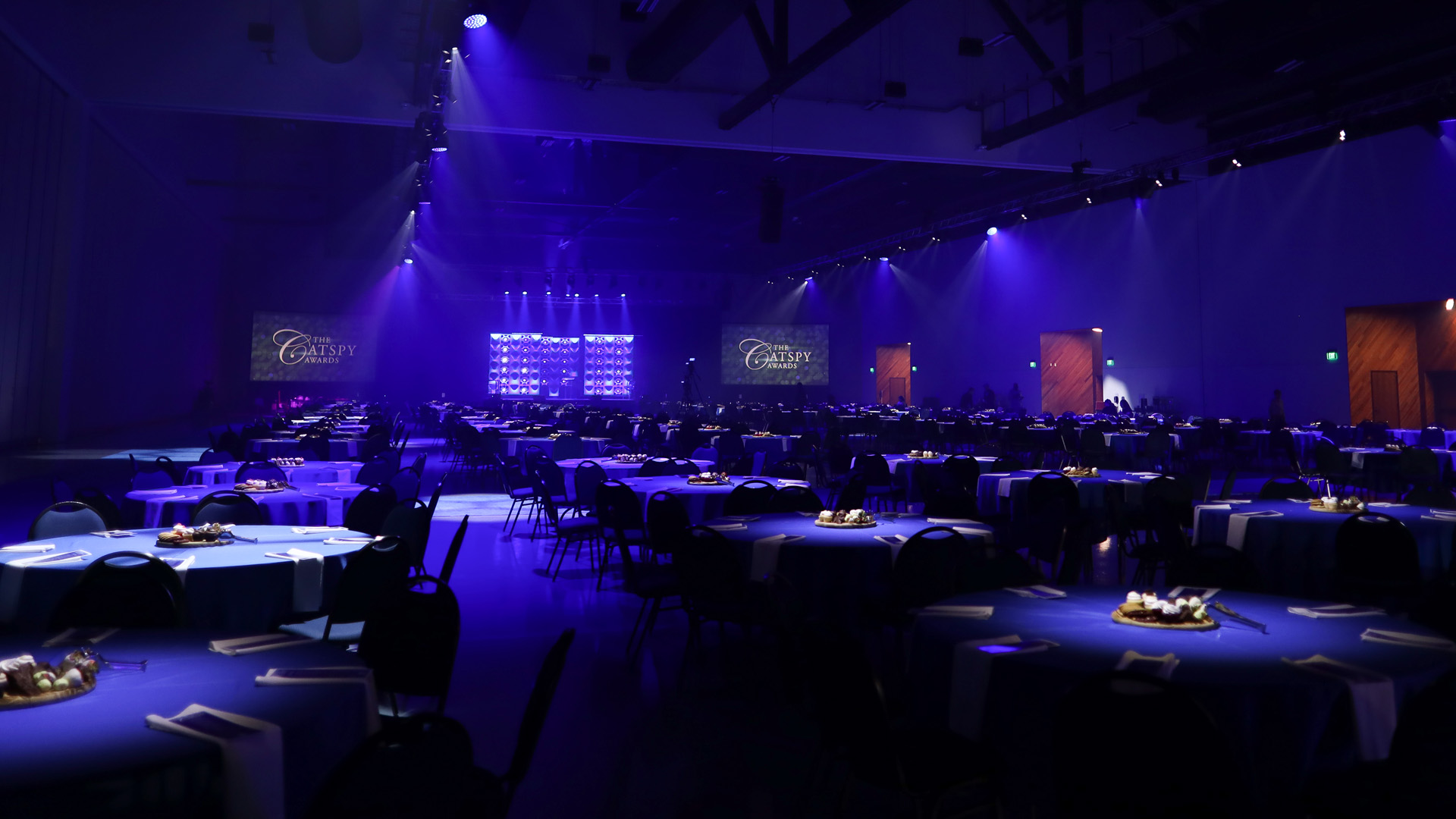 LEXINGTON, Ky. – The 21st annual CATSPY Awards were held Monday at the Central Bank Center to recognize athletic and academic performances during the 2022-23 year in the University of Kentucky Athletics Department. With multiple winners in some categories, 44 individuals were recognized as well as eight teams. The 2023 CATSPY Awards cover accomplishments earned from April 2022 through April 2023.
Headlining the awards were the Teams of the Year – volleyball, rifle, men's tennis, men's soccer, gymnastics and women's track and field.
Meeting and exceeding expectations was a theme for Wildcat squads during the year. Kentucky volleyball won its sixth-straight Southeastern Conference Championship, while UK rifle won the Great American Rifle Conference regular-season title for the fourth year in a row. The rifle team earned an NCAA podium finish, while volleyball advanced out of the Lexington Regional to the Sweet 16 of the NCAA Tournament.
Men's tennis and men's soccer put together some of the most memorable runs in UK Athletics history last year. Cedric Kauffmann's team has made the SEC Tournament Championship finals each of the last two years, bringing home the trophy this year in dramatic fashion. The championship, which was won just yesterday, was the first for the program since 1992. Last year, men's tennis proved it was one of the nation's best with a run to the NCAA Tournament Championship, earning a program-record finish as runner-up. Men's soccer put together an undefeated regular season en route to a Sun Belt regular season and tournament championship, while advancing to the NCAA Tournament Sweet 16.
Gymnastics and women's track and field capped off the team of the year honors after record-breaking seasons. Gymnastics finished in a program-tying sixth at the NCAA Championships, a program-tying fourth at the SEC Championships and one of three teams in the nation that scored 49 or higher on every event in every meet. Women's track and field rewrote the record book finishing third at the 2022 NCAA Outdoor Championships, tying the school record for most points scored at the event. The 4×400 relay team set a collegiate record and took home the event crown, while Abby Steiner stole the show with a 200-meter individual title in collegiate-record time.
The Female Athlete of the Year award was given to Steiner, who shared the award last year with WNBA superstar Rhyne Howard. On top of the 4×400 gold, Steiner won the 200-meter dash at the outdoor national championships, holding a collegiate record. Men's tennis star Liam Draxl was named the Male Athlete of the Year after another incredible season at No. 1 singles for the Wildcats, helping UK earn a win over No. 1 Virginia, advance to the semifinals of the ITA National Indoor Championships and earn the 2023 SEC Tournament Championship.
The success of the 2022 spring sports propelled UK to a school-record ninth-place finish in the final 2022 NACDA Directors' Cup national all-sports standings.
The Mr. And Miss Wildcat awards – dedicated in honor of the late Bruno Agostinelli, a UK men's tennis All-American and past Mr. Wildcat winner – are presented to Wildcats who have represented all-around excellence in athletics, academics, character and service during their Kentucky careers. Eli Cox from football was named Mr. Wildcat for 2022-23, while Miss Wildcat went to women's track and field star Masai Russell, swimmer Kaitlynn Wheeler, Kayla Kowalik of softball and Raena Worley of gymnastics.
Men's golf and women's swimming and diving were the Academic Teams of the Year. Four Wildcats – Kaitlin DeGuzman of gymnastics, Aaron Withrow of track and field/cross country and Lauren Poole and Caitlin Brooks of women's swimming and diving – earned Scholar-Athletes of the Year while maintaining career grade-point averages of 4.0.
Awards reflecting dedication and perseverance are the Blue Heart Award and Heart of a Wildcat. Blair Green of women's basketball, CJ Fredrick from men's basketball, Trevin Wallace from football and gymnastics' Kaitlin DeGuzman and Bailey Bunn won the Blue Heart Award for overcoming injuries to return to action and make significant contributions to their teams. Heart of a Wildcat went to Wendell and Vickie Bell for their unwavering support and dedication to UK Athletics and its student-athletes.
A total of 16 Wildcats were recognized with the Elite Performance Award that highlighted outstanding plays, moments and performances of the past year. A list of those honorees is below.
Christi Thomas of the UK Sports Network was the host of this year's event.
A complete list of awards is below:
Community Service Award
Kenneth Horsey, Football
Tori Orcutt, Women's Swimming and Diving
Scholar-Athletes of the Year
Kaitlin DeGuzman, Gymnastics
Lauren Poole, Women's Swimming and Diving
Caitlin Brooks, Women's Swimming and Diving
Aaron Withrow, Men's Cross Country
Academic Teams of the Year
Women's Swimming and Diving
Men's Golf
Bill Keightley Assist Award
JT Orem, Women's Basketball
Clay Ferguson, Men's Basketball (Athletic Training)
Callie Blandford, Swimming and Diving
Maigan Willams, Track and Field
Heart of a Wildcat
Wendell and Vickie Bell
Mike Lyden Courage Award
Chris Oats
Scratch Award
Ellie Eades, Women's Tennis
Makenzie Wilson, Gymnastics
Heman Nama, Men's Tennis
Supporting Role
Maddie Berezowitz, Volleyball
Antonio Reeves, Men's Basketball
Marissa Wenzler, Women's Golf
Alex Degen, Baseball
Female Newcomer of the Year
Sofia Ceccarello, Rifle
Male Newcomer of the Year
Casper Mols, Men's Soccer
Levi Sandidge, Men's Swimming and Diving
Jordan Anthony, Men's Track and Field
Deone Walker, Football
Blue Heart Award
Blair Green, Women's Basketball
Trevin Wallace, Football
Kaitlin DeGuzman, Gymnastics
Bailey Bunn, Gymnastics
CJ Fredrick, Men's Basketball
Female Athlete of the Year
Abby Steiner, Women's Track and Field
Male Athlete of the Year
Liam Draxl, Men's Tennis
Elite Performance Award
Ellie Eades, women's tennis – Clinching point in Kentucky's upset vs. South Carolina, advancing UK to the quarterfinals of the SEC Women's Tennis Tournament
Azhani Tealer, volleyball – Set new school record for blocks assists with 13 vs. South Carolina
Stephanie Schoonover, softball – No-hitter vs. top-25 ranked North Texas with a school-record 18 strikeouts
Raena Worley, gymnastics – Second-highest all-around score in school history at NCAA Regionals with a 39.775
Sofia Ceccarello, rifle – Won gold at GARC Championships with a career-high tying 599 in air rifle
Abby Steiner, women's track and field – 2022 NCAA Outdoor Champion in 200-meter dash, holding collegiate record
Masai Russell, women's track and field – Set collegiate record this season in 100-meter hurdles and finished second at NCAA Indoor Championships in 60-meter hurdles
Karimah Davis, Dajour Miles, Abby Steiner, Alexis Holmes, women's track and field – Broke the collegiate record in 4X400 relay en route to SEC gold
Oscar Tshiebwe, men's basketball – First Wildcat with 35-points, 20-rebound game since 1976 (37pts/24rebs vs. UGA)
Chris Rodriguez, Jr., football – 31 carries for 197 yards and two touchdowns in win over No. 16 Mississippi State
Taha Baadi, men's tennis – Come-from-behind, third-set tiebreaking victory helped UK defeat No. 1 Virginia
Levi Sandidge, men's swimming and diving – First UK swimmer since 2006 to earn gold at SEC Championships, winning 1650 freestyle
Keaton Daniel, men's track and field – SEC outdoor pole vault champion in 2022 and indoor pole vault champion in 2023
Alex Goff, men's golf – Finished second individually at the 2023 SEC Men's Golf Championship
Teams of the Year
Men's Tennis – NCAA National Runners-Up, SEC Tournament Champions
Gymnastics – NCAA National Semifinals, No. 6 Final Ranking
Rifle – Third Place, NCAA Championships, Great America Rifle Conference Regular-Season Champions
Men's Soccer – Sun Belt Regular-Season and Tournament Champions, Undefeated Regular Season, NCAA Tournament Sweet 16
Women's Track and Field – Third Place, NCAA Outdoor Championships
Volleyball – SEC Champion, sixth consecutive season; NCAA Tournament Sweet 16
Mr. Wildcat
Eli Cox, Football
Miss Wildcat
Kayla Kowalik, Softball
Masai Russell, Women's Track and Field
Kaitlynn Wheeler, Women's Swimming and Diving
Raena Worley, Gymnastics
For the latest on Kentucky athletics, follow @UKAthletics on Twitter, Instagram and Facebook, as well as on the web at UKathletics.com.