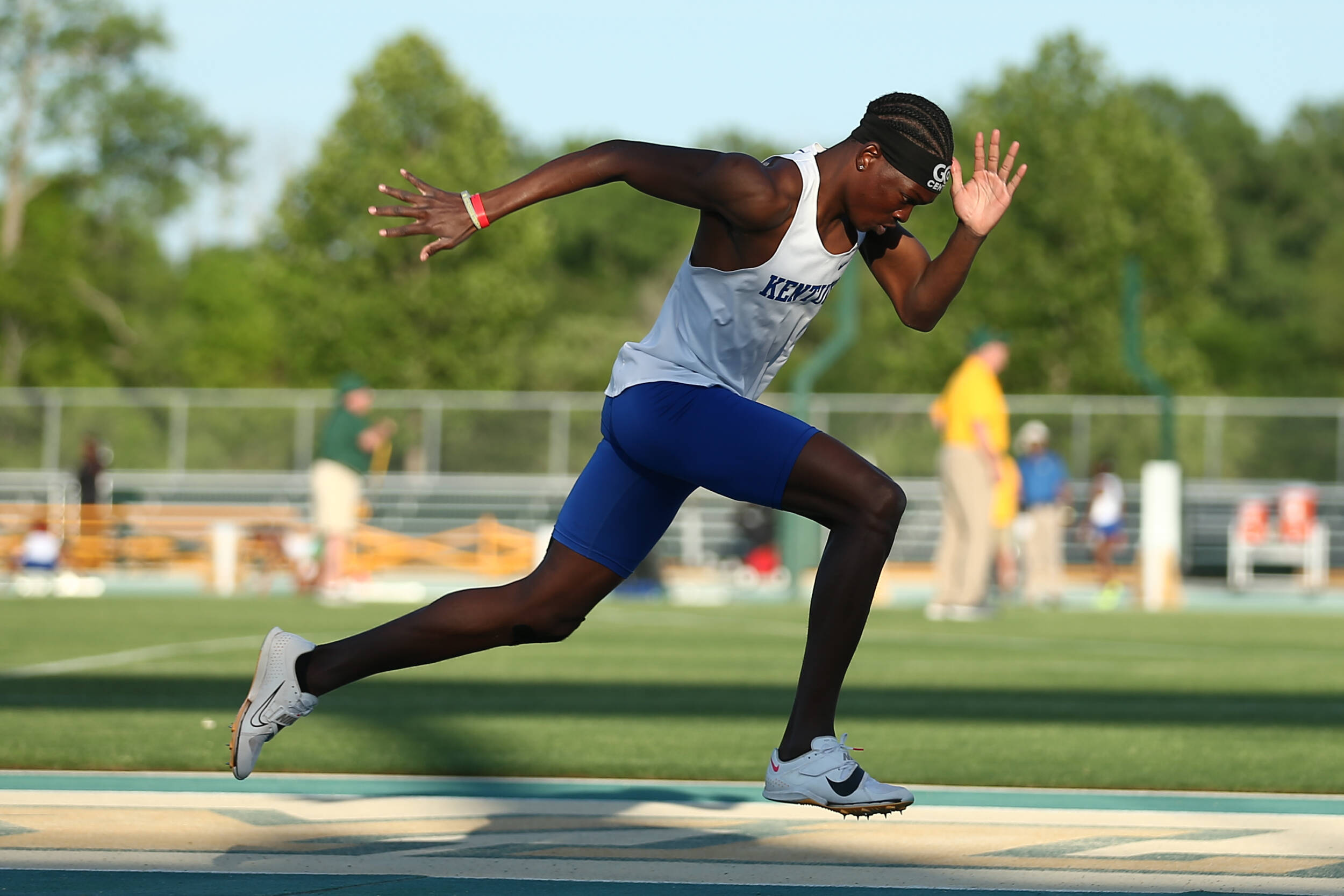 April 22, 2023 - 12:05 AM
Pair of Long Jump Wins Highlight Day One of Michael Johnson Invitational
WACO, Texas — Kentucky track & field saw wins in both the men's and women's long jump competitions this afternoon at the Michael Johnson Invitational hosted by Baylor University at Hart Track & Field Stadium.
Anthaya Charlton and Jordan Turner both earned the only wins of the day for the Wildcats from the field.
After failing on her first two attempts, Charlton hit the winning mark of 20'11.75"/6.39 meters (4.8) on her third try to earn the first win of the day. Turner secured the sweep later in the afternoon, setting the winning mark of 25'0.75"/7.80 meters (1.2) on his second jump. Turner went on to tie his mark on his fourth attempt before passing on his final two attempts.
Personal Bests
Kennedy Lightner placed third overall, first amongst collegiate competitors, in the men's 200 meters with a personal best time of 20.33 (0.2). The time puts Lightner tied for 12th best in the nation and fourth on the UK all-time performers list.
Colleen Branch placed 10th in the women's 200 meters with a personal best time of 23.68 (1.0).
Notables
Payton Phillips took third in the pole vault with a vault of 13'2.25"/4.02 meters.
Beck O'Daniel placed third in the men's 400-meter hurdles with a time of 51.48.
Both Michael Browning and Dennis Ohene-Adu earned top 10 finishes in the men's hammer throw. Browning finished fifth with a throw of 188'8"/57.51 meters while Ohene-Adu placed ninth with a throw of 177'1"/53.98 meters.
Karimah Davis placed sixth in the women's 200 meters with a time of 22.82 (1.8) while Brandon Miller placed ninth in the men's 200 meters with a time of 20.78 (0.2).
Josh Sobota placed sixth in the men's discus throw with a season best throw of 179'2"/54.63 meters.
Follow Kentucky Track and Field and Cross Country on Facebook, Instagram, Twitter, and at UKathletics.com.
Michael Johnson Invitational: Friday, April 21: ALL TIMES IN CENTRAL TIME
Women's Pole Vault
Final
3. Payton Phillips: 13'2.25"/4.02m

T-12. Siobhan Szerencsits: 12'2.50"/3.72m

Men's Hammer Throw
Prelim/Final
5. Michael Browning: 188'8"/57.51m | No. 10 on UK all-time performers list

9. Dennis Ohene-Adu: 177'1"/53.98m

Women's Long Jump
Prelim/Final
1. Anthaya Charlton: 20'11.75"/6.39m (4.8)
Men's Long Jump
Prelim/Final
1. Jordan Turner: 25'0.75"/7.80m (1.2)
Men's Discus Throw
Prelim/Final
6. Josh Sobota: 179'2"/54.63m
Men's 400-Meter Hurdles
Final
3. Beck O'Daniel: 51.48
Women's 200 Meters
Final
6. Karimah Davis: 22.82 (1.8)

10. Colleen Branch: 23.68 (1.0) | PB

11. Victoria Perrow: 23.69 (2.7)

13. Shadajah Ballard: 23.72 (1.8)

18. Tamiia Fuller: 24.01 (1.6)

23. Megan Moss: 24.09 (2.7)

49. Seven Simms: 24.81 (1.4)

Men's 200 Meters
Final
3. Kennedy Lightner: 20.33 (0.2) | PB | No. 4 on the UK all-time performers list

9. Brandon Miller: 20.78 (0.2)

19. Langston Jackson: 21.01 (0.6)

20. Brian Faust: 21.02 (1.0)

35. Wayne Lawrence Jr.: 21.30 (0.9)

44. Myles Anders: 21.41 (0.6)
Michael Johnson Invitational: Saturday, April 22: ALL TIMES IN CENTRAL TIME
Men's Pole Vault
12:00 p.m.
Final
Keaton Daniel

Dalton Shepler

Jacob Sobota

Women's 100-Meter Hurdles
12:00 p.m.
Prelim
Shadajah Ballard: Section 2, Ln 2

Yasmin Brooks: Section 1, Ln 5

Masai Russell: Section 5, Ln 6

Men's Triple Jump
2:30 p.m.
Prelim/Final
Luke Brown
Women's 4×100 Relay
2:30 p.m.
Final
Victoria Perrow, Anthaya Charlton,

Masai Russell, Karimah Davis: Section 2, Ln 5

Men's 4×100 Relay
2:40 p.m.
Final
Kennedy Lightner, Brandon Miller, Langston Jackson, Myles Anders: Section 2, Ln 3
Women's Shot Put
3:00 p.m.
Prelim/Final
Simisola Akinrinsola
Women's 100-Meter Hurdles
3:25 p.m.
Final
Shadajah Ballard

Yasmin Brooks

Masai Russell

Women's 400 Meters
3:50 p.m.
Final
Dajour Miles: Section 5, Ln 3

Mahogany Mobley: Section 2, Ln 6

Christal Mosley: Section 5, Ln 9

Megan Moss

Seven Simms: Section 2, Ln 2

Reynei Wallace: Section 3, Ln 2

Men's 400 Meters
4:15 p.m.
Final
Brian Faust: Section 7, Ln 7

Wayne Lawrence Jr.: Section 8, Ln 6

Brandon Nyandoro: Section 4, Ln 3

Men's Shot Put
4:30 p.m.
Prelim/Final
Dennis Ohene-Adu: Flight 2

Josh Sobota: Flight 2

Women's 100 Meter Dash
4:45 p.m.
Final
Shadajah Ballard: Section 7, Ln 1

Colleen Branch: Section 6, Ln 2

Anthaya Charlton: Section 7, Ln 5

Karimah Davis: Section 7, Ln 3

Tamiia Fuller: Section 6, Ln 8

Victoria Perrow: Section 7, Ln 6

Iantha Wright: Section 6, Ln 5

Men's 100 Meter Dash
5:10 p.m.
Final
Myles Anders: Section 5, Ln 5

Langston Jackson: Section 8, Ln 7

Men's 800 Meters
5:50 p.m.
Final
Justin Swann: Section 4
Women's 4×400 Relay
6:05 p.m.
Final
Karimah Davis, Masai Russell, Megan Moss, Dajour Miles: Section 3, Ln 5

Christal Mosley, Reynei Wallace, Mahogany Mobley, Seven Simms: Section 1, Ln 9

Men's 4×400 Relay
6:25 p.m.
Final
Wayne Lawrence Jr., Brian Faust, Brandon Miller, Kennedy Lightner: Section 3, Ln 5

Justin Swann, Beck O'Daniel, Brandon Nyandoro, Langston Jackson: Section 1, Ln 3