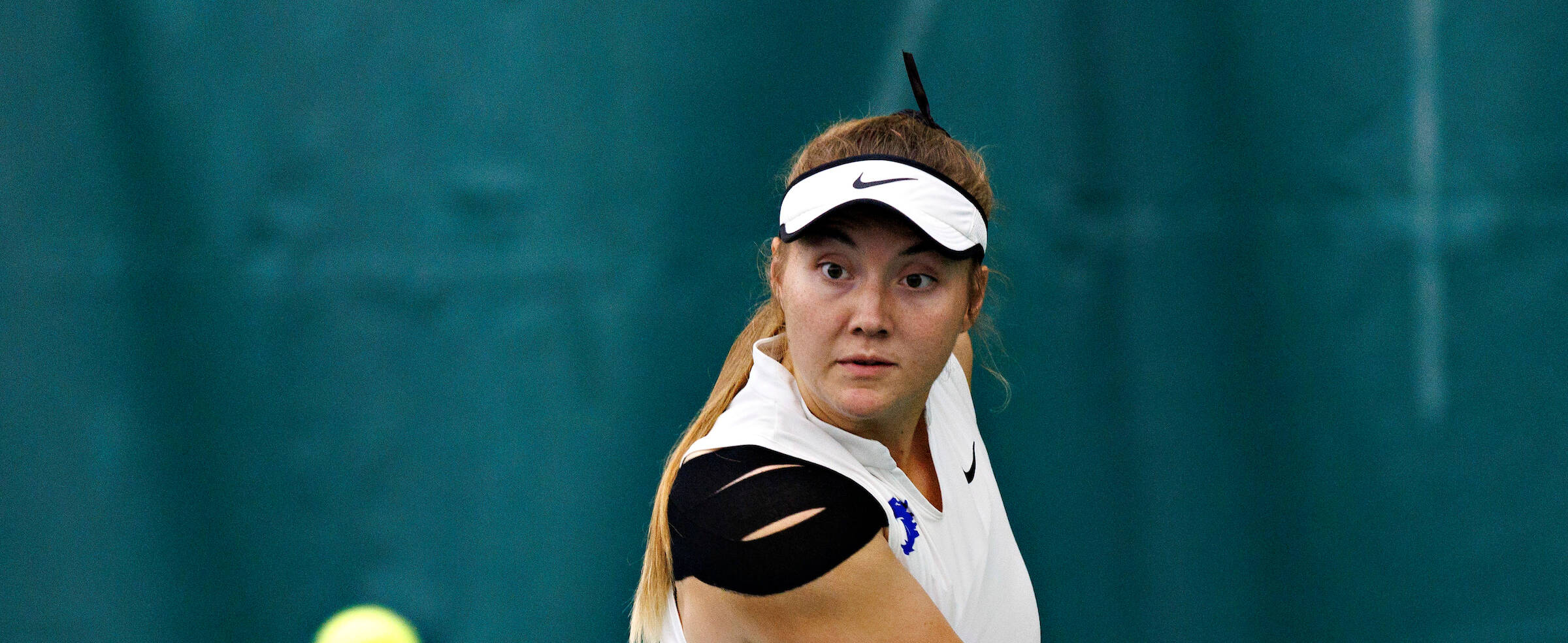 April 21, 2023 - 08:14 PM
Kentucky Ends SEC Tournament Run with Loss to Tennessee
FAYETTEVILLE, Ark. – No. 11 Kentucky's Southeastern Conference Tournament run came to a close after falling to No. 3 Tennessee, 0-4, at the Billingsley Tennis Center on Friday.
Beginning the match with doubles competition, the No. 22-ranked pair of Elizabeth Stevens and Carlota Molina defeated No. 40 Esther Adeshina and Rebeka Mertena, 6-4. However, the remaining Kentucky pairs struggled to secure the doubles point against the Volunteers. On Court 2 Lidia Gonzalez and Maialen Morante fell 3-6 to Catherine Aulia and Lauren Anzalotta. The Vols clinched the doubles point on Court 3 as Ellie Eades and Makayla Mills were defeated by Daria Kuczer and Eleonora Molinaro, 3-6.
Kentucky has only dropped the doubles point 10 times throughout the 2023 season.
Entering singles play down one, Kentucky prepared for battle. However, Tennessee was able to get the three points needed to clinch the victory over the Wildcats.
On Court 4, UK's Molina was defeated by Molinaro, 2-6, 0-6, to put the Vols up 2-0. With hopes of getting the Cats up on the scoreboard, Eades fought hard on Court 3. Clinching the match for Kentucky yesterday against South Carolina, Eades was unable to repeat that success today. She fell to No. 46-ranked Kuczer, 3-6, 2-6. With a third singles victory on Court 5, the Vols clinched the match to advance to the semifinal round of play ending Kentucky's tournament run.
Match Results
#15 Tennessee 4, #57 Kentucky 0
Doubles
#22 Carlota Molina/Elizabeth Stevens (UK) def. #40 Esther Adeshina/Rebeka Mertena (TENN) 6-4
Catherine Aulia/Lauren Anzalotta (TENN) def. Lidia Gonzalez/Maialen Morante (UK) 6-3
Daria Kuczer/Eleonora Molinaro (TENN) def. Ellie Eades/Makayla Mills (UK) 6-3
Singles
#26 Elza Tomase (TENN) vs. #42 Florence Urrutia (UK) 7-6 (7-2), 2-3, unfinished
#27 Rebeka Mertena (TENN) vs. #118 Elizabeth Stevens (UK) 6-3, 5-5, unfinished
#46 Daria Kuczer (TENN) def. Ellie Eades (UK) 6-3, 6-2
Eleonora Molinaro (TENN) def. Carlota Molina (UK) 6-2, 6-0
Lauren Anzalotta (TENN) def. Lidia Gonzalez (UK) 6-3, 6-3
Esther Adeshina (TENN) vs. Zoe Hammond (UK) 6-4, 5-4, unfinished
Order of finish: Doubles (1,2,3); Singles (4,3,5)
For the latest on UK Women's Tennis, follow the Wildcats on Twitter and Instagram at @UKWomensTennis.