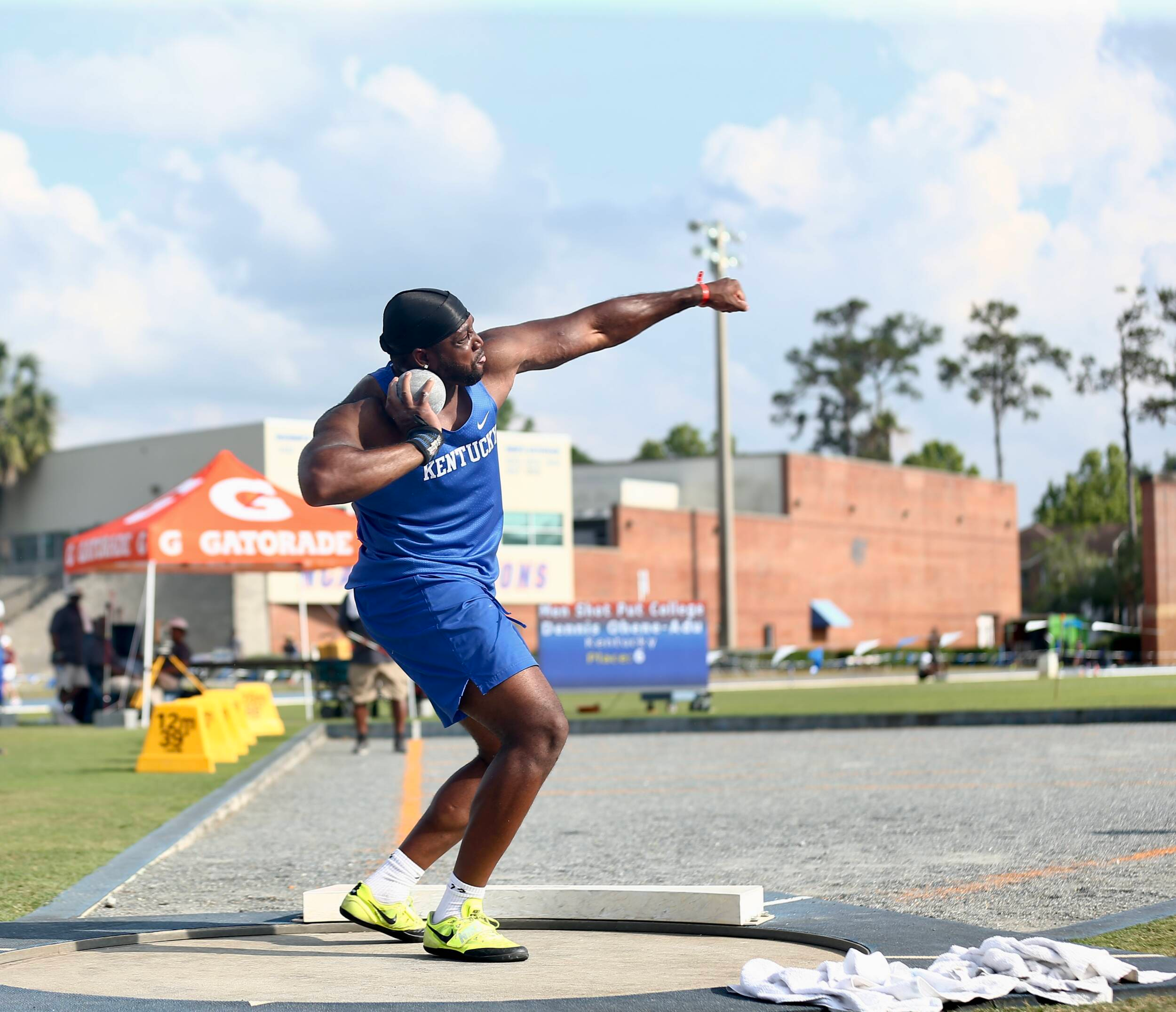 April 20, 2023 - 02:08 PM
UKTF To Compete At Michael Johnson Invitational
LEXINGTON, Ky. — Kentucky track & field will return to Texas this weekend for the Michael Johnson Invitational hosted by Baylor University at Hart Track & Field Stadium.
The meet will be split up into a field event session and a running event session each day. On Friday, field events for UKTF will begin at 1 p.m. ET with the women's pole vault while track events start at 5 p.m. ET with the 400-meter hurdles.
Saturday's field events will start at 1 p.m. ET with the men's triple jump and pole vault while the track events begin at the same time with the women's 100-meter hurdles prelims.
Live results can be found on Delta Timing.
Follow Kentucky Track and Field and Cross Country on Facebook, Instagram, Twitter, and at UKathletics.com.
Michael Johnson Invitational: Friday, April 21: ALL TIMES IN CENTRAL TIME
Women's Pole Vault
12:00 p.m.
Final
Kaitlyn Cain

Siobhan Szerencsits

Payton Phillips

Men's Hammer Throw
2:00 p.m.
Prelim/Final
Michael Browning

Dennis Ohene-Adu

Women's Long Jump
2:00 p.m.
Prelim/Final
Anthaya Charlton
Men's Long Jump
5:15 p.m.
Prelim/Final
Jordan Turner

Robbie Springfield III

Women's 400-Meter Hurdles
6:00 p.m.
Final
Masai Russell

Yasmin Brooks

Men's Discus Throw
6:15 p.m.
Prelim/Final
Dennis Ohene-Adu

Josh Sobota

Men's 400-Meter Hurdles
6:20 p.m.
Final
Beck O'Daniel
Women's 200 Meters
6:40 p.m.
Final
Shadajah Ballard

Colleen Branch

Anthaya Charlton

Karimah Davis

Tamiia Fuller

Megan Moss

Victoria Perrow

Seven Simms

Iantha Wright

Men's 200 Meters
7:10 p.m.
Final
Myles Anders

Brian Faust

Langston Jackson

Wayne Lawrence Jr.

Kennedy Lightner

Brandon Miller
Michael Johnson Invitational: Saturday, April 22: ALL TIMES IN CENTRAL TIME
Men's Pole Vault
12:00 p.m.
Final
Keaton Daniel

Dalton Shepler

Jacob Sobota

Women's 100-Meter Hurdles
12:00 p.m.
Prelim
Shadajah Ballard

Yasmin Brooks

Masai Russell

Men's Triple Jump
2:30 p.m.
Prelim/Final
Luke Brown
Women's 4×100 Relay
2:30 p.m.
Final
Victoria Perrow, Anthaya Charlton,

Masai Russell, Karimah Davis

Men's 4×100 Relay
2:40 p.m.
Final
Kennedy Lightner, Brandon Miller, Langston Jackson, TBA
Women's Shot Put
3:00 p.m.
Prelim/Final
Simisola Akinrinsola
Women's 100-Meter Hurdles
3:25 p.m.
Final
Shadajah Ballard

Yasmin Brooks

Masai Russell

Women's 400 Meters
3:50 p.m.
Final
Dajour Miles

Mahogany Mobley

Christal Mosley

Megan Moss

Seven Simms

Reynei Wallace

Men's 400 Meters
4:15 p.m.
Final
Brian Faust

Wayne Lawrence Jr.

Brandon Nyandoro

Men's Shot Put
4:30 p.m.
Prelim/Final
Dennis Ohene-Adu

Josh Sobota

Women's 100 Meter Dash
4:45 p.m.
Final
Shadajah Ballard

Colleen Branch

Anthaya Charlton

Karimah Davis

Tamiia Fuller

Victoria Perrow

Iantha Wright

Men's 100 Meter Dash
5:10 p.m.
Final
Myles Anders

Langston Jackson

Men's 800 Meters
5:50 p.m.
Final
Justin Swann
Women's 4×400 Relay
6:05 p.m.
Final
Karimah Davis, Masai Russell, Megan Moss, Dajour Miles

Christal Mosley, Reynei Wallace, Mahogany Mobley, Seven Simms

Men's 4×400 Relay
6:25 p.m.
Final
Wayne Lawrence Jr., Brian Faust, Brandon Miller, Kennedy Lightner

Justin Swann, Beck O'Daniel, Brandon Nyandoro, Langston Jackson