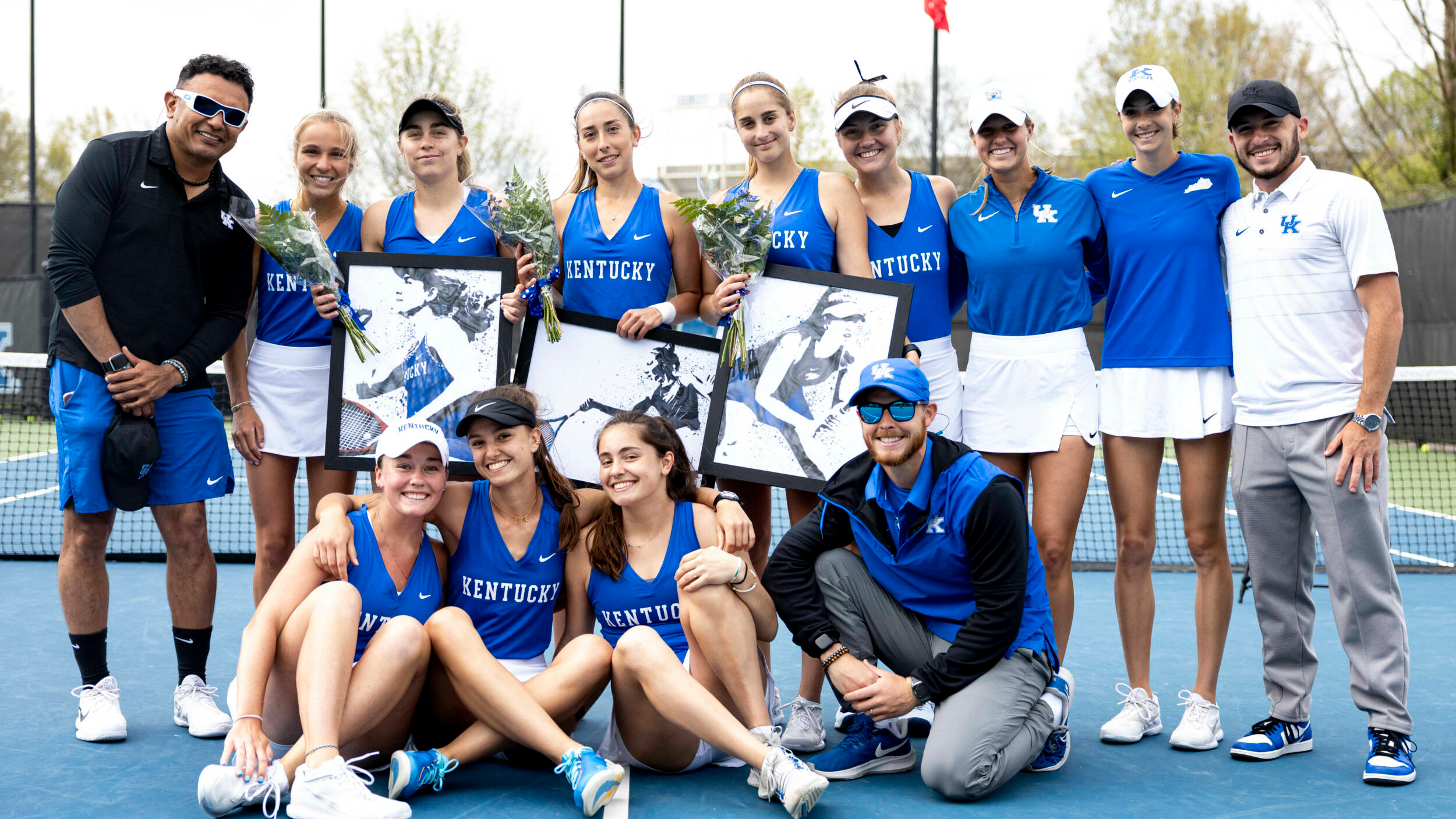 April 16, 2023 - 03:43 PM
Women's Tennis Celebrate Seniors, Falls to LSU, 2-4
LEXINGTON, Ky. – Kentucky women's tennis (12-13, 4-9 SEC) dropped a Sunday matinee to the LSU Tigers (12-9, 5-8 SEC), 4-2, on Senior Day at the Boone Tennis Complex.
The contest, which began outdoors but was forced to shift inside due to storms in the area, lasted more than three and a half hours in total. After trailing 3-0, the Wildcats showed great resolve, clawing back in what was the team's final match of the regular season.
Prior to the start of the play, Kentucky honored its three senior student-athletes: Florencia Urrutia, Maialen Morante and Carlota Molina at a pre-match ceremony.
Action began outdoors with the doubles point going to the visitors courtesy of 6-1 wins on the top two courts. Shortly after the singles session got underway, storms in the area forced the action to move indoors, where the two teams resumed play after a brief warmup.
The Tigers extended their lead with wins at third singles from Safiya Carrington and first singles from No. 10 Anastasiya Komar. UK's Zoe Hammond got the Cats on the scoreboard with a decisive 6-4, 6-2 victory on court five over Nikita Vishwase. It was the freshman's ninth singles victory of the dual season.
Junior Elizabeth Stevens displayed remarkable effort at second singles, coming from behind to knock off her top-25 opponent, Kylie Collins. After dropping the first set in a tiebreak, Stevens sent the match the distance with a 6-2 win in the second set, before eventually topping Collins in a third set tiebreaker to bring the Wildcats within one. Less than a minute after Stevens' reached the finish line, however, LSU secured the clinch on court four as Nine Geissler outlasted Kentucky's Lidia Gonzalez in a prolonged, three-set battle.
The sixth singles match between Kentucky's Maialen Morante and LSU's Mia Rabinowitz was abandoned midway through the second set.
The Wildcats will now cast their gaze toward the SEC Tournament, to be held April 19-23 at the University of Arkansas.
RESULTS 
Doubles 
No. 10 Collins and Komar (LSU) def. No. 29 Stevens/Molina (UK) vs. 6-1 
Carrington/Carrington (LSU) def. Gonzalez/Urrutia (UK): 6-1
Mills/Morante (UK) vs. Geissler/Vishwase (LSU): 3-2 (unfinished)
Singles 
No. 17 Anastasiya Komar (LSU) def. No. 41 Florencia Urrutia (UK): 7-6 (0), 6-4
Elizabeth Stevens (UK) def. No. 29 Kylie Colins (LSU): 6-7 (6), 6-2, 7-6 (1)
Safiya Carrington (LSU) def. Carlotta Molina (UK): 6-4, 6-4
Nina Geissler (LSU) def. Lidia Gonzalez (UK): 6-3, 4-6, 6-3
Zoe Hammond (UK) def. Nikita Vishwase (LSU): 6-4, 6-2
Maialen Morante (UK) vs. Mia Rabinowitz (LSU): 4-6, 3-2 (unfinished)
Order of Finish: 
Doubles—2, 1
Singles— 3, 1, 5, 2, 4 
For the latest on UK Women's Tennis, follow the Wildcats on Twitter and Instagram at @UKWomensTennis.