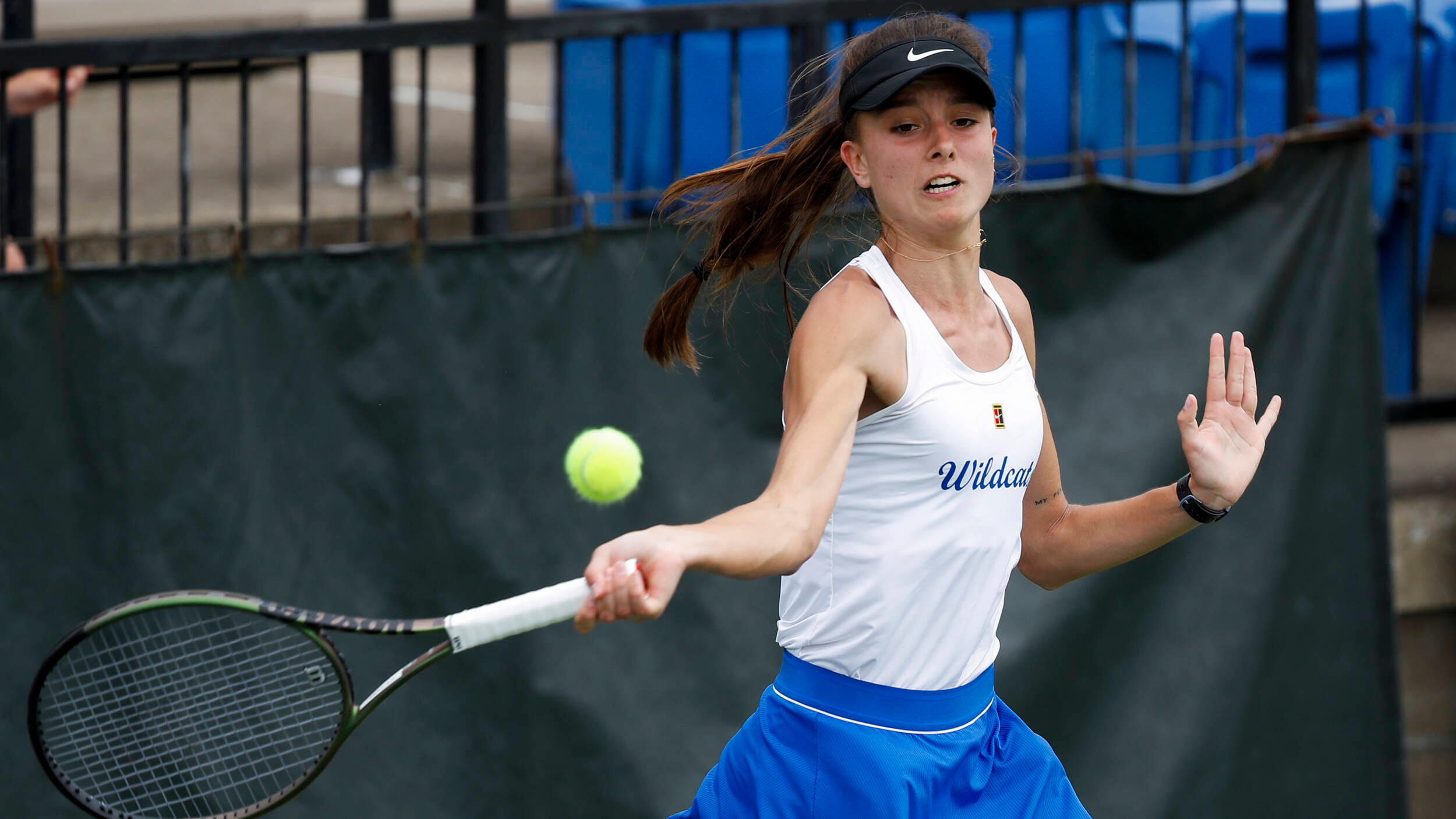 April 14, 2023 - 03:59 PM
Kentucky Takes Doubles Point, Falls to No. 2 Texas A&M
LEXINGTON, Ky. – Kentucky women's tennis (12-12, 4-8 SEC) took the doubles point from No. 2 Texas A&M (24-1, 12-0 SEC), but ultimately fell to the SEC-leading Aggies by a score of 5-2 at the Boone Tennis Center on Friday afternoon.
The Wildcats put themselves ahead early with doubles victories on courts one and three. UK's top pairing of Carlota Molina and Elizabeth Stevens blasted their way to a 6-2 win over the No. 22 Salma Ewing and Jayci Goldsmith, while Ellie Eades and Florencia Urrutia secured a 6-4 result against the Aggies' Gianna Pielet and Daria Smetannikov.
Facing an Aggies' singles lineup with five nationally-ranked players, Kentucky was stalled in the second session as Texas A&M scored five consecutive points with wins at first, second, third, fourth and sixth singles. Kentucky sophomore Lidia Gonzalez impressed at fifth-singles, capturing a 7-5, 7-5 ranked-win over No. 112 Daria Smetannikov. The win was the fifth for Gonzalez in her last six singles matches.
Kentucky will play its final home contest of the year this Sunday when the Cats square off against LSU at 11 a.m. Prior to the contest, UK will hold its senior day ceremony at 10:30 a.m.
RESULTS
Doubles
No. 29 Stevens/Molina (UK) vs. No. 22 Ewing/Goldsmith (A&M): 6-2
No. 69 Kupres/Stoiana (A&M) def. Gonzalez/Hammond (UK): 6-0
Eades/Urrutia (UK) def. Pielet/Smetannikov (A&M): 6-4
Singles
No. 2 Mary Stoiana (A&M) def. No. 41 Florencia Urrutia (UK): 6-1, 6-4
No. 75 Salma Ewing (A&M) def. Elizabeth Stevens (UK): 7-6 (4), 6-2
No. 53 Mia Kupres (A&M) def. Ellie Eades (UK): 6-2, 6-3
No. 119 Jayci Goldsmith (A&M) def. Carlota Molina (UK): 6-3, 6-2
Lidia Gonzalez (UK) def. Daria Smetannikov (A&M): 7-5, 7-5
Jeanette Mireles (A&M) def. Zoe Hammond (UK): 6-1, 6-1
Order of Finish:
Doubles—2, 1, 3
Singles— 6, 4, 1, 3, 2, 5