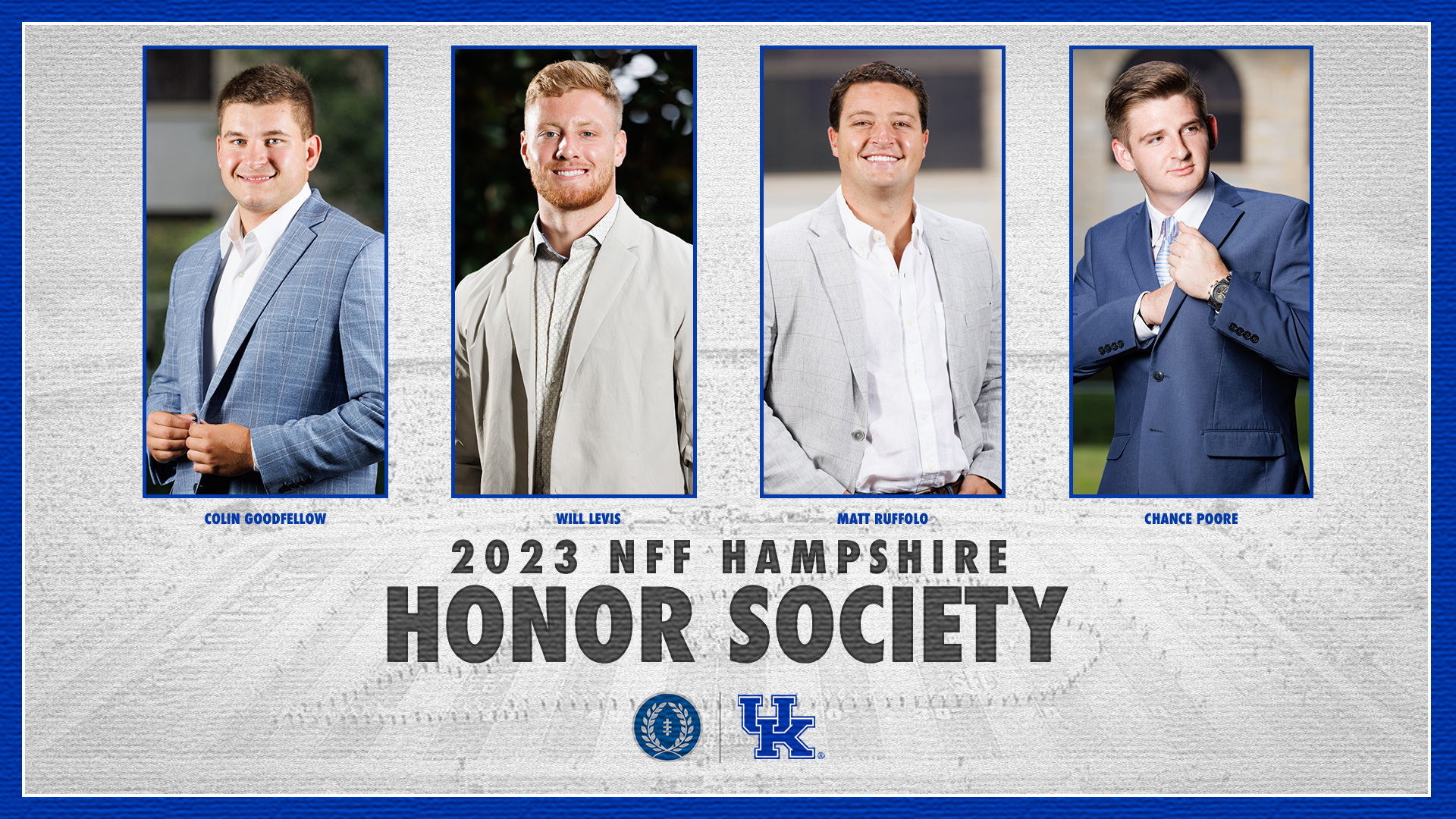 Four members of the University of Kentucky football team – Colin Goodfellow, Will Levis, Chance Poore and Matt Ruffolo – were named to the 2023 National Football Foundation Hampshire Honor Society, announced by the NFF & College Hall of Fame.
The NFF Hampshire Honor Society is comprised of college football players from all divisions of the NCAA, NAIA and sprint football who each maintained a cumulative 3.2 GPA or better throughout their college careers. An elite group of 1,734 players from 328 schools qualified for membership in 2023, setting a record for the number of members in a single year during the program's 17‐year history.
Nominated by their respective schools, members of the NFF Hampshire Honor Society must be either:
A senior player, who will graduate this spring/summer, and just completed his final year of playing eligibility in 2022; or
A graduated player, who has been out of high school at least (3) years; And must have:
Attained a minimum undergraduate cumulative GPA of 3.2 (4.0 scale); and
Been starters or significant contributors throughout the 2022 season.
Goodfellow, a native of Cleveland, Ohio, concluded his Wildcat career with 77 punts for a total of 3,413 yards in 21 career games. He finished third in school history with a 44.3-yard average per punt. He graduated summa cum laude in May of 2021 with a degree in nursing and was a 10-time member of the Dean's List and five-time member of the Southeastern Conference Academic Honor Roll. In 2021, he was named a second-team Academic All-American by the College Sports Information Directors of America (now College Sports Communicators).
Levis, of Madison, Connecticut, went 17-7 as a two-year starter and team captain at UK, tying Terry Wilson for the second-most quarterback wins since 1993 (starting lineups available since 1993). He totaled 43 career touchdown passes, fifth on UK's career list and had 5,233 career passing yards at UK which ranks sixth all-time. Levis graduated from Penn State in May of 2022 with a degree in finance and went on to earn a master's degree in finance from UK's prestigious Gatton School of Business and Economics in December of 2022. He was named the CSC Academic All-America Division I Football Team Member of the Year in 2022, the first player at UK to win the award. He also was a member of the SEC First-Year Academic Honor Roll in 2021 and the SEC Fall Academic Honor Roll in 2022.
Poore, a kicker from Anderson, South Carolina, has elected to return for his sixth year of eligibility, taking advantage of the NCAA's ruling to grant an extra year due to the COVID-19 pandemic. He saw action in all 13 games in 2022, handling kickoffs and serving as the holder on field goals. Academically, Poore graduated in December of 2022 with two degrees, business economics and consumer economics/ family financial counseling. He is currently working on a master's degree in finance. He is a four-time member of the SEC Fall Academic Honor Roll.
Ruffolo, a kicker from Centerville, Ohio, was a four-year letterwinner who totaled 245 career points, the eighth player in school history to reach the 200-point mark. He ranks No. 5 on UK's all-time scoring list after hitting 42-of-56 field goals and 119-of-126 extra points. He graduated in May of 2021 with a degree in finance and earned his MBA at the Gatton College of Business and Economics in May of 2022. He was a five-time member of the SEC Fall Academic Honor Roll and the Dean's List. In 2021, he was named to the CoSIDA Academic All-District First Team.
Follow @UKFootball on Twitter and Instagram, or like Kentucky Football on Facebook.