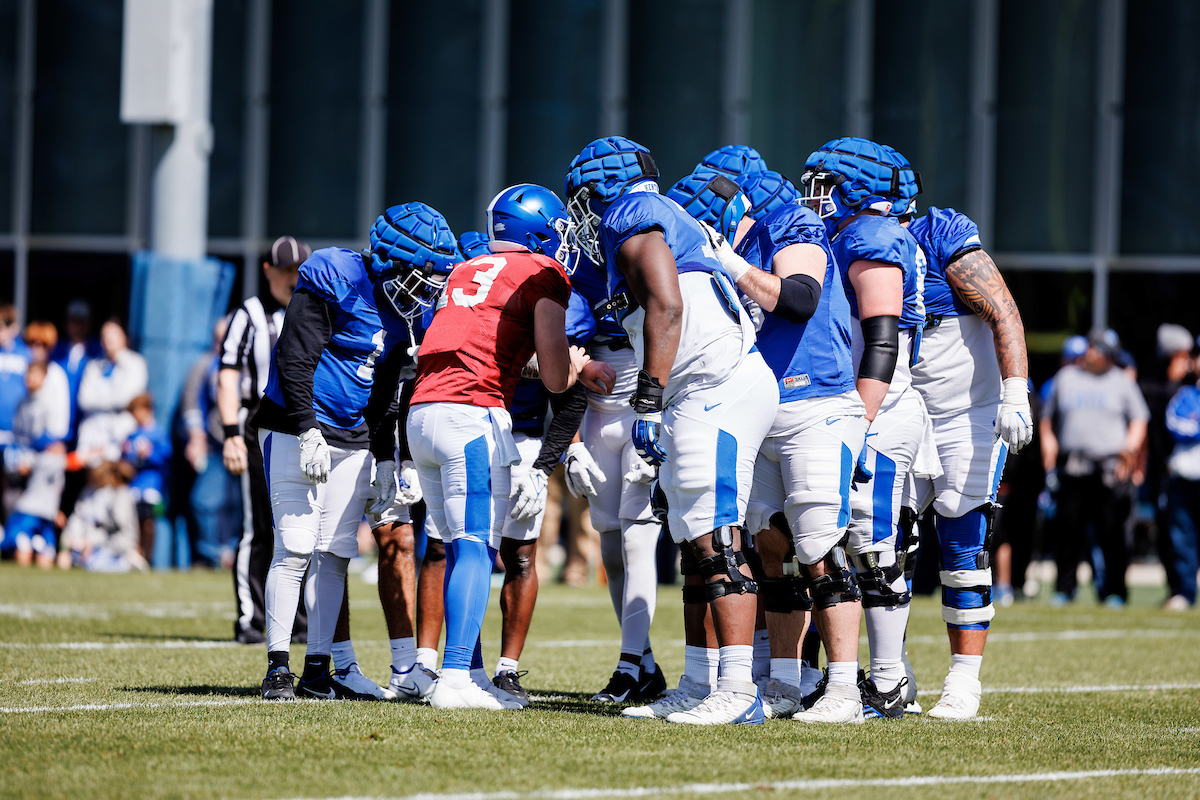 Kentucky football head coach Mark Stoops met the media on Wednesday as his Cats wrapped up their spring practice. And for Stoops, the timing was right.
"It's been a good spring," Stoops said. "It feels good to wrap it up. It gets a bit long."
The goal of spring practice for nearly every team in the country is to improve on the little things and, most importantly, not to get anyone hurt.
"The spring went good," Stoops said. "No major injuries, which is always important. Pretty drama-free."
As for where the team made strides during spring drills, Stoops cited one very important area.
"It's a fundamental game," Stoops said. "We want to get through the spring and be better players. Individually, each player just get better. Fundamentally, get better."
Another area where Stoops wants the Cats to be better is their overall mentality. He touched on that Wednesday.
"I just think overall mentality, the hunger, the way you go about your business with an attitude, with an edge, with a chip on your shoulder," Stoops said. "This game is meant to be played that way. You can't just go out there and go through the motions. I expect all of us to be better, we've all talked about those things. And that starts with me and all the way down."
One area where the Cats needed to make progress this spring was on offense. The reasons were two-fold. One, UK was disappointing on offense last season, despite having likely first-round NFL draft pick Will Levis at quarterback. Second, the Cats are going back to the scheme, and the terminology, of old/new offensive coordinator Liam Coen.
"Obviously, schemes are important," Stoops said. "With Liam (Coen) back and, offensively, getting back into the scheme is very important. Get the basics down."
Stoops is optimistic about his offense after spring drills.
"We're going to improve," Stoops said. "I feel very confident that we'll improve. We own the areas where we fell short and we're addressing those things. Devin is a great addition. We need to improve at offensive line."
One thing that UK experimented with during the spring was moving Jager Burton from guard to center. Stoops believes that will be the plan as the team finishes the spring.
"That will move forward. We like the flexibility we have within that but we like the way Jager progressed," Stoops said. "It's not easy. He really took that on and became more consistent. He's really adapted well."
Stoops thought the Cats were good on defense in the spring. And he knew why.
"Defensively, much further ahead with the continuity we have," Stoops said. "We lost quite a bit of experience but these guys have experience as well. It's about getting the next group ready."
Stoops knows that the coaches didn't ask for a lot of specialty things, but he likes how the team handled its basics.
"I wouldn't say that we got extremely exotic in the spring but the things we do, we do well," Stoops said. "I think it's a matter of execution."
Now, it's up to the team leaders to get the squad through the summer. Stoops hopes that the team's previous leaders, along with newcomers like quarterback Devin Leary and running back Ray Davis, can get the Cats through summer and prepared for fall camp.
"They're great additions," Stoops said of Leary and Davis. "Any time you bring people in, with the way things are now, you have to be careful of the guys you bring in. They have to be guys who contribute and add to that locker room and to the mentality you're looking for. Devin and Ray are great additions."
Spring was a positive time for the entire UK squad. If the Cats can take forward what they have learned over the last few weeks, it will be deemed a success.