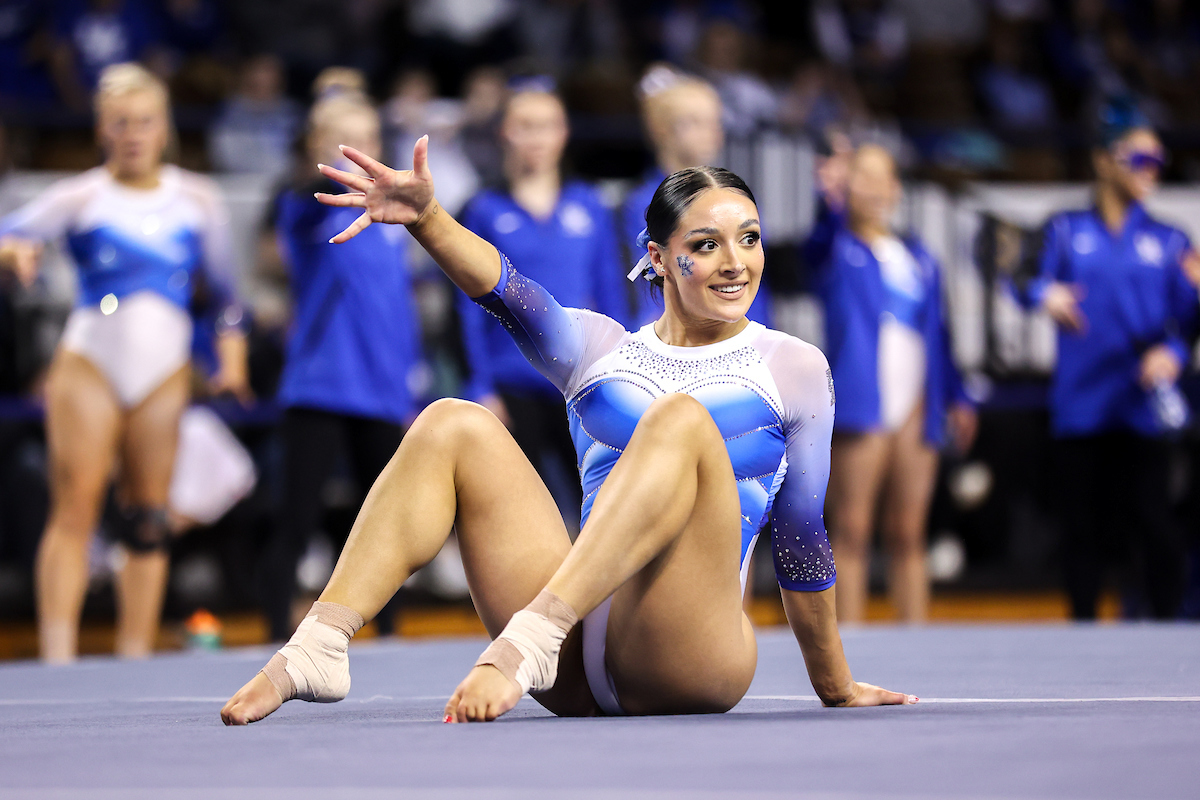 April 11, 2023 - 10:14 AM
'Underdog' Gymnastics Cats Hope to Make Noise at National Championships
The NCAA Gymnastics Championships begin on Thursday in Fort Worth, Texas. The top eight teams in the country will gather for the meet, with the top four (two from each session) advancing to Saturday's finals.
Kentucky is making just its second appearance as a team in the national meet (2018 was the prior visit) in program history. The Cats are seeded seventh and will be in Semifinal II, where they will battle top-ranked Oklahoma, No. 2 Utah and No. 5 UCLA.
Not many of the so-called experts seem to think that the Cats will make it out of Thursday's semifinals, which is just fine with the Cats.
Qualifying for Nationals
Kentucky went into the Norman Regional as the No. 9 national seed. By the numbers, the Cats were not favored to make it out of the regional and into nationals, but they did, edging out No. 8 seed Alabama as well as Ohio State.
For the Cats, it was simply meeting another goal they had set for themselves. Senior Raena Worley said there were multiple emotions after the Cats clinched their spot in the national meet.
"Definitely accomplishment," Worley said. "I think, coming off of last year, we really wanted it. So, this entire year has been about fighting for it, earning it ourselves and proving to people that we can be on that level."
But there was another emotion that also stood out for Worley.
"A little bit of pride," she said. "Just going there and knowing that we can hit like that definitely boosts our confidence."
Junior Bailey Bunn knew that the Cats had a big performance in them and that the team just needed to execute.
"Leading up to the competition, we had been really consistent, getting the highest scores in school history," Bunn said. "So, were confident that if we knew if we did our best and stayed consistent, we were going to make it."
And once they did officially qualify, Bunn and the team dealt with a range of emotions.
"When we saw that we had made it, we were so excited," Bunn said. "We started crying happy tears, we went over to our parents and game them hugs."
Junior Isabella Magnelli also felt that range of emotions.
"As a team, we were all excited because we all are so close," Magnelli said. "There was just so much love and excitement. It was a bunch of emotions. It was just excitement. It was relief. It was so many blessings."
Back in the Gym
After absorbing and enjoying their accomplishment of qualifying for nationals, the Cats realized that it was time to get back to work, preparing to face the nation's best teams.
Worley has seen a couple of primary emotions from the team during their training for the national meet.
"I'd say both anticipation and excitement," Worley said. "I think we're ready to just get there and see how it goes."
Bunn agrees with her teammate.
"I think there's excitement for what we've accomplished," Bunn said. "Now, we have to raise our goal higher and try to get to the final four."
Magnelli could feel the energy from her teammates during training sessions.
"Coming back into the gym, I know we were all so excited," she said. "We're not used to practicing this week but we all knew that our bodies were not ready to be done. We came in training just like we did before regionals – attacking the little things but having fun in the gym as well. Really high energy all the time."
Underdog Role
Kentucky is seeded seventh and will face three higher-ranked teams in the second semifinal on Thursday. The Cats are not predicted to make it out of that session but Worley would love to pull a surprise on everyone.
"I think some people may still underestimate us still," Worley said. "But I think that would make it more fun to prove them wrong."
Bunn likes that the Cats are underdogs.
"This whole team has been underdogs this whole year," Bunn said. "I don't think anybody expected us to come out how we have. So, I don't think they're expecting us to make it to the final four. They'll be focused on other teams and we'll be in our lane, doing our thing."
Magnelli believes the low expectations drive the team even more.
"I think that we're really good at proving to people that what they think is wrong," she said. "We're all very confident in ourselves. I think (people having low expectations) really makes us push ourselves to prove people more wrong, like we have been throughout the season."
Having low expectations takes the pressure of the entire Kentucky team, according to Bunn.
"All of us can take a deep breath before our routines and let our training come out," Bunn said. "There really is no pressure. We're just going to go out there and have fun."
Magnelli echoed Bunn's sentiment.
"No one has high expectations for us, it kind of relieves some of the stress from us," she said. "To not have that expectation is kind of cool."
More to Be Accomplished
The Cats are proud of making it to the national meet but are not satisfied with what they have accomplished.
"We want to go in and keep fighting for more," Worley said. "National championship is always a goal. Continuously pushing the levels that we can get up to is our ultimate goal."
Worley thinks the best could be yet to come.
"Our team hasn't peaked yet," Worley said. "This weekend could be it. That would be amazing."
Bunn thinks the Cats have been preparing for this all season long.
"I think we're super prepared for this," she said. "I think it's going to be really exciting because this team has never really experienced such an excited environment. For other teams, they are expected to make it to the final four. For us, we have no expectations. We're just going to go in there and have fun and stay consistent."
Magnelli knows there's more to nationals than just making an appearance.
"Our goal isn't to go to nationals and just to have fun," Magnelli said. "Our goal is to make it to the final four and win. I think we're very happy but I think we're all very hard on ourselves right now. We're going to nationals and we don't want to go there just to have fun, we want to compete."
Kentucky has nothing to lose in this week's NCAA Championships. The Cats are not expected to make it to Saturday's final four. But this team has worked hard to prove the experts wrong all season.