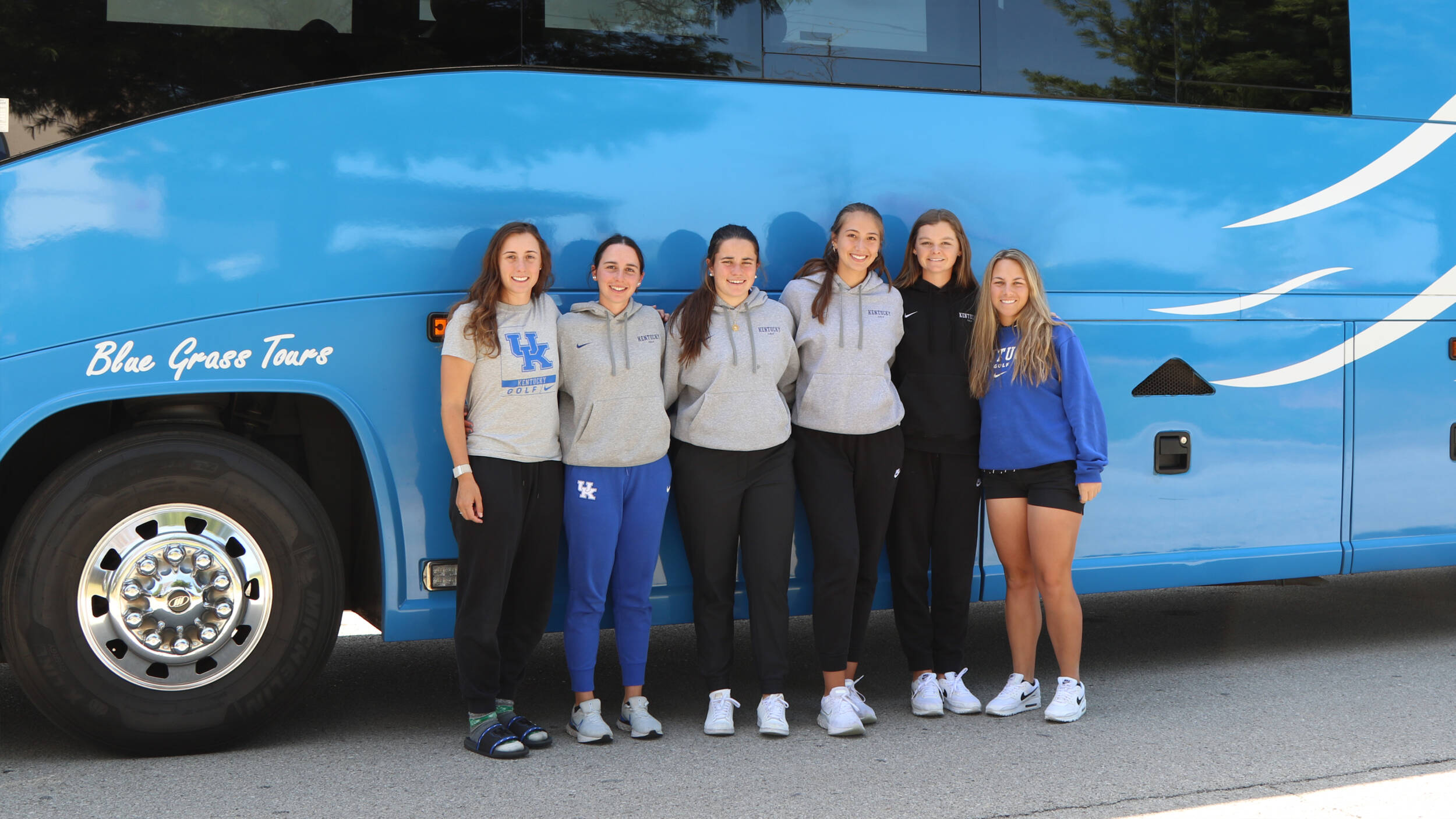 April 11, 2023 - 04:09 PM
Kentucky Set for 2023 SEC Women's Golf Championship April 12-16
BIRMINGHAM, Ala. – The University of Kentucky women's golf team will compete in the 2023 Southeastern Conference Women's Golf Championship at Greystone Golf and Country Club (Legacy Course) in Birmingham, Alabama, April 12-16. The Wildcats enter the tournament boasting a 289.1 stroke average, which is seventh in the conference and half-a-stroke below the school record.
Kentucky will tee off in the first round Wednesday beginning at 10:40 a.m. ET, paired with Florida and Vanderbilt.
All 14 teams will compete in a 54-hole, stroke-play format Wednesday through Friday. The top eight teams will advance to match-play quarterfinals Saturday morning, then the top four teams will improve to match-play semifinals Saturday afternoon. From there, the top two teams will battle for a conference championship Sunday.
The SEC has held its annual championship at Greystone for 10 straight years (excluding 2020), while the league will utilize both stroke play and match play in the championship for the fifth year. In fact, Kentucky's best finish at the SEC Championship in the Golda Borst era came in 2013, the first season the championship was held at Greystone. The Wildcats recorded a 58-over-par 922 for a share of fifth place in 2013.
Kentucky will look to make its first cut since the inception of the NCAA Championship format, which includes three rounds of stroke play for all teams and then up to three rounds of match play for advancing teams. Last season, UK went 31-over to finish tied for 11th place.
The Wildcats will boast a familiar lineup at the SEC Championship, including Jensen Castle, Laney Frye, Ivy Shepherd, Marissa Wenzler and María Villanueva Aperribay. This lineup has proven successful thus far this season, winning two tournament titles in their six events as a fivesome. Moreover, this lineup has three top-five finishes in 2022-23.
Kentucky has played a lot of golf of late, a stretch that included two team tournaments and two individual tournaments over the last four straight weekends.
Sitting at the top of the lineup and just decimals difference between their stroke average are Castle and Frye, who are both coming off an appearance at the 2023 Augusta National Women's Amateur. Castle is considered the fourth-best player in the league right now, owning a 70.7 stroke average through seven events and 21 rounds this season. Right behind her, Frye is considered the sixth-best player in the league currently, boasting a 71.0 stroke average through eight events and 24 rounds in 2022-23. If those Cats can keep up their current pace through postseason, they're both staring down the top two single-season stroke averages in school history.
That school record is currently held by Castle herself, recording a 71.8 in the 2109-20. Meanwhile, Frye broke the most single-season, par-or-better rounds school record already this season with 16.
That dynamic duo doesn't act alone, though, as Shepherd (73.8), Wenzler (74.2) and Villanueva Aperribay (74.4) each have earned a finish inside the top 11 this season. Most recently, Shepherd went 2-under to finish in a tie for eighth place at the Clemson Invitational. Wenzler's best finish came on a career-best, 3-under-par 208 to earn T11 at the Illini Invitational last fall, while Villanueva Aperribay's best finish came on a 5-over-par 221 to find T7 at the Florida State Match Up this spring.
Villanueva Aperribay's career best is a 6-under-par 210 at the 2021 SEC Championship, where she earned a share of 17th place in her first conference championship appearance in Blue and White.
The Wildcats can expect sunny skies and a high of 77 degrees for the first round, while the rest of the week shows a chance of rain or thunderstorms.
For the latest on the Kentucky women's golf team, follow the team on Twitter, Facebook, and Instagram, as well as on the web at UKathletics.com.