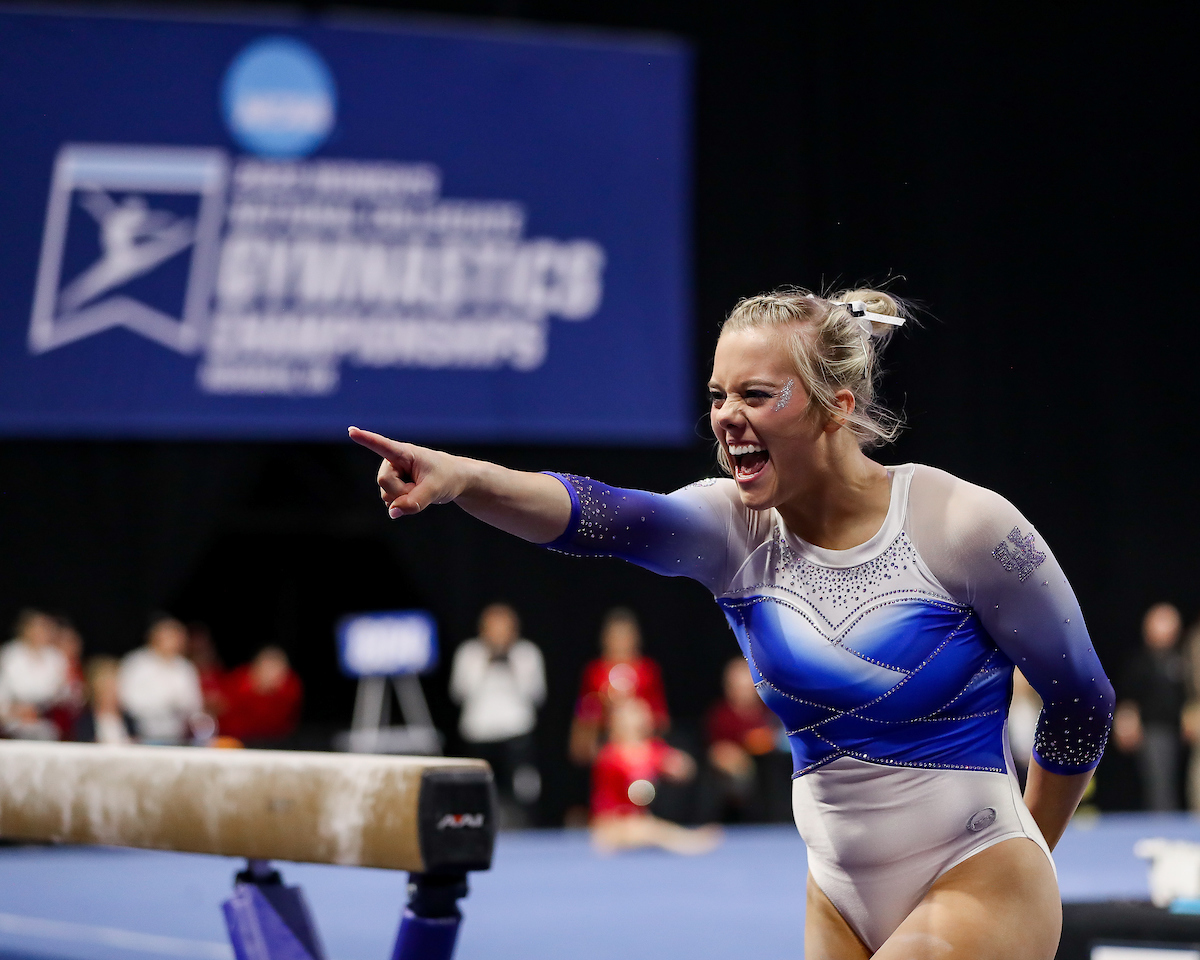 April 10, 2023 - 09:35 AM
Veterans Ready to Lead Gymnastics Cats into NCAA National Meet
The Kentucky gymnastics team is preparing for the program's second-ever trip to the NCAA national meet. The first trip came in 2018, when none of the current Cats were on the squad.
Just because UK has not been to the national meet does not mean that the team does not have experience. In fact, the competing Cats are mostly juniors and seniors, something that could help the team in Fort Worth this week.
Senior Raena Worley knows how important this meet is. However, she knows that, for the team to be its best, they do not need to focus on that aspect.
"I think reminding them that it's just another meet. It has a big title," Worley said. "So, going in calm and collected and knowing that it's just another meet is important."
Worley, who competed as an individual at both the 2021 and 2022 NCAA Championships, is looking forward to enjoying the national meet with her team.
"I really want to take the team where we want to go," Worley said. "Having that experience with all of them makes it special."
Junior Bailey Bunn also competed in the national meet in 2021, when she was a freshman. While it was a great experience, she's much more excited about going with her teammates this time around.
"I made it to nationals as an individual and I told my dad that I was very grateful but I never want to do it alone again," Bunn said. "I came in here wanting to do all-around for the team. I don't care how many titles I have, I don't care how many trophies I get, I always just wanted to do it for the team. I think being for the team has really helped me. It's just excitement for what we've been through, all of the hurdles we had to jump over."
Bunn has shared some advice with her teammates who have not competed in the national meet in the past.
"The team that sticks the most landings, that's the team that's going to come out on top," Bunn said.
She also thinks that the team will react well to the situation because it's similar to something they have all seen before.
"In my opinion, it's most similar to the SEC Championship," Bunn said. "It's on podium, it's in a big arena. I don't think it will be a huge adjustment for us. I think that we had more pressure on us at regionals than we will at nationals."
Junior Isabella Magnelli is the clear vocal leader on this team. She brings energy at every meet, something that comes natural to her.
"My whole life, I've been very energetic. I always bring the energy," Magnelli said. "I think that comes from my parents, especially my father. He was a really good collegiate athlete and a pro athlete. And learning from my sister as well. When she would play, she was always the loudest girl, she was always high energy. She left an impact on the team and I wanted to contribute the same way. It just comes naturally to me. I know, I've heard from my teammates, that my energy and my light and my presence, when I'm high energy, allows them to do better and make them feel better."
Magnelli knows that, especially on days when the team seems to be dragging, it's her job to turn the vibe around.
"Being a leader in the gym, if the energy is low, I'll try to pick it up by cheering louder," she said. "I just like to bring up the mood in that way."
These three leaders will help their teammates prepare for the NCAA nationals in a variety of ways. And if the preparation leads to results, the Cats could open some eyes this weekend in Fort Worth.