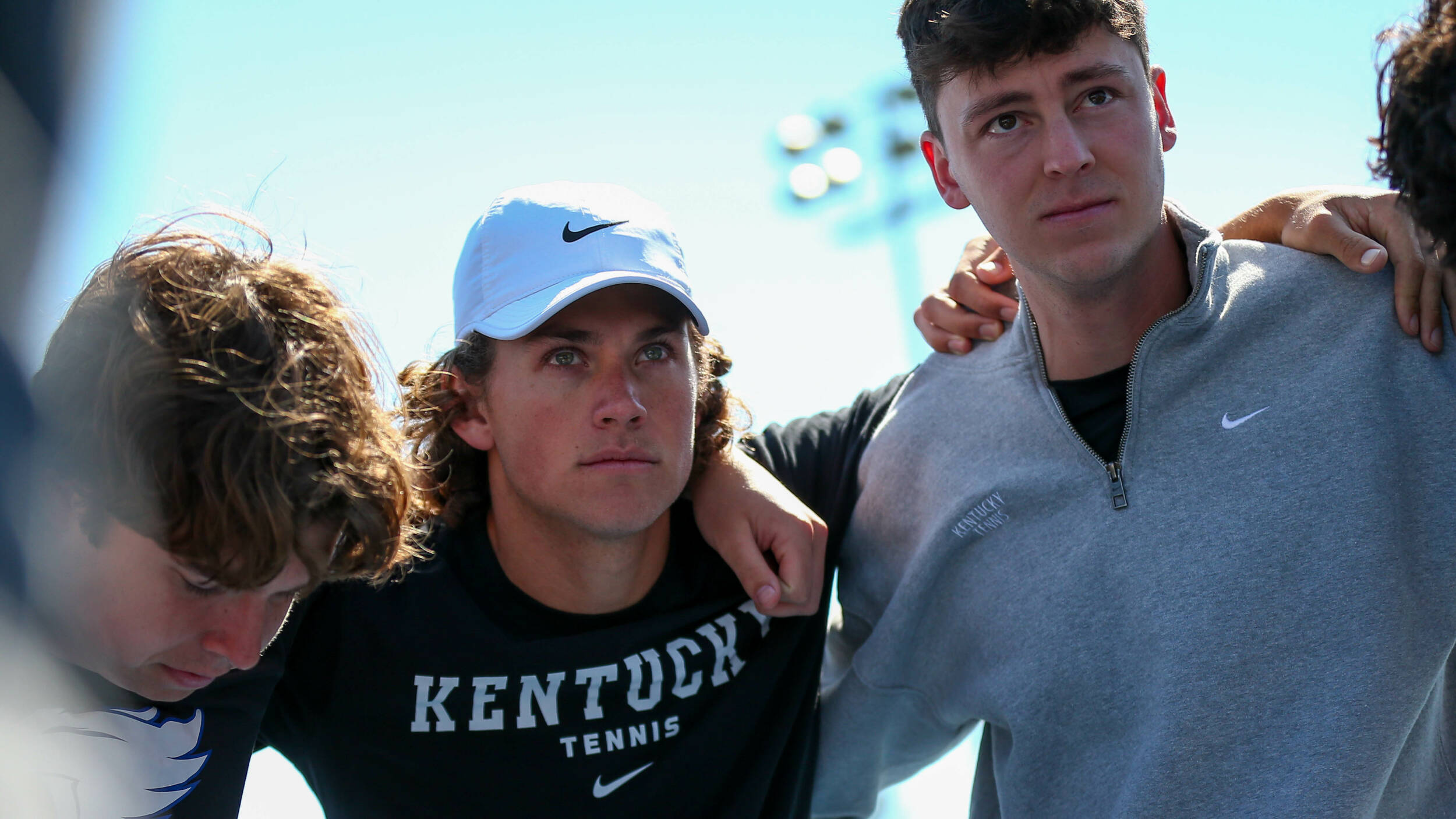 Men's Tennis Collects 20th Regular Season Win, Topples Vanderbilt on Senior Day
LEXINGTON, Ky. – A Sunday senior celebration saw No. 6 Kentucky (20-4, 8-3 SEC) score its 20th regular season victory as the Wildcats beat Vanderbilt (7-15, 2-9 SEC), 4-2, at the Boone Tennis Complex.
Liam Draxl, Alafia Ayeni, Taha Baadi and Charlelie Cosnet were all victors for UK, helping the Cats reach the 20-win mark in the regular season for the first time in the last decade.
The Wildcats found themselves facing an early deficit after the Commodores collected the doubles point with wins on courts one and two. Draxl and partner Jaden Weekes picked up a 6-3 win at third doubles, improving their record to 9-3 this spring. The effort was not enough, however, as the 'Dores took the early edge into singles.
UK quickly turned the momentum by taking five of six first sets. Senior Liam Draxl raced out to a 6-0, 6-3 win over Nathan Cox on court one, tying the team score at one. Freshman Charlelie Cosnet followed, grabbing his tenth career singles victory with a 6-1, 6-4 triumph at six singles. Ayeni was next to finish, taking down Joubert Klopper in straight sets to grow the Kentucky advantage to 3-1. The Commodores tallied a second point at fifth singles, but UK's Baadi earned the clinch, battling to a 7-6 (7), 6-2 win at the fourth position.
Prior to the start of the match, Kentucky celebrated its six members of the 2023 senior class. Seniors recognized were Alafia Ayeni, Liam Draxl, Alexandre LeBlanc, JJ Mercer, Heman Nama and Jonathan Sorbo.
Kentucky will be back for its final match prior to the SEC Tournament on Friday when the Cats head to Gainesville to take on Florida. Play will begin at 5 p.m. from the Alfred A. Ring Tennis Complex with live stats and streaming available to fans.
Results
Doubles
Court 1: No. 33 Casabon/Troost (Vandy) def. No. 25 Ayeni/Baadi (UK) – 6-3
Court 2: Cox/Ross (Vandy) def. No. 66 Lapadat/Mercer (UK) – 6-4
Court 3: Draxl/Weekes (UK) def. Klopper/Sisam (Vandy) – 6-3
Order of finish: 3, 1, 2
Singles
Court 1: No. 20 Liam Draxl (UK) def. Nathan Cox (Vandy): 6-0, 6-3
Court 2: No. 34 Alafia Ayeni (UK) def. Joubert Klopper (Vandy): 7-5, 6-4
Court 3: No. 55 Joshua Lapadat (UK) vs. Michael Ross (Vandy): 6-2, 6-5 (unfinished)
Court 4: Taha Baadi (UK) def. Siim Troost (Vandy): 7-6 (7), 6-2
Court 5: Jeremie Casabon (Vandy) def. Jaden Weekes (UK): 6-3, 6-3
Court 6: Charlelie Cosnet (UK) def. Macsen Sisam (Vandy): 6-1, 6-4
Order of finish: 1, 6, 2, 5, 4
For the latest on UK Men's Tennis, follow the Wildcats on Twitter and Instagram at @UKMensTennis.