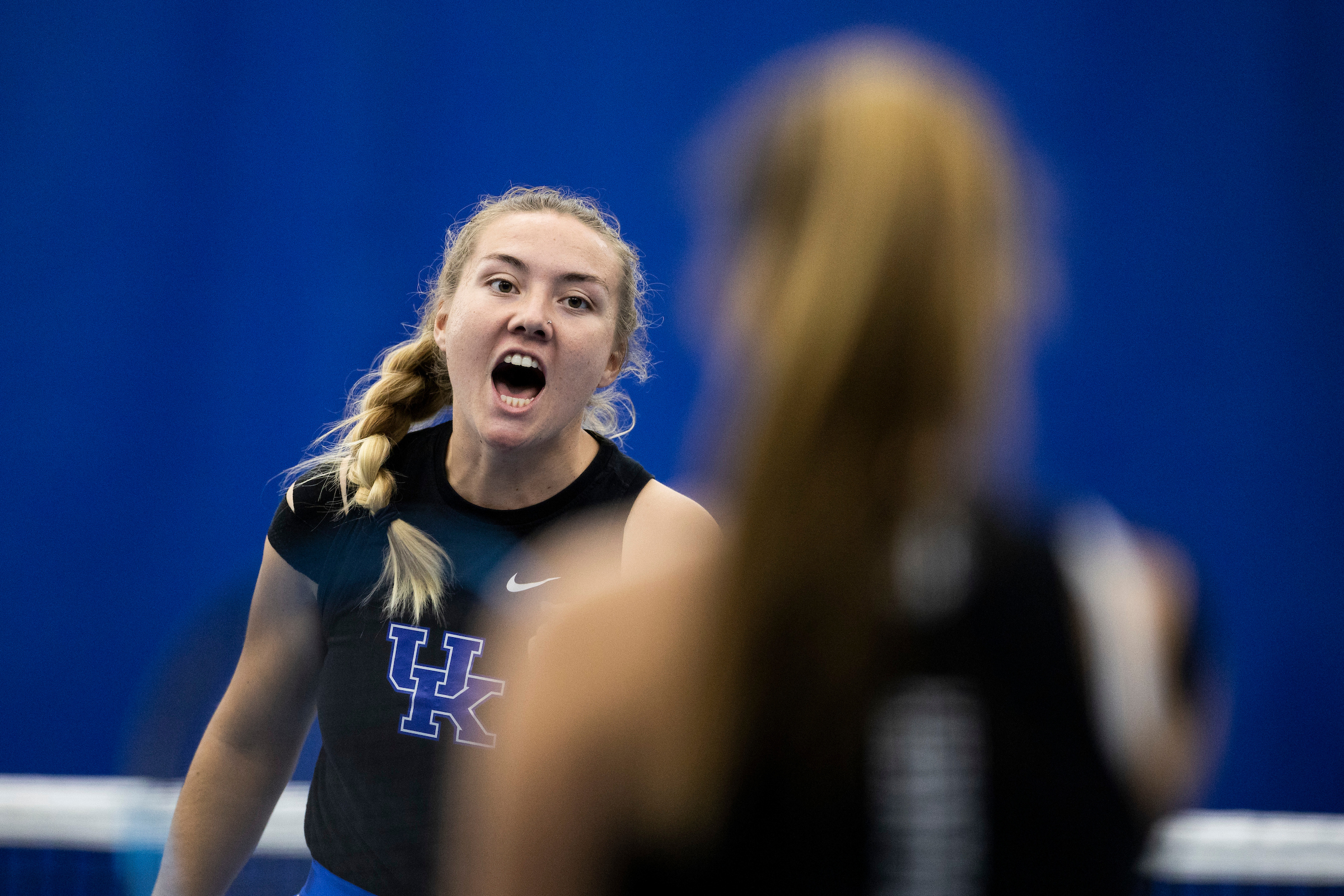 Stevens' Ranked Win Not Enough to Steer Wildcats Past Commodores
NASHVILLE, Tenn. – Junior Elizabeth Stevens recorded a dominant win over No. 113 Anna Ross, but No. 49 Kentucky (12-11, 4-7 SEC) ultimately fell on the road to No. 35 Vanderbilt (12-9, 5-6 SEC), 5-2.
Vanderbilt jumped out of the gates early, claiming the doubles point from a Kentucky doubles squad who has only dropped the opening series six times this season. The Commodores opened up an early lead, as their lone ranked pair of No. 73 Celia-Belle Mohr and Marcella Cruz claimed critical deciding-point wins to knock off Ellie Eades and Zoe Hammond.
Despite the early 3-1 lead, the No. 3 Wildcat pair of Florencia Urrutia and Lidia Gonzalez dropped the final five games of the set to give Vandy the 1-0 lead.
The ranked Wildcat pair of No. 44 Elizabeth Stevens and Carlota Molina were unable to finish their match, as they were on serve at 4-5 when doubles action concluded.
The Wildcats were able to even the dual up, thanks to stellar play from Stevens. She was able to build on her near upset on Wednesday in Ohio, rolling over her ranked Commodore foe. The junior from Tigard, Oregon only dropped two games on her way to a 6-1, 6-1 win at No. 2 Singles.
The Commodores bounced back, as No. 35 Mohr got the best of No. 32 Urrutia at No. 1 Singles. Despite a strong second set effort, Molina fell at No. 4 Singles, extending the Vanderbilt lead to 3-1. Vandy was able to clinch the match at No. 3 Singles, as No. 78 Stammel got the best of Eades, 6-4, 6-3. The homestanding Commodores extended their lead as Gonzalez fell 7-5, 6-2 at No. 5 Singles.
Hammond was able to salvage another point for the Wildcats, claiming her No. 6 Singles match 6-2, 6-2.
Kentucky will close out the regular season by hosting a pair of SEC foes for Senior Weekend. The Wildcats will open the final homestand of the year by hosting No. 2 Texas A&M on Friday, April 14, with first serve scheduled for Noon EST. Kentucky will host No. 52 LSU for Senior Day, with first serve scheduled for Noon on Sunday, April 16.
Both matches will be played at the Hilary J. Boone Tennis Center and admission is free to the public. Fans who cannot make it to Lexington can follow along via live stats, or watch live on Track Tennis.
RESULTS
Kentucky vs. Vanderbilt
Doubles
No. 44 Stevens/Molina (UK) vs. Ross/Staff (VU) 4-5 (unfinished)
No. 73 Mohr/Cruz (VU) def. Hammond/Eades (UK) 6-2
Lee/Stammel (VU) def. Gonzalez/Urrutia (UK) 6-3
Singles
No. 35 Mohr (VU) def. No. 32 Florencia Urrutia (UK) 6-2, 6-1
Elizabeth Stevens (UK) def. No. 113 Ross (VU) 6-1, 6-1
No. 78 Stammel (VU) def. Ellie Eades (UK) 6-4, 6-3
Lee (VU) def. Carlota Molina (UK) 6-1, 6-4
Staff (VU) def. Lidia Gonzalez (UK) 7-5, 6-2
Zoe Hammond (UK) def. Kourkina (VU) 6-2, 6-2
Order of Finish:
Doubles—2, 3
Singles— 2, 1, 4, 3, 5, 6
For the latest on UK Women's Tennis, follow the Wildcats on Twitter and Instagram at @UKWomensTennis.