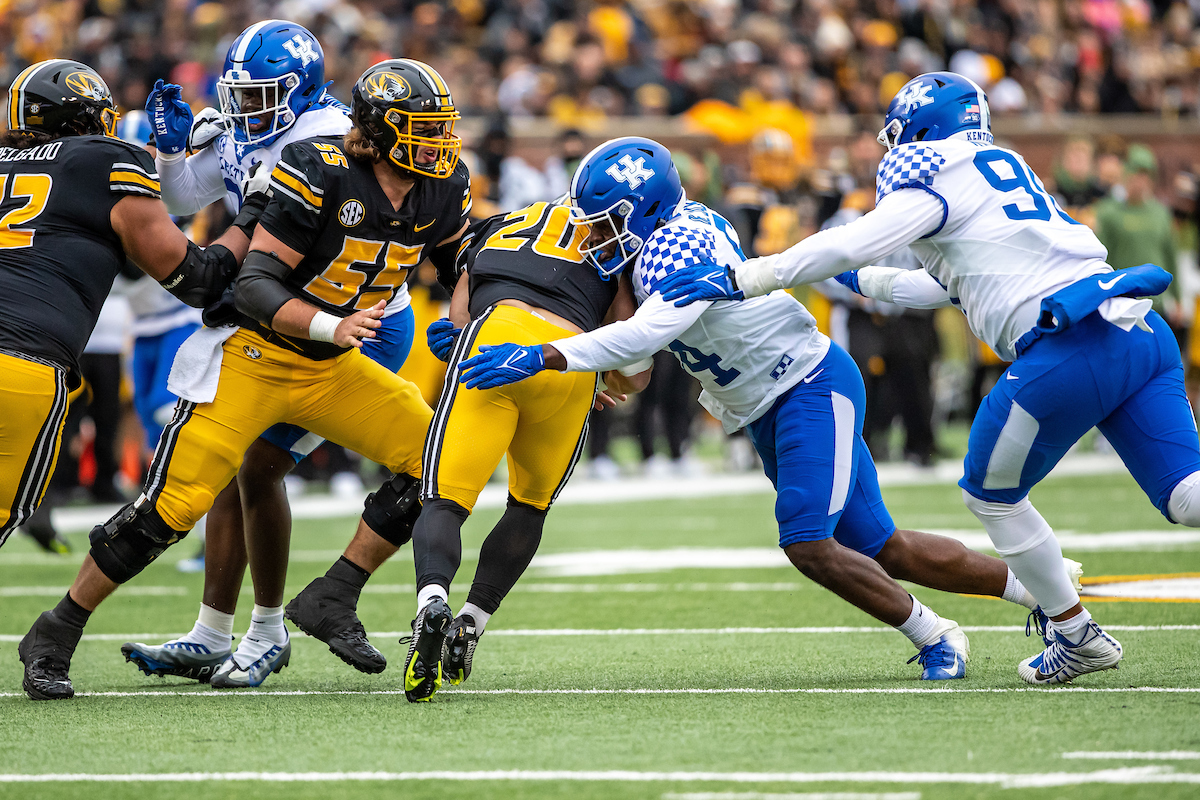 It may sound oversimplistic, but tackling is a very important part of any good defense. Being able to get the opposition down to the ground consistently can make or break a defense.
Kentucky defensive coordinator Brad White knows how important tackling is.
"Tackling is something we do every day, even in the fall," White said. "It's such a vital part. We actually had a big meeting on it as a defense yesterday. (Tackling) is something that, unless there's an incomplete pass or somebody goes out of bounds, you're going to have to tackle on every single down."
Spring practice is traditionally a time when college football teams can work on their tackling. It's also a time to work on the physicality that White and UK head coach Mark Stoops want their defensive unit to have.
"Obviously, in the spring (we are) maybe a little bit more physical in that sense because your bodies aren't having to get ready for Saturday," White said.
The UK defenses, until the tutelage of the defensive-minded White and Stoops, have proven to be good tackling units over the years. White credits that to the points of emphasis within the program.
"(Tackling is) always an emphasis here and always will be," White said. "We've got to play with great effort and we've got to be a great tackling team. No matter what the X's and O's say, if you can be great in those two areas, you're going to be a good defense. That's always an emphasis."
The Cats will need to replace three of their most productive tacklers from last season's team. Jordan Wright tied for second on the 2022 team with 62 tackles. DeAndre Square was third with 58 stops, while Jacquez Jones made 37 tackles in just seven games.
Last year's leading tackler, linebacker D'Eryk Jackson, returns after making 67 stops in 13 games last year. Safety Jordan Lovett, who tied for second on the team in tackles last season with 62, is also back. Linebacker Trevin Wallace, who was fifth on last year's squad with 54 tackles, is also back in 2023.
White says it's hard to evaluate just how the team has done with its tackling this spring.
"We've only the one live scrimmage," White said. "I thought, for the most part in that scrimmage, we tackled pretty well."
However, White does like how this defense is addressing the fundamentals of tackling.
"I think they're approaching the drill work correctly," White said. "There's an intentionality in terms of how they're approaching each tackles circuit we do on a daily basis. I think they're doing a decent job of finishing during team drills."
Tackling may seem like a simple part of the game but there is a lot that goes into being a good tackler. White hopes that the 2023 Cats can continue the tradition of good tackling that has been built at UK over the course of the Stoops era in Lexington.