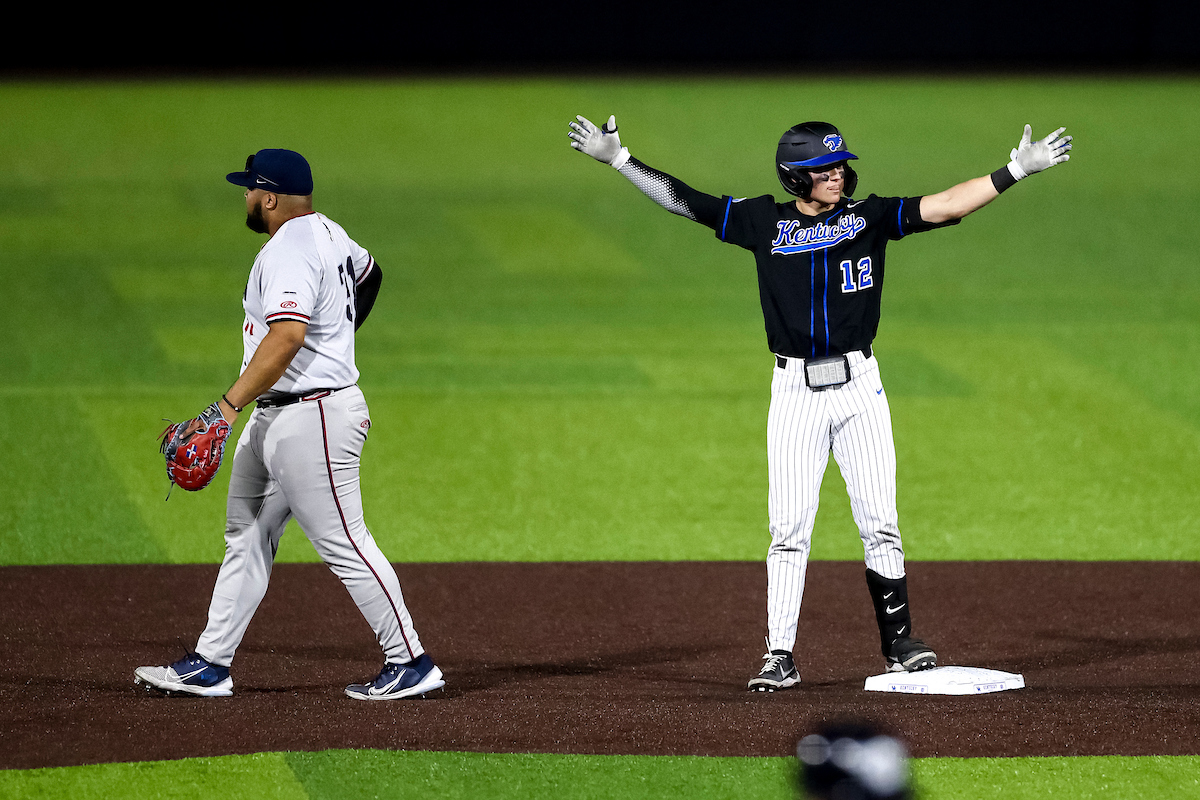 In a season of over 50 games, even the best baseball teams can have an off day. No. 10 Kentucky experienced that very phenomenon on Tuesday night against Dayton.
After taking a 2-0 lead in the bottom of the first, the Cats saw the Flyers tie the game in the top of the second. UK would score twice more in the bottom of the third, only to see Dayton tie it at 4-4 with a pair of runs in the top of the fourth.
The game was nip-and-tuck until the bottom of the sixth inning when the Cats seized control. Emilien Pitre singled to knock in Jackson Gray and Grant Smith, giving UK a 6-4 lead. Then, Nolan McCarthy singled down the right field line, knocking in Hunter Gilliam and Pitre to make it 8-4.
Dayton would get a single run in the top of the seventh before the Cats got five runs in the bottom of the frame. Devin Burkes walked with the bases loaded to force in Chase Stanke. Jase Felker scored on a balk, making it 10-5. Ryan Waldschmidt was hit by a pitch, forcing in Burkes. McCarthy then singled to knock in Gilliam and Pitre to give UK a commanding 13-5 advantage.
Kentucky would go on to win 13-6, despite having less than its best on this night. UK head coach Nick Mingione liked how his team executed late, thanks in part to its bullpen.
"It was tight because we gave them too many baserunners," Mingione said. "But I give our guys credit – when we needed to make some pitches, we made the pitches. Seth Logue was super impressive. I love when our guys put their foot down and go 'No. That's it. No more.' Colby Frieda did that. Ryder Giles did that."
Mingione knows that it would have been easy for the Cats to just give in and let this game go. But that's not the way this team is built.
"This is a game easily, it was tied 4-4, (we) could've (given in)," Mingione said. "They put some pressure on us, they had a chance to take the lead but we didn't (give in)."
UK outfielder Nolan McCarthy, who had three hits and drove in four runs, also liked how the Cats executed down the stretch.
"It was a close ballgame pretty much until the last couple of innings," McCarthy said. "It was a good job by us guys to get a lot of runs in an make it less of a ballgame."
How were the Cats able to do that?
"We have faith in each other and we always come out late," McCarthy said. "I just trust these guys to get on base and our pitchers to hold it down."
In baseball, the best teams are the ones that can manage to win even when they don't have their best. That was certainly the case with 10th-ranked Kentucky in Tuesday's win over Dayton.