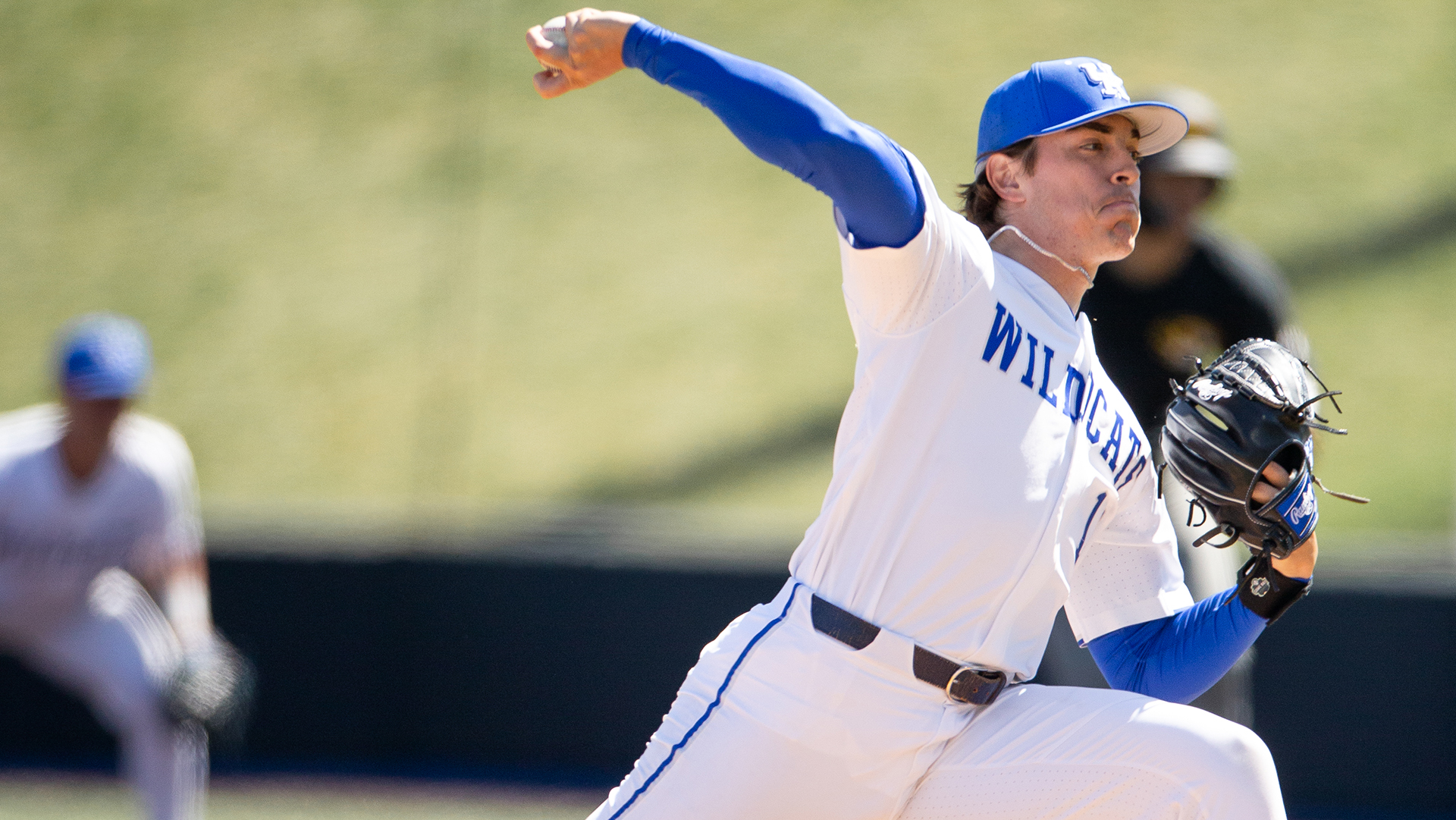 After scoring 12 and 10 runs in the first two games of its series against Missouri, the No. 18 Kentucky baseball team found itself in a different kind of game on Sunday in the series finale. Despite the difference in style, the ultimate result was the same.
Kentucky used its bullpen and outstanding defense to top Missouri 3-1 at Kentucky Proud Park, sweeping a Southeastern Conference series for the second time this season. The Cats are now 25-3 overall and 8-1 in league play.
UK head coach Nick Mingione was pleased with how his team handed a different type of game on Sunday.
"I like how we won this game," Mingione said. "The first two games, we won it in a different fashion. I was really proud of our pitchers. They left 16 guys on base, so we had plenty of times to cave and give in and, give our guys a lot of credit, they didn't do that."
Most of those 16 runners were left stranded by a bullpen that did not allow Missouri to score in 4.2 innings of work. Mingione and pitching coach Dan Roszel seemed to push the right buttons at the right times in the game but Mingione credited his pitchers.
"Jackson Nove got the huge strikeout (in the fifth)," Mingione said. "Then we took him out and Mason Moore got the one-pitch out. Each guy we kept bringing in helped out."
Among those contributing out to the bullpen on this day was Zach Hise, who transferred to UK from Missouri. Facing his old team, Hise went 1.1 innings, allowing a hit and a walk with a strikeout. Hise knew it was crucial to keep his emotions in check when facing his former teammates.
"I was definitely a little more excited than usual," Hise said. "But you've got to keep your cool down and get ready for the game like it's just another game."
Hise thinks Kentucky's bullpen depth was the key factor in Sunday's win.
"I think that's what won us the game today was our pitching," Hise said. "If one person struggled, the next person picked them up."
The UK pitchers were also given a boost by their defense. The Cats made several big plays during the game to keep Missouri at bay, although two stand out.
In the sixth inning with the Cats clinging to a 2-1 lead, the Tigers had runners on second and third with two outs. Missouri's Justin Colon hit a hot shot up the first base line that Hunter Gilliam dove for and caught on a hop. Gilliam then got to his feet and beat Colon to the bag to end the inning.
Then in the eighth, Missouri again had two on and two out when Trevor Austin hit a sinking line drive to left center field. UK center fielder Jackson Gray dove in the gap and made the catch to save at least one run.
Mingione knew exactly how important those plays, and others, were.
"It was game-saving," the UK head coach said. "You think about the diving pay that Hunter Gilliam (made). That took a couple of runs off the board. What about the diving play that Jackson Gray made in center field, that was a great play. What about the job that Devin (Burkes) did on that pop-up. That's not an easy pop-up. Just a ton of great defense."
Hise knows that the UK pitchers feel confident in their defense behind them.
"It makes it a lot easier," Hise said. "Any time a ball is hit, you know you have a pretty good chance it's going to be an out with our defense behind us."
The weekend sweep, which is always tough to get against a conference opponent, pleased Mingione.
"I'm just proud of our team because these games are hard to win," he said. "It's hard to win three games against an SEC opponent. It's hard to win three games on a weekend."
It wasn't anything like the first two games of the series but the final result on Sunday was still a win for Kentucky.