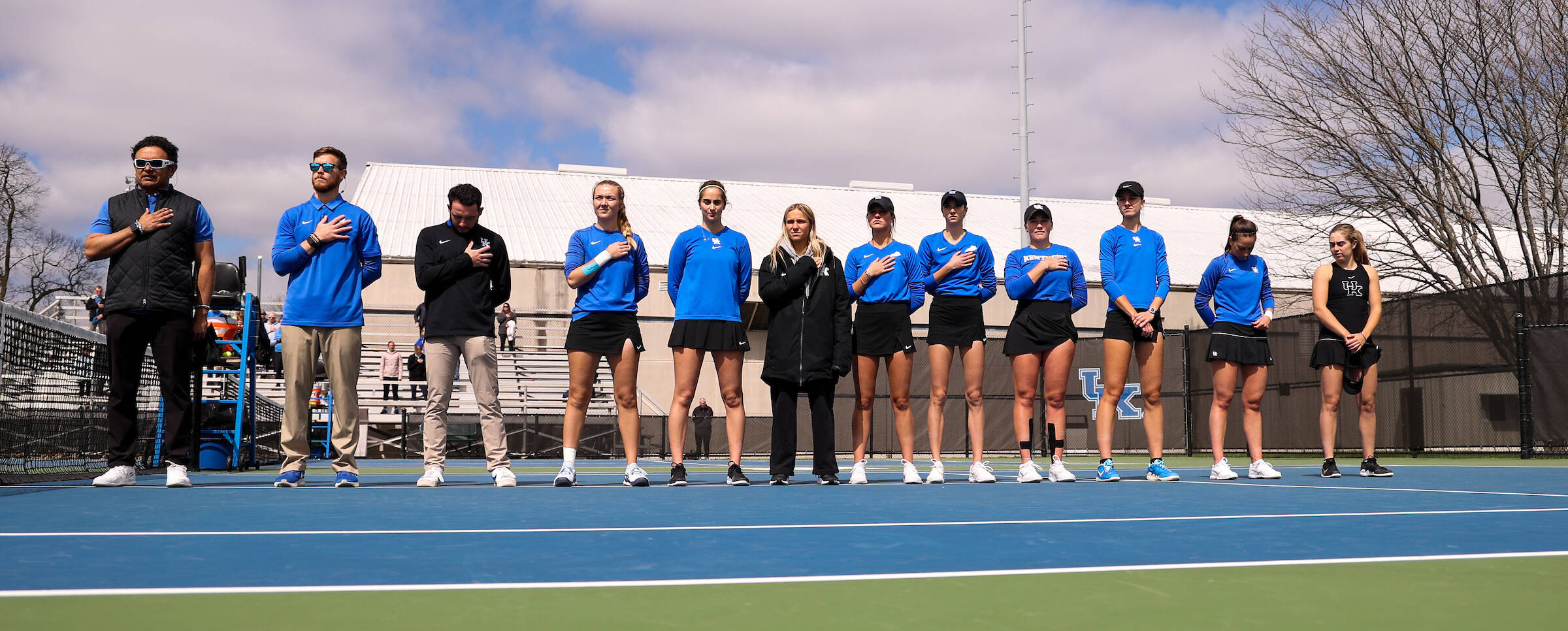 Kentucky Struggles to Secure Sunday Victory
LEXINGTON, Ky. – No. 51 Kentucky (12-9, 4-6 SEC) struggled to find Sunday success at the Hilary J. Boone Tennis Center, falling to No. 53 Alabama (11-8, 4-5 SEC), 1-4.
The tough defeat was the second of the weekend after falling to No. 13 Auburn on Friday, 2-5, which was preceded by a five-match win streak for the Cats.
Senior Carlota Molina was the only Wildcat who found victory at No. 3 Singles against the Crimson Tide's Petra Sedlackova. Molina's impressive efforts swept the point in two sets, 6-2, 6-3.
Finding much success in doubles play throughout the spring match slate, the Cats were challenged throughout the weekend. Out of 22 matches so far this season, Kentucky has only dropped the doubles point five times, two of which came from the weekend of play.
The pair of Ellie Eades and Zoe Hammond were the first to fall on Court 2 to Alabama's Anna Parkhomenko and Sedlackova, 5-7. Securing the first point of the match for the Crimson Tide on Court 1 was the No. 34-ranked pair of Anne Marie Hiser and Loudmil Bencheikh who rallied against Kentucky's own ranked pair No. 63 Elizabeth Stevens and Molina. The ranked UK duo was defeated 5-7 leaving Florencia Urrutia and Lidia Gonzalez unfinished on Court 3.
With Alabama up 1-0, it was time to enter singles play where the Cats put up a strong fight. On Court 6, the Crimson Tide's Klara Milicevic didn't waste time finding the second point of the match defeating Kentucky senior Maialen Morante, 6-2, 6-3.
However, Molina put the Cats into battle with a sweep of her own on Court 3 with her two-set victory over Sedlackova. Kentucky was within reach of equalizing the match, but Alabama's No. 2 Singles player Ola Pitak overcame Ellie Eades, 6-2, 7-5.
The Crimson Tide, needing one more point to clinch the match, continued to challenge the Wildcats. Freshman Hammond on Court 5 went back and forth for three sets with Alabama's Hiser. Falling 1-6 in the first set, Hammond came out ready to go in the second. She fought hard to equalize her battle with Hiser as she came out on top 6-3. However, it was in the third set that the Crimson Tide found its opportunity to clinch as Hiser defeated Hammond, 6-3.
With the scoreboard reading 4-1 Alabama, the match concluded leaving Court 1 and Court 4 unfinished both in the third sets.
The Wildcats will travel to No. 6 Ohio State on Wednesday for a 4 p.m. EST matchup with the Buckeyes for the final non-conference contest of the regular season.
RESULTS
Kentucky vs. Alabama
Doubles
No. 34 Anne Marie Hiser and Loudmil Bencheikh (UA) def. No. 3 Carlota Molina and Elizabeth Stevens (UK), 7-52
Anna Parkhomenko and Petra Sedlackova (UA) def. Ellie Eades and Zoe Hammond (UK), 7-5
Lidia Gonzalez and Florencia Urrutia (UK) vs. Kasia Pitak and Ola Pitak (UA), 5-6 uf
Singles
No. 48 Florencia Urrutia (UK) vs. Loudmil Bencheikh (UA), 7-6 (10-8), 4-6 uf
Ola Pitak (UA) def. Ellie Eades (UK), 6-2, 7-5
Carlota Molina (UK) def. Petra Sedlackova (UA), 6-2, 6-3
Lidia Gonzalez (UK) vs. Anna Parkhomenko (UA), 4-6, 6-1 uf
Anne Marie Hiser (UA) def. Zoe Hammond (UK), 6-1, 3-6, 6-3
Klara Milicevic (UA) def. Maialen Morante (UK), 6-2, 6-3
Order of Finish:
Doubles—2, 1
Singles— 6, 3, 2, 5
For the latest on UK Women's Tennis, follow the Wildcats on Twitter and Instagram at @UKWomensTennis.