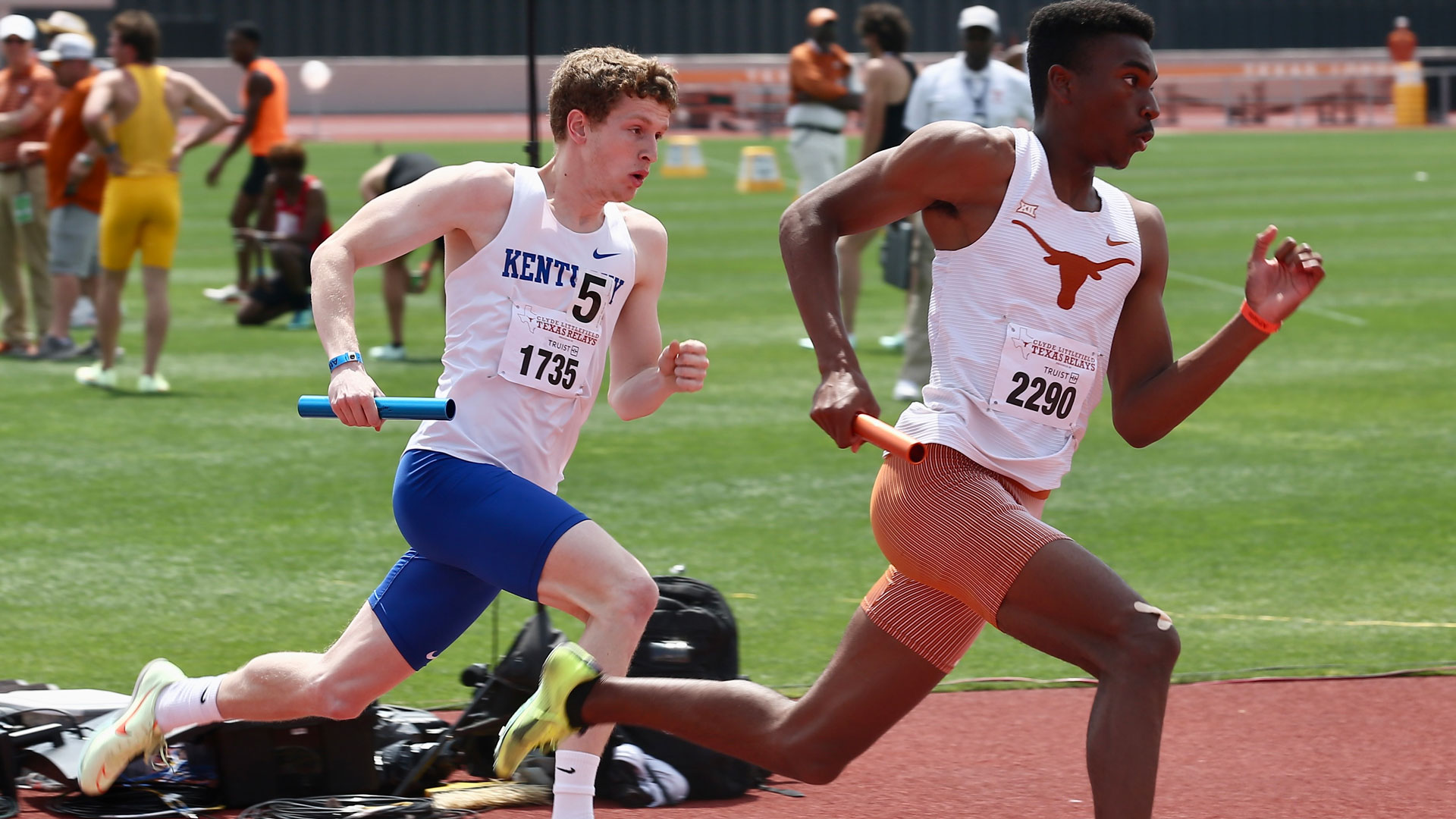 Men's 4x400 Relay Sets Fastest Time In Nation At Texas Relays
AUSTIN, Texas — Kentucky track & field secured three event wins and five qualifications for tomorrow's finals on the second day of the 95th Clyde Littlefield Texas Relays while seven personal bests were recorded at the Stanford Invite.
Texas Relays Day Two
The men's 4×400 relay team of Wayne Lawrence Jr., Kennedy Lightner, Justin Swann, and Brian Faust set the most impressive time of the day for the Wildcats. In the final heat, the team put together the fastest time in the nation at 3:04.48 to earn the final automatic qualifier for Saturday's final while also ranking at number six on UK all-time performers list.
Jordan Turner earned his first win of the season after setting a personal best in the long jump with a 26'1.75"/7.97m (1.2). Robert Springfield III placed eighth in the same event with a jump of 24'6.25"/7.48 (3.8).
Masai Russell got the day started by capturing the women's 100 hurdles prelims with a wind-aided 12.61 (5.9). Russell will look to improve her personal best in tomorrow's final at 2:20 p.m. CT.
Both Anthaya Charlton and Victoria Perrow qualified for the women's 100 meter finals after placing wind-aided times of 10.98 (3.5) and 11.12 (3.5) respectively.
Langston Jackson was runner-up in the men's 100 meter timed final with a wind-aided 10.18 (2.5).
The women's 4×100 relay team of Russell, Charlton, Perrow, and Karimah Davis earned an automatic qualifier and placed second overall with a time of 43.45 in the prelims.
Bobcat Invitational
Tamiia Fuller earned a personal best in the women's 200 meter dash at the Bobcat Invitational hosted by Texas State. Her time of 23.93 (0.9) saw her place 13th overall.
Stanford Invite Day One
The UKTF distance teams got their weekend underway in California this afternoon taking part in six events.
Three personal bests were achieved in the men's 3,000 meter steeplechase as Jackson Watts (9:01.01), McLean Griffin (9:13.33), and Alex Alston (9:20.41) all placed within the top-15.
Jenna Schwinghamer ran a personal best time of 4:21.57 in the women's 1,500 meters. Sydney Steely ran a 4:25.14 while Phoebe McCowan ran a 4:31.18.
Alex Justus also ran a personal best in the men's 1,500 meters putting in a time of 3:48.19. Dylan Allen finished with a time of 3:45.13 and Harper Moore ran a time of 4:01.72.
Tori Herman ran a time of 15:57.51 in the women's 5,000 meters while Kaylie Kenne closed out the day for the women with a time of 34:25.67 in the women's 10,000 meters. Kenne's time ranks at number five on the UK all-time performers list.
Aaron Withrow ran a personal best time of 29:40.09 in the men's 10,000 meters. Withrow now ranks eighth on the UK all-time performers list to end the day for the Wildcats.
Kentucky will conclude the Texas Relays and Stanford Invite tomorrow.
Follow Kentucky Track and Field and Cross Country on Facebook, Instagram, Twitter, and at UKathletics.com.
Texas Relays: Friday, March 31: ALL TIMES IN CENTRAL TIME
Women's 100H
9:35 a.m.
Prelim
1. Masai Russell: 12.61 (5.9)Q

17. Yasmin Brooks: 13.35 (3.7)

26. Shadajah Ballard: 13.77 (3.4)

Women's 100m
9:35 a.m.
Prelim
6. Anthaya Charlton: 10.98 (3.5)q

8. Victoria Perrow: 11.12 (3.5)q

37. Iantha Wright: 11.76 (5.5)

Women's 100m
9:35 a.m.
Timed Final
18. Colleen Branch: 11.71 (2.7)
Men's 100m
9:35 a.m.
Timed Final
2. Langston Jackson: 10.18 (2.5)

33. Myles Anders: 10.51 (2.3)

Women's 4×100 Meter Relay
9:35 a.m.
Prelim
2. Masai Russell, Anthaya Charlton, Victoria Perrow, Karimah Davis: 43.45Q
Men's 4×100 Meter Relay
9:35 a.m.
Prelim
15. Langston Jackson, Brandon Miller, Kennedy Lightner, Jordan Anthony: 39.95
Men's 4×400 Meter Relay
9:35 a.m.
Prelim
1. Wayne Lawrence Jr., Kennedy Lightner, Justin Swann, Brian Faust: 3:04.48Q | No. 1 in NCAA | No. 6 on UK all-time performers list
Men's Long Jump
10:00 a.m.
Prelim/Final
1. Jordan Turner: 26'1.75"/7.97m (1.2) | PB

8. Robert Springfield III: 24'6.25"/7.48 (3.8)

Men's Discus
4:00 p.m.
Prelim/Final
13. Josh Sobota: 178'2"/54.32m
Bobcat Invitational: Friday, March 31: ALL TIMES IN CENTRAL TIME
Women's 200m
Final
13. Tamiia Fuller: 23.93 (0.9) | PB
Stanford Invitational: Friday, March 31: ALL TIMES IN PACIFIC TIME
Women's 1500m
12:41 p.m.
Final
5. Jenna Schwinghamer: 4:21.57 | PB

8. Sydney Steely: 4:25.14

9. Phoebe McCowan: 4:31.18

Men's 1500m
1:03 p.m.
Final
5. Alex Justus: 3:48.19 | PB

8. Dylan Allen: 3:45.13

11. Harper Moore: 4:01.72

Men's 3000m Steeplechase
5:35 p.m.
Final
2. Jackson Watts: 9:01.01 | PB

11. McLean Griffin: 9:13.33 | PB

13. Alex Alston: 9:20.41 | PB

Women's 5000m
7:12 p.m.
Final
10. Tori Herman: 15:57.51
Women's 10000m
10:19 p.m.
Final
23. Kaylie Kenne: 34:25.67 | PB | No. 5 on the UK all-time performers list
Men's 10000m
10:58 p.m.
Final
34. Aaron Withrow: 29:40.09 | PB | No. 8 on the UK all-time performers list
Texas Relays: Saturday, April 1: ALL TIMES IN CENTRAL TIME
Women's Pole Vault
11:00 a.m.
Final
Siobhan Szerencsits
Women's 4x200m Relay
12:00 p.m.
Final
Karimah Davis, Dajour Miles, Shadajah Ballard, Tamiia Fuller, Iantha Wright, Colleen Branch, Megan Moss, Reynei Wallace
Men's 4x200m Relay
12:00 p.m.
Final
Jordan Anthony, Kennedy Lightner, Brandon Miller, Langston Jackson, Brian Faust, Myles Anders, Wayne Lawrence Jr.
Women's 4x100m Relay
1:30 p.m.
Final
Masai Russell, Anthaya Charlton, Victoria Perrow, Karimah Davis
Women's 100H
2:20 p.m.
Final
Masai Russell
Women's Long Jump
3:00 p.m.
Prelim/Final
Anthaya Charlton
Men's Pole Vault
3:00 p.m.
Final
Keaton Daniel
Women's 100m
3:05 p.m.
Final
Anthaya Charlton

Victoria Perrow

Women's 200m
3:45 p.m.
Final
Karimah Davis
Men's 200m
3:45 p.m.
Final
Jordan Anthony

Kennedy Lightner

Brandon Miller

Men's Shot Put
4:00 p.m.
Prelim/Final
Josh Sobota
Men's 4×400 Relay
4:05 p.m.
Final
Wayne Lawrence Jr., Kennedy Lightner, Justin Swann, Brian Faust
Women's 4×400 Relay
4:05 p.m.
Final
Karimah Davis, Masai Russell, Christal Mosley, Dajour Miles, Megan Moss, Tamiia Fuller, Colleen Branch, Shadajah Ballard, Iantha Wright, Reynei Wallace
Stanford Invitational: Saturday April 1: ALL TIMES IN PACIFIC TIME
Women's 800m
2:14 p.m.
Final
Bryanna Lucas

Deanna Martin

Phoebe McCowan

Jenna Schwinghamer

Sydney Steely

Men's 800m
2:38 p.m.
Final
Alex Justus

Justin Swann
Texas Relays: Thursday, March 30: ALL TIMES IN CENTRAL TIME
Women's 400H
Prelim
19. Yasmin Brooks: 59.26
Men's 400H
Prelim
26. Beck O'Daniel: 52.94