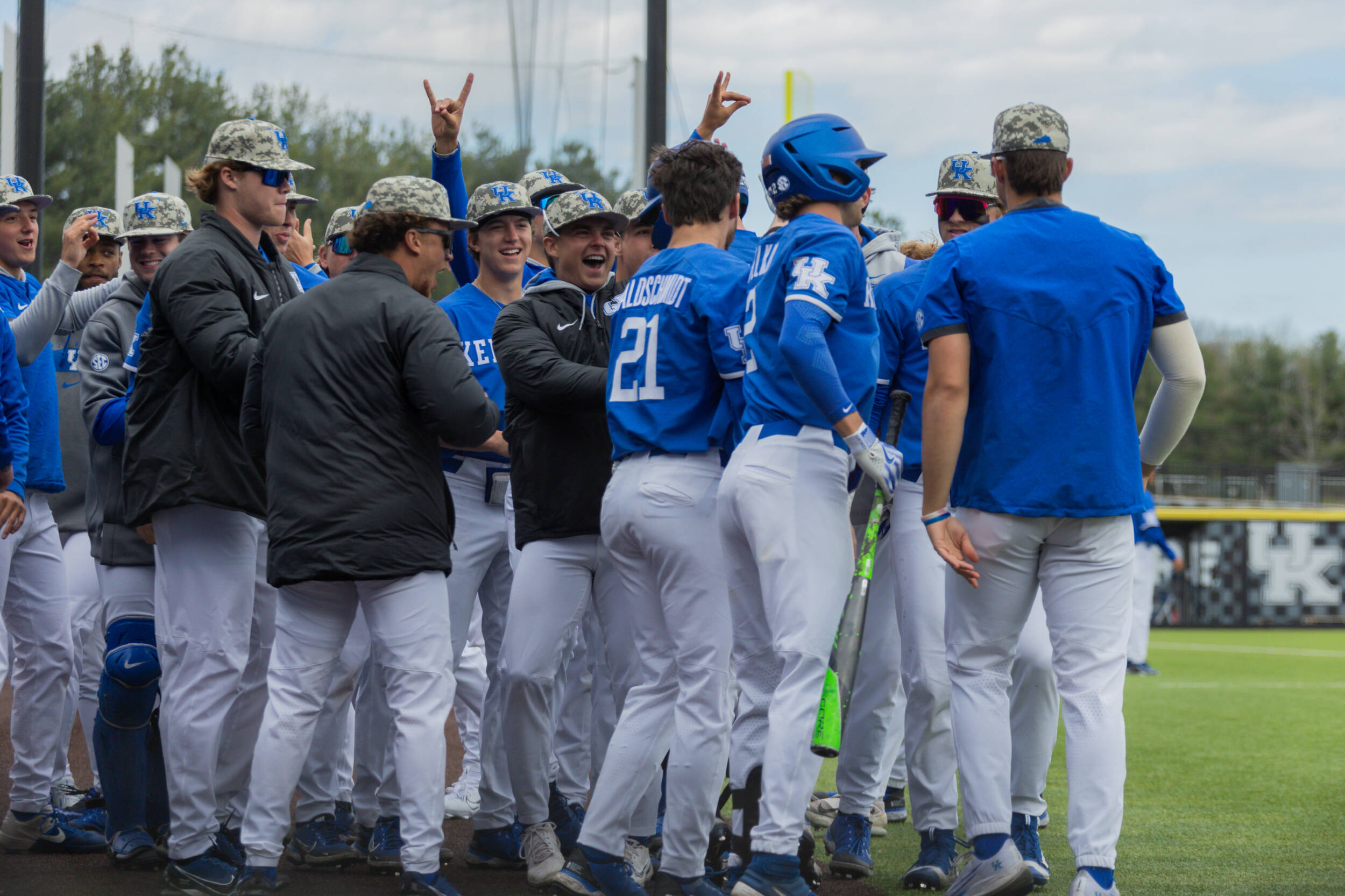 The Kentucky baseball team has won 24 of its 27 games this season at least partially due to an offensive formula that fits this particular group of players. The Cats put pressure on their opponents early and often, with an offensive philosophy that head coach Nick Mingione calls "chaos". That includes bunting, hit-and-runs, stealing bases and being generally aggressive on the basepaths.
Such was the case again on Saturday when the Cats scored four runs in the first inning and three in the second on their way to a 10-0 win over Missouri at Kentucky Proud Park. This coming just one night after the Cats scored five runs in the first inning of a 12-2, run-rule win over the Tigers on Friday night.
Mingione likes how the Cats have started both games against the Tigers.
"That's two games in a row where we started out fast," Mingione said. "It definitely helps. When you look up and you've got a lead, it's a little bit easier to pitch."
The Cats sent nine men to the plate in the first inning, something that Mingione knows is rare.
"That doesn't happen every day," Mingione said. "I thought our guys did a great job with their starter."
The Cats have been starting quickly often during Southeastern Conference play. Mingione knows that has, at least partially, led the Cats to a 7-1 league mark.
"Even throughout the SEC season, it's been good. I love the way our team has responded," Mingione said. "It happened yesterday in the first and again today. Any time you can start out fast, you'll take it."
Kentucky has now scored first in six of eight SEC games this season. The Cats are 18-1 overall in 2023 when scoring first in a game.
It's not only that the Cats are scoring, but they are scoring in bunches. On Saturday, Kentucky scored four or more runs in an inning for the 23rd time this season. Last year, the Cats did that just 28 times over the course of 59 games. Big innings, especially early in the game, can be demoralizing for an opponent.
"Our guys, their ability to get the big inning has been big for us this series," Mingione said. "I'm proud of our guys."
UK second baseman Emilien Pitre thinks that the Cats' scoring early not only builds momentum, but also helps the Kentucky pitchers.
"We've been able to score a lot early in the game and our pitchers are so good, they just attack the guys," Pitre said. "And when you're up four or five to nothing in the first inning, you play free."
Mingione knows that getting on top early can put pressure on the opposition. The Cats have done that to Missouri in the first two games of this weekend's SEC series.