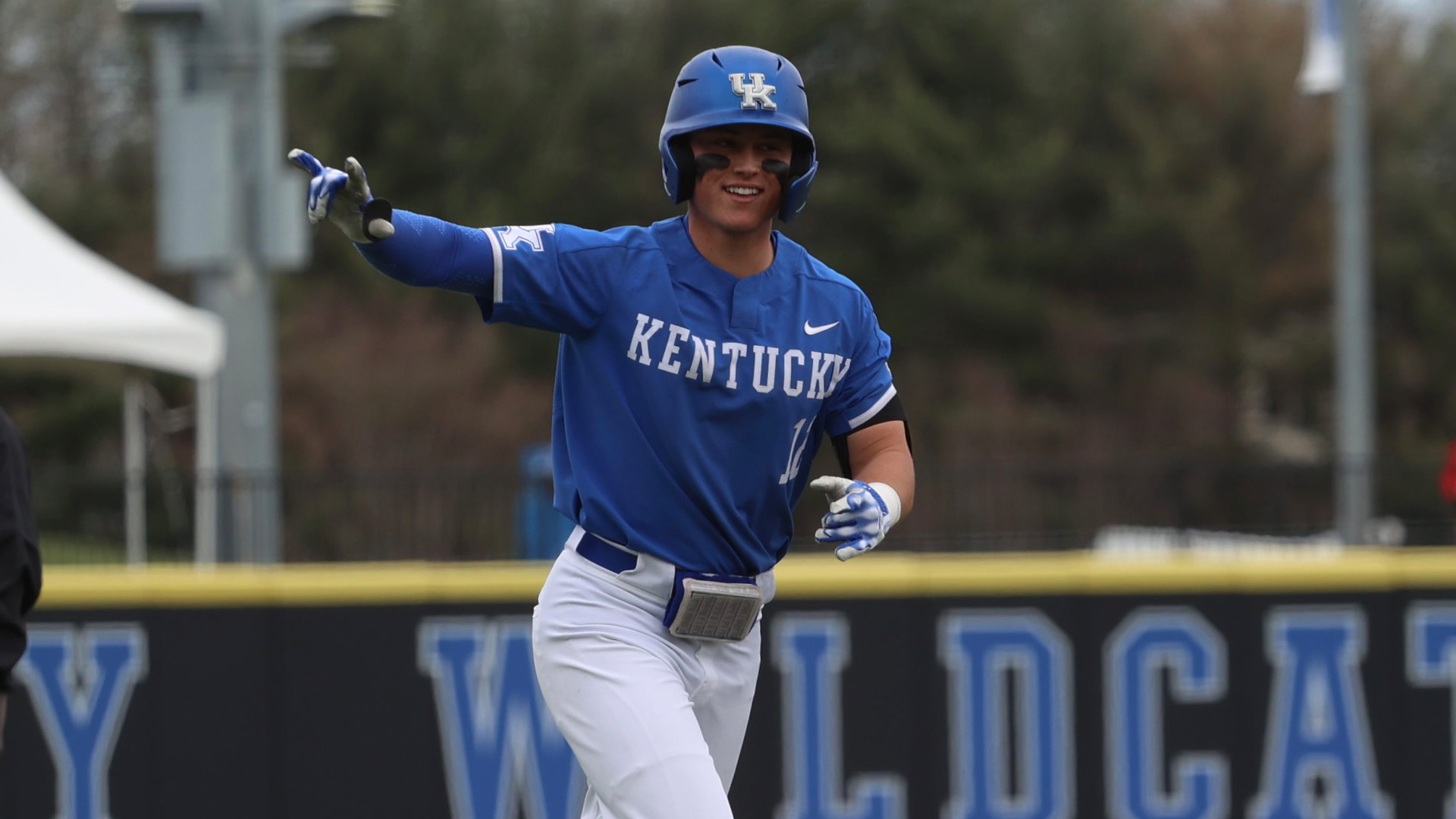 Tyler Bosma was in his bag and No. 16 Kentucky pounded No. 25 Missouri for the second consecutive day, run-ruling the Tigers in eight innings when Hunter Gilliam doubled over the centerfielder's head.
Kentucky won its third Southeastern Conference series and seventh overall in as many weekends this season. The last time UK won its first three conference series was 2017, when it went on to the NCAA Super Regional round.
Bosma threw six shutout innings and was never under duress before Evan Byers closed it with a pair of innings. UK (24-3, 7-1) threw up a four-spot in the first inning before much of the crowd of 3,156 had settled into their Kentucky Proud Park seats. UK has scored nine runs in the opening frame this weekend and plated at least one run in the first inning in six of eight league games.
Every Wildcat starter had at least one hit and Grant Smith homered for the third time in four games to lead the offensive charge.
NOTES
Kentucky is 31-6 over its last 37 games dating to last season.
UK is 16-7 in its last 23 games vs. SEC opponents.
UK now has 16 wins vs. the RPI Top 100 and nine vs. the Top 50.
The last time UK won its first three SEC series was 2017, Mingione's first season.
UK Coach Nick Mingione is in his seventh season at the helm and now owns a 200-132 career record.

UK is 43-44 in the month of April under Coach Mingione.
Mingione is 10-7 vs. Missouri.
Mingione is 88-43 at Kentucky Proud Park.

UK has scored in 326 of 332 games under Coach Mingione.
The Cats stole one base and now are 53-of-67 on the season.
UK scored four runs in the first inning, the 23rd time it has scored four or more in an inning this season.
With wind gusts up to 50 MPH, players lost their caps 16 times and a pitcher was issued a balk when a gust blew him off the mound.
UK has run-ruled Mizzou on back-to-back days.
UK has had a different winning pitcher in each of its seven SEC victories.
First Baseman Hunter Gilliam ran his hit streak to 20 games and he now has reached safely in all 26 games in which he's played.

The streak is the tied for the fourth-longest at UK since 2005.
He had a walk-off RBI double in the eighth.
He went 3-for-5 with two RBI.
He had his 14th multi-RBI and 13th multi-hit game of the season.

Catcher Devin Burkes has reached safely in 16 consecutive games.

He had his 10th multi-hit game of the season.
He scored three runs.

Outfielder Ryan Waldschmidt has reached base safely in 15 straight games.
Infielder Emilien Pitre had three RBI, a double and two stolen bases.

He now has nine multi-RBI games this season.

Outfielder Jackson Gray has reached safely in 18 consecutive games.
Infielder Jase Felker scored three runs and was hit by two pitches.
Infielder Grant Smith has started all 143 games of his collegiate career.

He has reached in 15 straight games.
He hit a solo home run in the third inning and now has homered in three of the past four games.

Pitcher Tyler Bosma threw six shutout innings, allowing four hits, one walk and striking out six.

He threw a UK career-high 98 pitches.

Pitcher Evan Byers pitched two shutout innings.

He set new career-highs in innings, strikeouts and pitches..
 ON DECK
Kentucky will try to sweep No. 25 Missouri at noon ET on Sunday. It will be aired on the SEC Network. The radio call will be on the UK Sports Network (630 AM WLAP, locally).