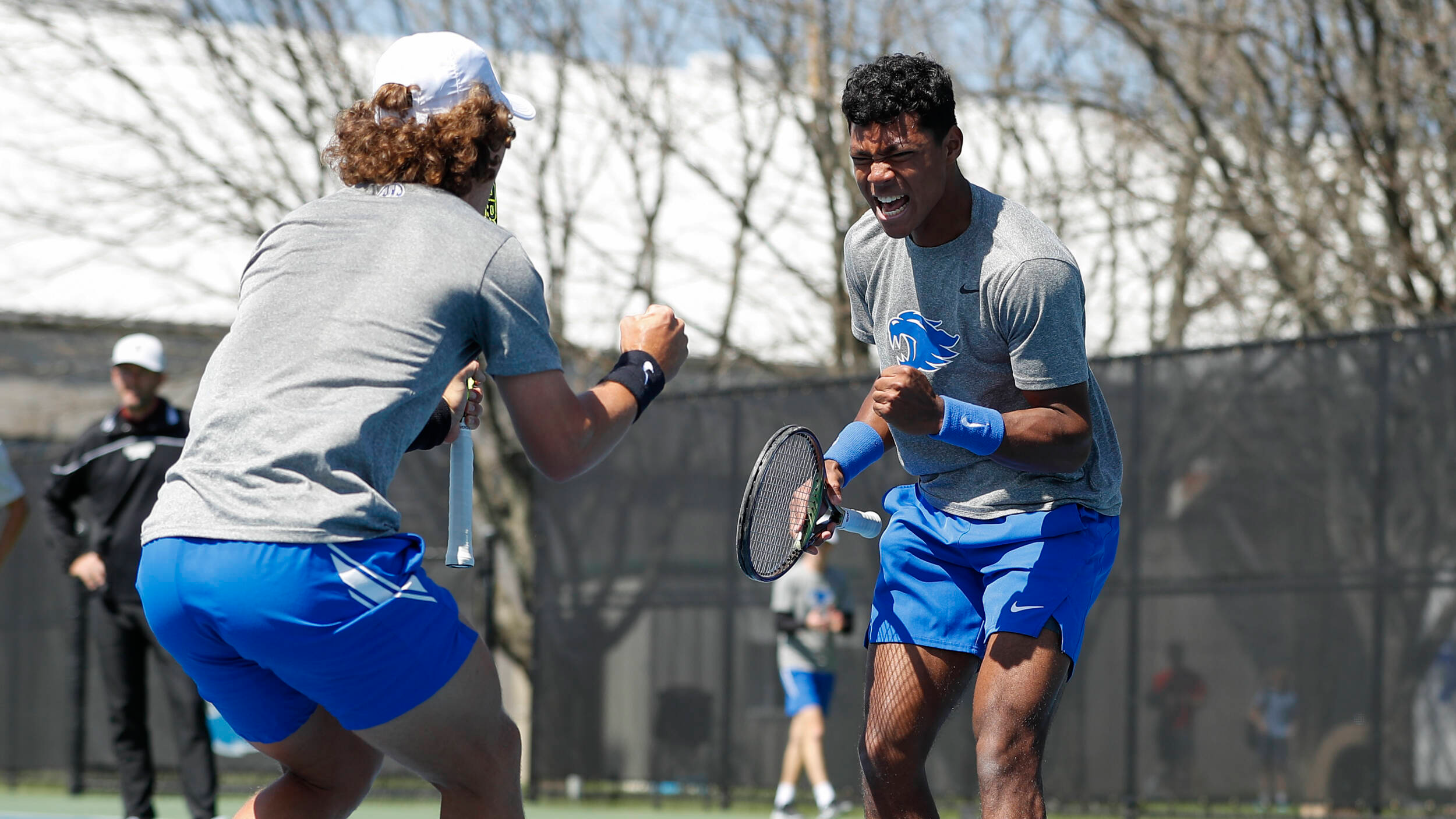 March 31, 2023 - 11:24 AM
No. 4 Kentucky Faces No. 8 Georgia, No. 14 Tennessee as Battle for SEC Crown Continues
LEXINGTON, Ky. – No. 4 Kentucky (19-2, 7-1 SEC) enters a crucial weekend of tennis as the Wildcats travel south to take on No. 8 Georgia (12-5, 6-0 SEC) and No. 14 Tennessee (14-6, 4-2 SEC) this Friday and Sunday with first place in the conference standings in the balance.
UK will face the Bulldogs on Friday at 5 p.m. in a matchup that pits the Cats against the only team above them in SEC play. Kentucky will then stop in Knoxville on the way back to Lexington for a Sunday showdown with the Volunteers at 1 p.m. Live stats and streaming will be available to fans for both matches.
Kentucky surged back inside the top five of the ITA rankings this past week after defeating Ole Miss and Mississippi State last weekend. Senior Liam Draxl went a combined 3-0 across the two matches in singles and doubles, earning SEC Player of the Week for his efforts. Draxl leads the team with seven wins against ranked opposition in singles and his tied with junior Joshua Lapadat for the most singles wins on the squad overall with 16.
UGA is led by redshirt freshman Ethan Quinn, currently No. 4 in the ITA singles rankings. A native of Fresno, Calif., Quinn has earned two SEC Freshman of the Week honors this season and is 8-8 in dual matches on court one. Second singles Phillip Henning is 11-4 in duals and ranked No. 19 in the nation, while Blake Croyder (No. 99) and Teodor Giusca (No. 116) give the Bulldogs four ranked singles players. The 'Dawgs also feature a top-10 doubles pairing in Quinn and Trent Bryde, the ninth-ranked duo in the country. Kentucky and Georgia last met in April of 2022, when the Wildcats claimed a 5-2 win on their home courts over the Bulldogs.
Tennessee faces two top-15 this weekend as the Vols host No. 12 Mississippi State on Friday and Kentucky on Sunday. The Volunteers are 2-6 against top-25 opposition this season, defeating No. 17 Stanford and No. 9 Columbia. Junior Johannus Monday is the No. 2 ranked singles player in the ITA rankings and is followed by grad transfer Emile Hudd (No. 57) along with sophomore Shunsuke Mitsui (No. 122). Monday and partner Pat Harper also enter the weekend as the No. 2 doubles pair in the nation while Hudd and Mitsui are No. 60. UK defeated Tennessee, 4-3, last season in a closely contested affair in Lexington.
For the latest on UK Men's Tennis, follow the Wildcats on Twitter and Instagram at @UKMensTennis.