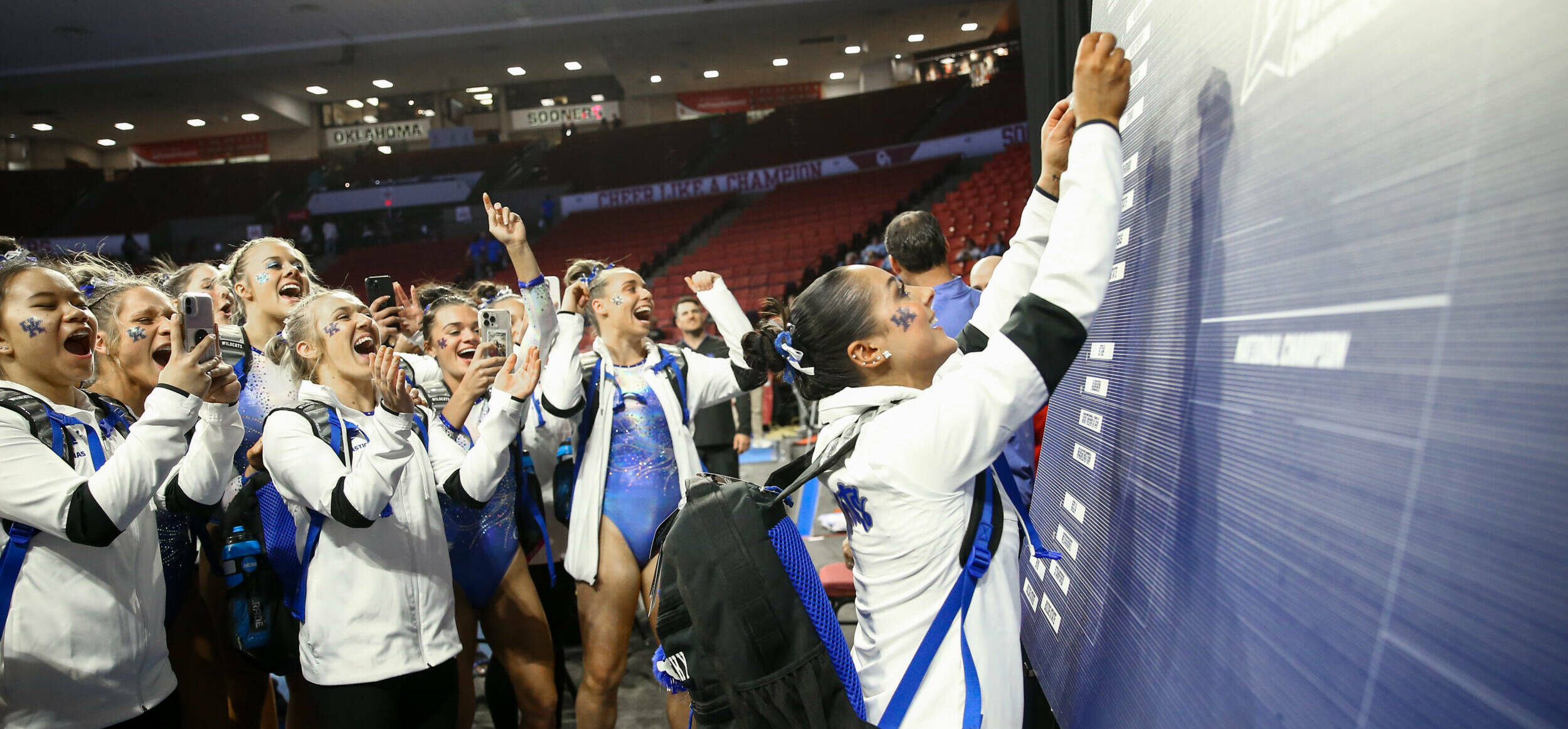 March 30, 2023 - 07:45 PM
Wildcats Advance to NCAA Regional Finals
NORMAN, Okla. – No. 9 Kentucky gymnastics advanced to the NCAA Regional Final on Thursday after a 197.475-worthy performance in the semifinal round of competition.
Competing against Southeastern Conference rival No. 8 Alabama, Iowa and Illinois, the Cats were the top team of the afternoon session. The evening session will feature host Oklahoma, Arkansas, Ohio State and NC State. The Wildcats and Crimson Tide will be joined by the top two teams of the evening session to compete for a chance to punch a ticket to the NCAA Championships at Dickies Arena in Fort Worth, Texas, April 13-15.
In program history, Kentucky has advanced to the regional finals six times including 2023.
Senior Raena Worley was the all-around winner for the 20th time of her collegiate career scoring a 39.625. The first team floor All-American held the top score of the meet on the event with a 9.950.
The Wildcats started the afternoon on the floor exercise with Jillian Procasky leading off the apparatus. Her 9.850 performance tied her season and career bests kicking the meet off well for Kentucky. Arianna Patterson strutted her stuff with a 9.900 while Hailey Davis rocked on with a 9.900 of her own. Anchoring the event, Worley neared her own career and season highs with a 9.950. UK completed the first rotation with a 49.450.
In the second rotation of the afternoon, the Wildcats continued the fight on vault. Sophomore Makenzie Wilson was the team's leading scorer earning a 9.875 from the judges for her front handspring front pike half. Patterson and Worley each were awarded 9.850 on the event.
The highest-scoring apparatus of the day was the third rotation – the uneven bars. The Cats looked strong recording a collective 49.475. Bailey Bunn, Shealyn Luksik and Worley all scored 9.925, tying for the highest score for the team on the event. Bunn's high score set a new season and career best for the gymnast.
Rounding out the day, the Wildcats tallied 49.350 on the balance beam. Patterson's 9.950 was the top score of the meet on the event, as well as the team's highest tally. Worley and Bunn both received 9.900 each from the judges.
Big Blue Nation can watch the Cats in action again on Saturday at 6 p.m. EST by following live stats or watching live on ESPN+. Tickets for the meet are available by clicking here.
For the latest on the Kentucky gymnastics team, follow @UKGymnastics on Twitter, Facebook and Instagram, as well as on the web at UKAthletics.com.