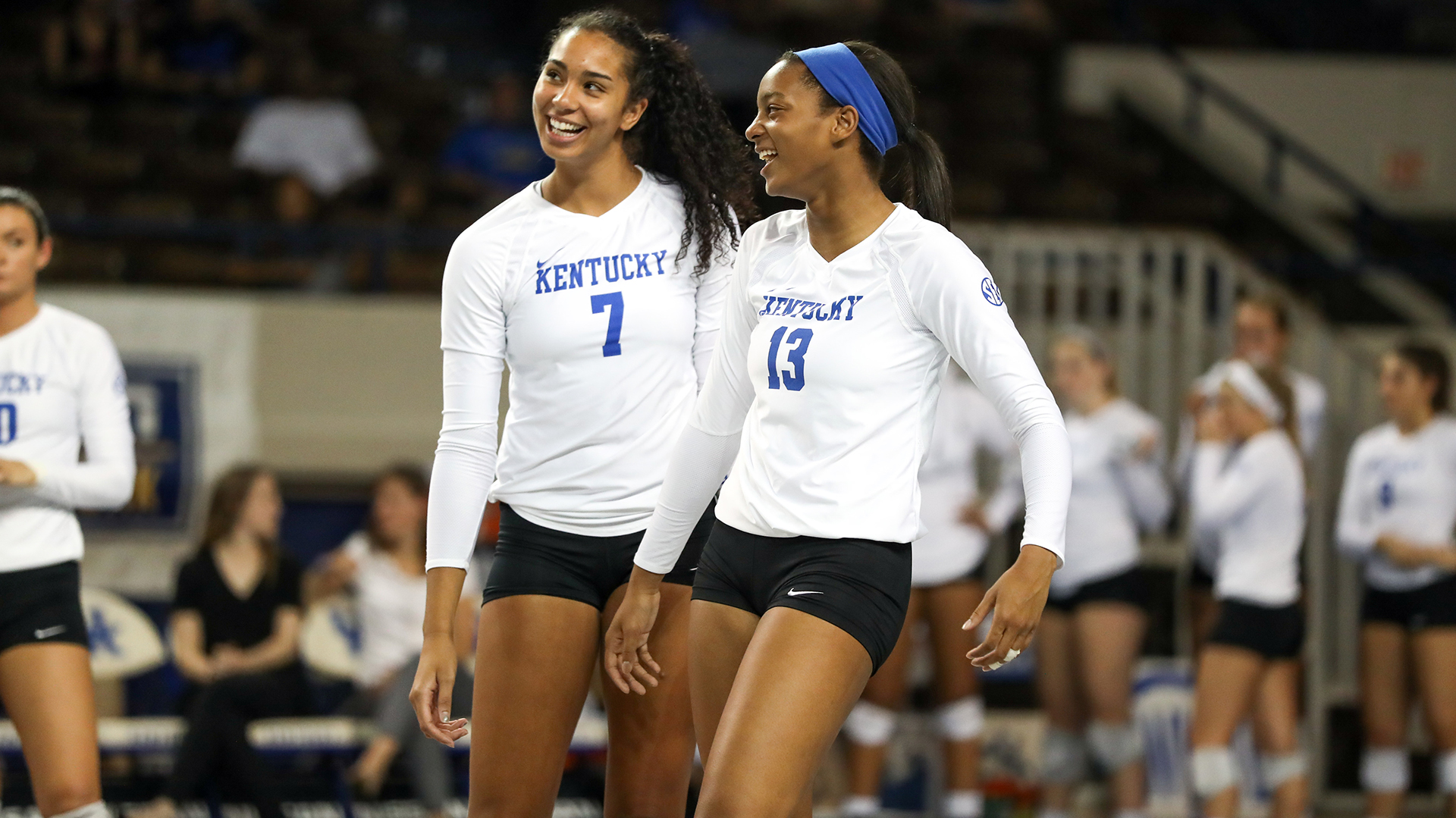 March 29, 2023 - 10:46 AM
Kaz Brown, Leah Edmond Return to Memorial Coliseum for Volleyball Exhibition against UK
The Kentucky volleyball team will play an exhibition match against Athletes Unlimited on Thursday night inside Memorial Coliseum. The match will be notable for a couple of reasons.
First, this will be the final event in Memorial Coliseum with its current configuration. Beginning in April, the facility will undergo an $82 million renovation to modernize the inside of the facility.
Second, when the Cats take the floor on Thursday, they will see some familiar faces on the other side of the net. Former UK standouts Kaz Brown and Leah Edmond will be playing for Athletes United in the match.
Brown played at UK from 2014-17 and made a huge impact on the program during her career. She ranks in UK's Top Ten for sets played (seventh), kills (fifth), attacks (10th), hitting percentage (first), solo blocks (first), block assists (first), total blocks (first) and points (fifth). Brown led UK to the Elite Eight in 2017, as well as three other NCAA Tournament appearances. She takes great pride in everything she did while playing for UK.
"I'm really proud of all of my accomplishments as an individual but it's a testament to the great players I was surrounded by for four years," Brown said. "Those things don't happen without great teammates and a great coaching staff. Those records are really, really special to me. It's something I pride myself in, blocking and defense especially. It means a lot to me for sure."
Brown is starting her fifth season as a professional volleyball player, having played in Germany, Ukraine, France and Greece already. This is her first season with Athletes Unlimited. In addition to playing volleyball, she has become an important voice in the world of media.
"I've been developing my media portfolio," Brown said. "I have my own podcast (The Players Circle), it's available on Spotify, Apple Podcasts and YouTube. I'm also working as the lead media person for a company called Pro League Network. They focus on niche sports and do the broadcasting for those sports and I do the on-air commentary for that."
As for her return to Memorial Coliseum, Brown has many memories of playing in the facility. Her fondest?
"Playing the the (2017) Elite Eight," Brown said. "It resulted in a loss, which was super unfortunate. It was the end of my career there but it felt like the passing of the torch and handing the reigns to the next generation who did amazing things – multiple SEC championships and a national championship. That's all I've ever wanted as an alumni. I'm really, really proud of Kentucky volleyball, past and present."
Edmond played at UK from 2016-19 and, like Brown, she left her mark on the Kentucky program from the moment she stepped on campus. In the rally scoring era, Edmond is first in UK history in points, kills and attempts, is sixth in sets played, ninth in hitting percentage. She holds the UK rally scoring era record for kills in a three-set match (22), a four-set match (26) and a five-set match (30).
Edmond, who was the first player in UK history to play high school volleyball in Lexington, was also a key member of UK's 2017 Elite Eight team. She also helped the Cats make three other appearances in the Sweet 16. She was the SEC Freshman of the Year in 2016, the SEC Player of the Year in 2018 and 2019 and was a four-time All-American during her storied career in Lexington.
When asked her favorite moment of playing in Memorial Coliseum, Edmond did not hesitate.
"Definitely that 2017 (NCAA) tournament," she said. "That was an insane two weeks of playing. To win the SEC and actually be at home to celebrate it, and it was on my Senior Day as well. Getting to enjoy that moment and to see that crowd, and how different it was from when I first came to Kentucky. It was an incredible moment."
Edmond is looking forward to playing in Memorial Coliseum again, although she knows that things will be different this time.
"I'm extremely excited to be able to play in Memorial," Edmond said. "Playing against (Kentucky) will be very weird. That part, I have not gotten over yet."
Since graduating from UK in 2019, Edmond has been very busy on a number of fronts.
"I have been playing (volleyball) the whole time," she said. "I taught (school) for two years. Last season, I started commentating on games and that's something I really, really love."
Both players know what a special place Memorial Coliseum is. Brown summed it up very well.
"It's an honor to be able to play in Memorial Coliseum as it is," Brown said. "It's really, really special to me. There have been so many greats, in multiple sports, who have come through that building. To be able to share that space and be part of that history is something I'm proud to be part of."
Seeing these two former UK greats take on the Cats in Memorial Coliseum will make for a memorable final event in the facility before renovation.