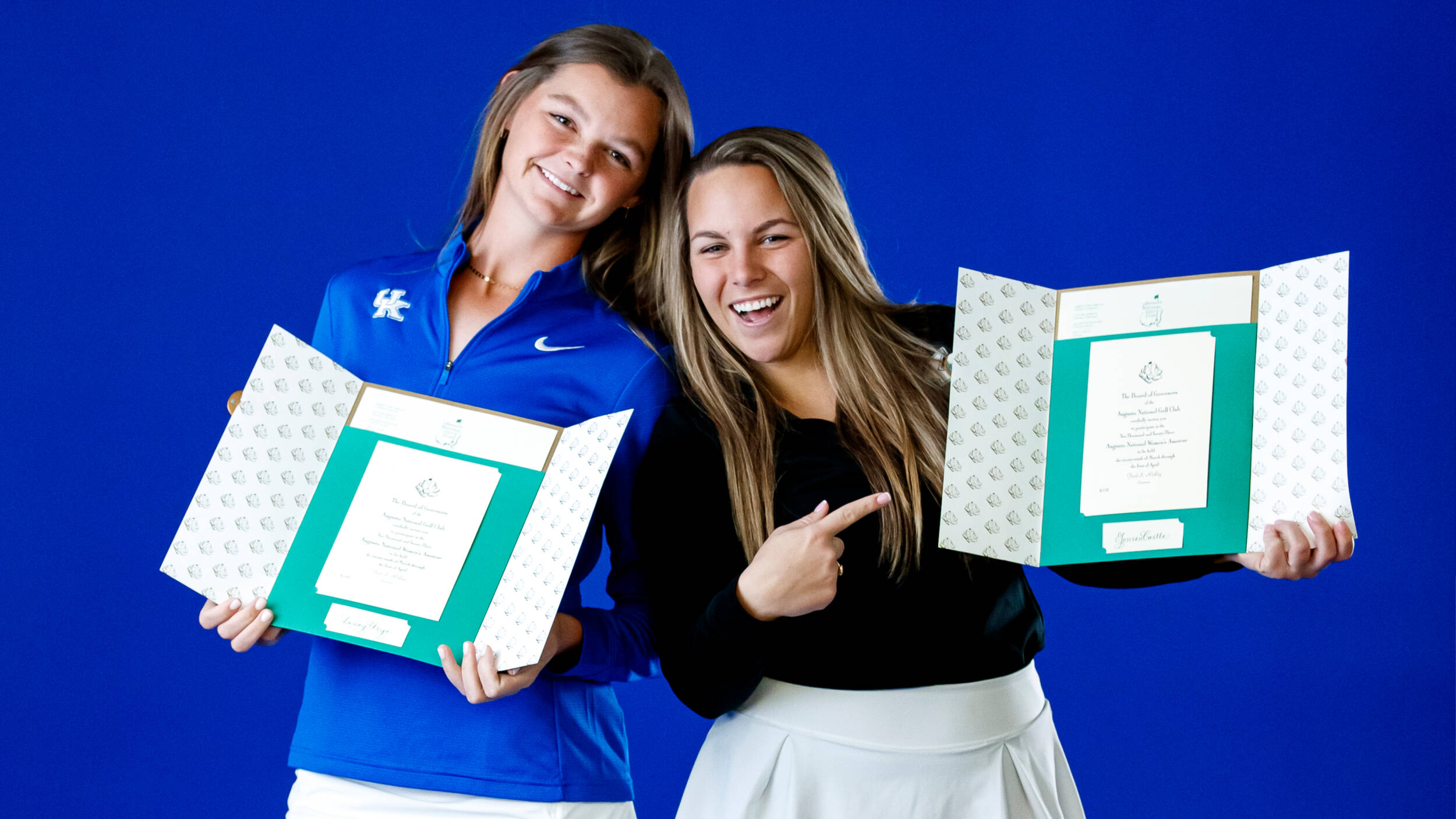 March 28, 2023 - 01:23 PM
Jensen Castle, Laney Frye Poised for Augusta National Women's Amateur
AUGUSTA, Ga. – Two Wildcats are poised to compete on the biggest stage in amateur golf. University of Kentucky women's golfers Jensen Castle and Laney Frye will tee off at the 2023 Augusta National Women's Amateur on March 29-April 1, hosted at Champions Retreat Golf Club and Augusta National Golf Club.
The Augusta National Women's Amateur features an international field of 72 players, who will compete over 54 holes of stroke play. The first round and second round will be held at the unique Island and Bluff nines at Champions Retreat on Wednesday and Thursday, while the final round, which includes the top 30 and ties, will be held at the esteemed Augusta National on Saturday.
The entire field will receive an official practice round at Augusta National on Friday, regardless of making the cut.
Castle will tee off in the first round Wednesday at 9:32 a.m. ET in Group 18, while Frye is at 9:55 a.m. ET in Group 22. Their pairings are as follows:
Group 18, 9:32 a.m. ET
Carolina Lopez-Chacarra (Spain)
Jensen Castle (USA)
Minsol Kim (Korea)
Group 22, 9:55 a.m. ET
Jeneath Wong (Malaysia)
Laney Frye (USA)
Hinano Muguruma (Japan)
Big Blue Nation will be able to watch the tournament on Golf Channel and NBC. The broadcast schedule is as follows:
Wednesday (first round) – Golf Channel 1:30-3:30 p.m. ET
Thursday (second round) – Golf Channel 1:30-3:30 p.m. ET
Friday (practice round) – Golf Channel "Live from the Masters" all day
Saturday (final round) – NBC Noon-3 p.m. ET
Castle and Frye have broken numerous barriers in the UK women's golf program this season. Both Wildcats are on pace to setting the top-two, single-season stroke averages in school history, while each of them has recorded a record setting number of par-or-better rounds in 2022-23.
Castle, a senior from West Columbia, South Carolina, is boasting a 70.7 scoring average over seven events and 21 rounds this season. She is considered the 15th-ranked player in college golf, with five top-10 finishes and one medalist honor in 2022-23.
Frye, a junior from Lexington, Kentucky, has a 71.0 scoring average over eight events and 24 rounds this season. The Wildcat is ranked the 49th-best player in college golf right now, also with five top-10 finishes in the regular season.
Media scrum ahead of #ANWAgolf. #KWG 🌼🎥😇 pic.twitter.com/c5eWoM6YMj

— Kentucky Women's Golf (@KentuckyWGolf) March 28, 2023
Both Wildcats are coming off under-par, top-five finishes during the regular season, with Castle earning a share of third place on a 1-under at the Florida State Match Up (March 17-19) and Frye earning a share of fifth place on a 3-under at the Clemson Invitational (March 24-26).
Frye reset her own school record for most par-or-better rounds in a single season just last weekend at the Clemson Invitational, boasting 16 par-or-better rounds of her 24 total rounds in 2022-23. Ten of those rounds were in the 60s, including three career-best 67s. Meanwhile, Castle has 14 par-or-better rounds on the season, which was tied for the school record just before last weekend. Castle has seven rounds in the 60s this season, including her career-best 66.
Further proof the pair of Cats are considered two of the top amateurs in the nation at the moment, Castle won the 2021 U.S. Women's Amateur then Frye came back the next summer and co-medaled the stroke-play portion of the 2022 U.S. Women's Amateur.
The field can expect perfect weather Wednesday through Friday, with sunny skies and highs in the 60s and 70s. Saturday is showing a 50 percent chance of showers, with a high of 82 degrees.
For the latest on the Kentucky women's golf team, follow the team on Twitter, Facebook, and Instagram, as well as on the web at UKathletics.com.