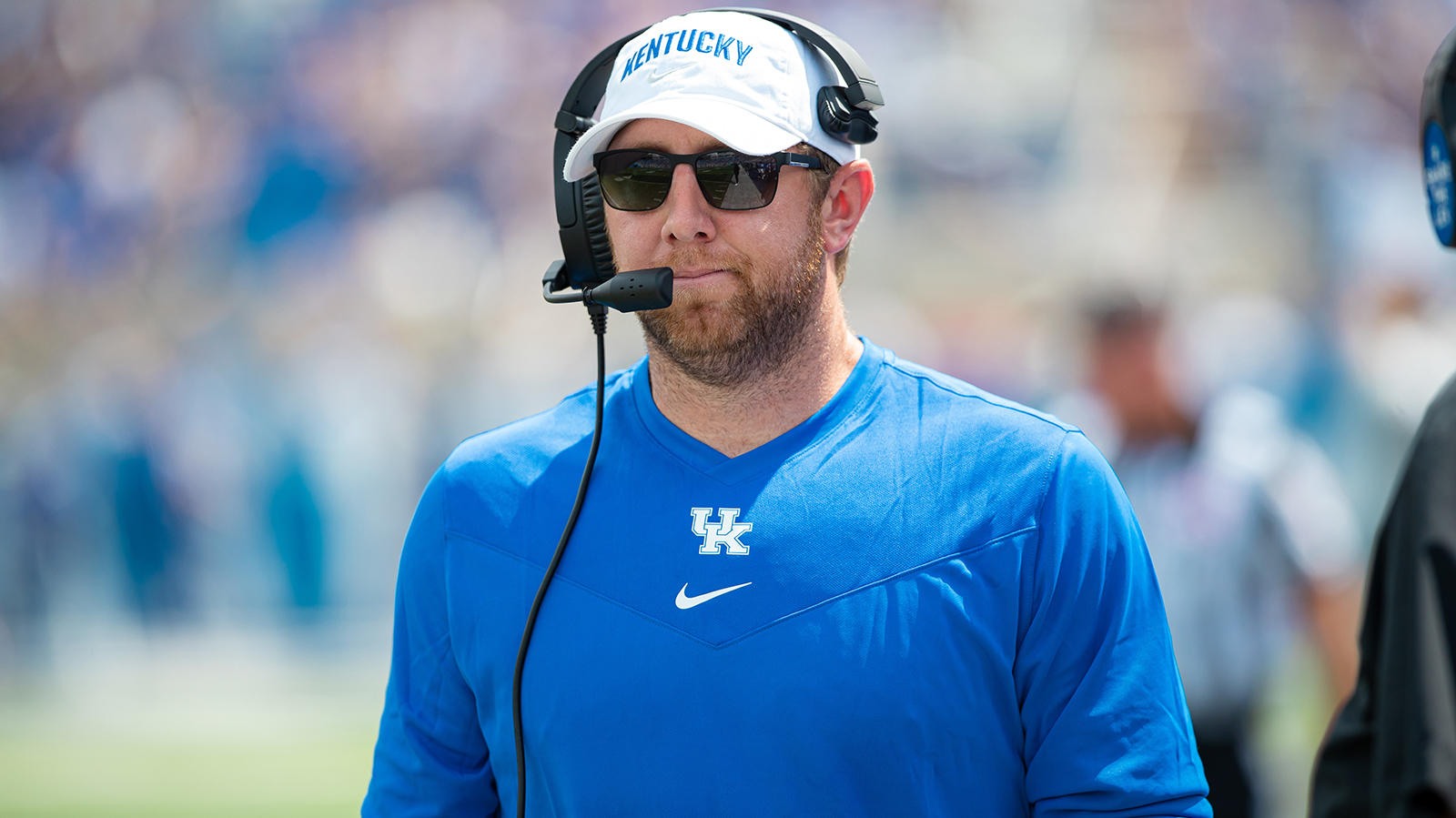 During the Mark Stoops era in Lexington, the Kentucky football team has been known for its blue collar, hard-working, run-first mentality on offense. The Cats, behind an offensive line nicknamed the "Big Blue Wall", established this identity and has carried it forward.
The one exception to that may have been last season. The Cats were breaking in a number of new offensive linemen, along with learning a new offensive coordinator. Those two factors led to the Cats having less production out of the running game as usual.
Now, Liam Coen is back coordinating the UK offense, a marriage that saw the Cats rush for 2,594 yards in 2021, as compared to 1,511 last year.
Coen knows that it's important for the Cats to impose their will on their opponents.
"This brand of football that we play here at Kentucky is supposed to be physical," Coen said. "We're trying to establish the run game and get better at running the football."
After a subpar outing on Saturday, the Cats bounced back on Tuesday. Specifically, Coen was pleased with the strides taken in the rush game.
"I think we took huge steps today running the football," Coen said. "I thought today was a step in the right direction in terms of running the football and being physical like we're trying to be. Did some really good things. I thought Ray Davis really showed up in a nice way today, Jager Burton is taking some huge steps for us."
Davis, the transfer from Vanderbilt who rushed for 131 against the Cats last season, will be among the primary options to replace Chris Rodriguez in the UK backfield this season. Coen likes what he has seen from Davis.
"He's got really good vision," Coen said. "He's a one-cut back. He made a few today that, he rode the wave and once it cleared, he was right through the hole. I think he has good vision, he's a smart player, he's a smart football player and a smart kid. He understands all of the combinations and wants to know. I think that really gives him a leg up in terms of his knowledge of the game and what's happening in front of him."
As for Davis, he's still getting to know his teammates while trying to be an experienced leader at the same time. It's a delicate balance, and not one that's for everyone.
"Everybody wants to be the man until it's time to be the man," Davis said. "And that's one thing I've always thought about, and not just on the field. You've got to continue to do your job and continue to be the best person you can be and that's something I've always been big on. If I want to be the man, I've got to be the man on the field and off the field."
With Coen back in the fold, an offensive line that continues to improve and with Coen coordinating, the UK run game figures to be back up to its standard in 2023.