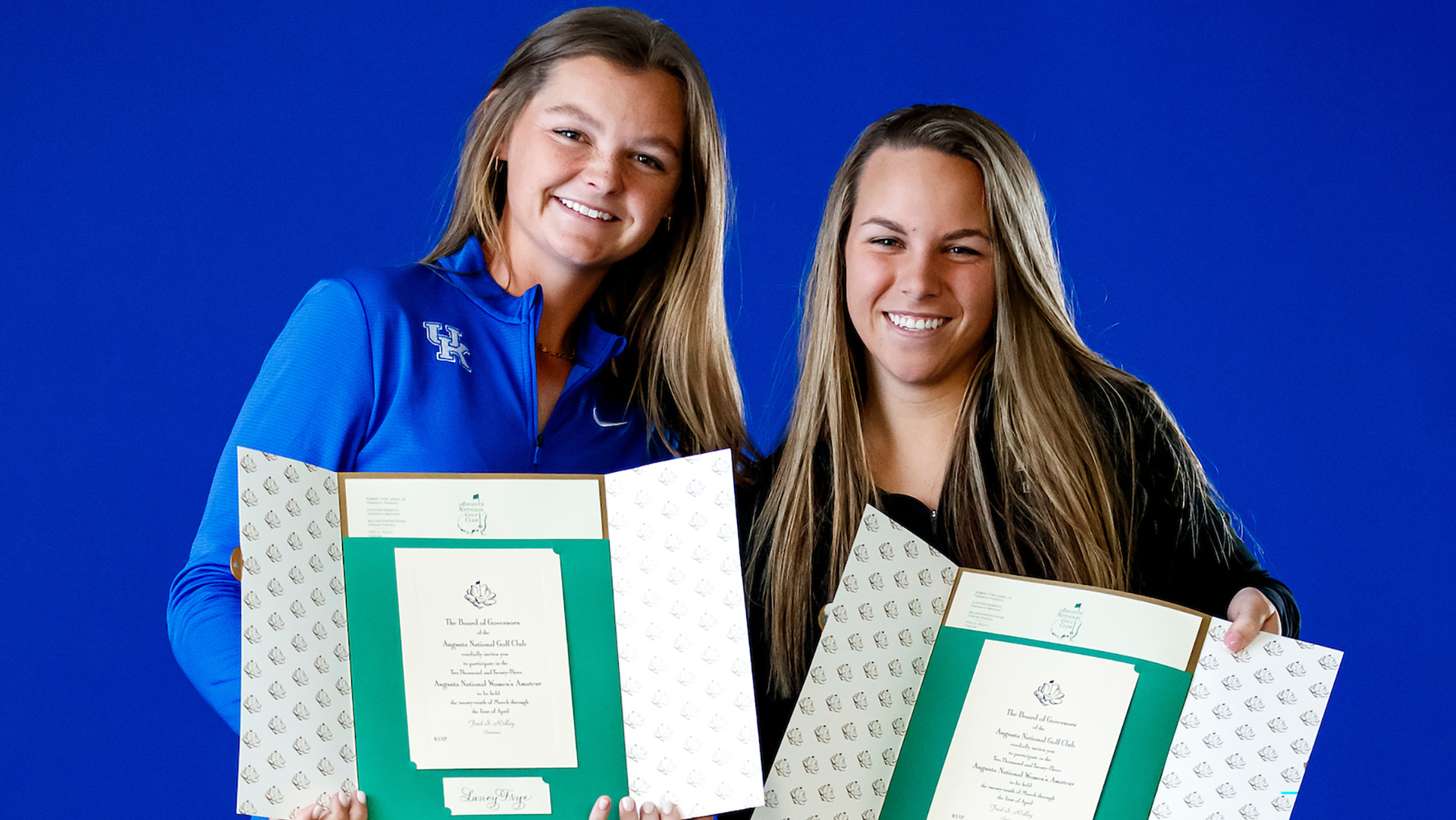 March 27, 2023 - 09:54 AM
Jensen Castle, Laney Frye Prepared for Augusta National Women's Amateur
Even casual golf fans know that Augusta National Golf Club in Augusta, Georgia, is one of the most famous courses in the world. It's the site of the annual Masters Tournament every April, which is one of the most coveted titles in all of golf.
Three years ago, the membership at Augusta National introduced a new event on the grounds – the Augusta National Women's Amateur. The 2023 version of the event, the fourth overall, will include two University of Kentucky golfers.
Jensen Castle, the 2021 United States Women's Amateur Champion and a current senior at UK, is back at the ANWA after participating in the event in 2022. In last year's event, Castle finished in a tie for 12th place. She's looking forward to spending more time on the hallowed grounds this year.
"I expect to have a lot of fun," Castle said. "You're on Augusta grounds, how do you not have fun? Just to play Augusta. Not that many people get to play Augusta. It's super exciting."
And while there's plenty to take in, Castle, who is the 22nd-ranked women's amateur in the world and is sixth among American women, also knows why she will be there this week.
"I'm a competitor. I'm aware that it's actually a competition," Castle said. "I'm going to take in all of the azaleas, all of the holes and all the fans. But I'm there to win. I'm there to play golf."
Having played in the ANWA last season, Castle does have a better idea of exactly how to handle the course and the surroundings.
"Expectations and mentality are very important out there," Castle said. "You've got to put yourself in the right positions, whether that's off the tee or on the green You're not going to go out there and shoot eight under at Augusta National. Just be patient out there and put yourself in position."
Speaking of expectations, they will certainly be high for Castle this week. She's learned to deal with that since her US Amateur victory.
"The higher expectations are obviously harder to navigate through but it's also a great learning lesson," Castle said. "I do like being the underdog but (after winning the US Women's Am), it's hard to be the underdog."
Along with Castle, UK junior Laney Frye is also playing in this year's event. The Lexington native has risen through the ranks and qualified for this year's event by being one of the top 30 American amateurs in the world (she currently ranks 72nd in the world and 22nd among Americans). Frye is looking forward to the chance to play in the event, one that she set as a goal a few years back.
"I'm really excited. It's been a whirlwind of a couple of years in college," Frye said. "(The ANWA) was definitely one of my higher goals to achieve, just because of this tournament. I love golf, I'm kind of a golf nut and so the opportunity to play Augusta in competition is a dream. So, when I found out it was created, it was on my radar."
Frye believes that this tournament will become a destination event for women's amateur golfers. And, with the event still in its infancy, she's honored to be among those to play the ANWA in its first few years.
"It's crazy. You know it's going to be the biggest women's amateur event, next to the US Women's Am," Frye said. "To get to be one of the first participants is really neat."
Like Castle, Frye wants to take in the sights and sounds but also knows the real reason she's there.
"There's dinners and driving down Magnolia Lane. It's a tough balance," Frye said. "I'm trying to figure out where that happy medium is. I really do want to enjoy it but I'm also there to compete and make a statement."
Despite never playing Augusta National competitively, Frye has been on the course. She was in attendance at the Masters as a fan in 2016. And, if she can make the cut, she might have an even bigger advantage in the final round.
That's because Ted Scott, currently the caddy for the world's number one player, Scottie Scheffler, might be on the bag for Frye in the final round. Scott has been the caddy for three Masters victories – in 2022 with Scheffler and twice with Bubba Watson. Frye knows having Scott on the bag could be huge.
"It would be amazing. It's been a blessing to get to work with him," Frye said. "He's kind of walked me through the course. I think he knows the course pretty well, too. It's pretty cool."
A total of 72 players from around the world will be in this week's event. Play gets underway on Wednesday at Champions Retreat Golf Club about 30 minutes from Augusta National. The first two rounds of the event will be held at Champions Retreat, with the 30 players who make the cut playing at Augusta National Golf Club on April 1 in the event's final round. If all goes well, a pair of Wildcats could be vying for the title at one of the world's most famous courses on that day.