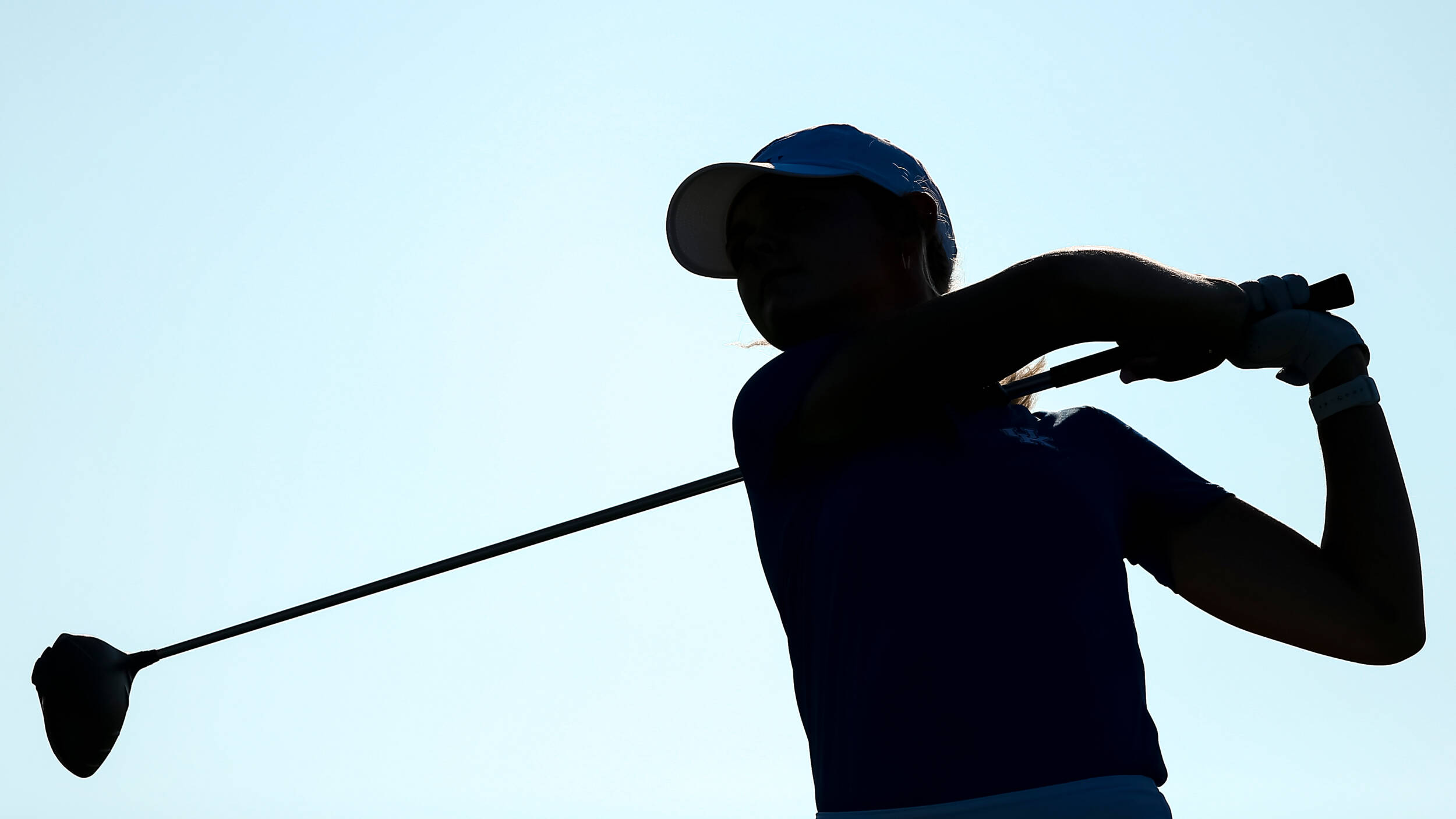 March 26, 2023 - 04:39 PM
Laney Frye, Ivy Shepherd Break Top 10, Kentucky Completes Clemson Invitational Under Par, Fourth Place
SUNSET, S.C. – The University of Kentucky women's golf team produced another under-par round at the Clemson Invitational on Sunday, assembling a 1-under-par 287 in the final round for a 1-under-par 863 tournament total. The Wildcats fended off several foes throughout the final round, eventually landing in fourth place at their final event of the regular season.
Several opponents attempted to spoil UK's position on the team leaderboard, but the lineup came up clutch down the stretch. The Wildcats went a combined 5-under over their last three holes, with each player carding at least one birdie and no bogies during that time.
UK (-1) finished in good company, counting as one of just four teams to finish the event under par. No. 17 Ole Miss (-8) took the tournament title, while No. 3 LSU (-7) finished runner up and host Clemson (-6) came in third place. Maryland claimed fifth place at even par, but the rest of the field wasn't even within seven shots of the top four.
Ivy Shepherd stole the spotlight Sunday, after responding to her first- and second-round even pars with a final-round, 2-under-par 70 to produce a tournament-total, 2-under-par 214. The graduate transfer finished tied for eighth place, while it marked the second time this season that she has put together three straight rounds of par-or-better and the first time this season that she has finished in the top 10.
Like all of her rounds at the Clemson Invitational, Shepherd made very few blemishes in the final round. She collected four birdies, her personal best this weekend, and one double on the par-3 No. 7.
Just in front of her, Laney Frye tied for fifth place on a 3-under-par 213 tournament total. It marked her fifth appearance in the top 10 this season and her second appearance in the top five in 2022-23. Those are both first-time accomplishments for the junior. She also tied as the tournament leader in birdies with 13.
The Wildcat recorded an even-par 72 Sunday, after stringing together rounds of 74, 67 and 72 at the Clemson Invitational. Her final round, which included four birdies, a pair of bogeys and one double, marked her 16th round of par-or-better this season, which improved the school record that she reset after the second round Saturday.
Speaking of par-or-better rounds, Marissa Wenzler assembled three straight even-par rounds at the Clemson Invitational. Her final round looked quite similar to the day before, collecting two birdies and just two bogeys during the 18. The senior couldn't be rattled this weekend, producing an even-par 216 tournament total for a share of 19th place. It is her third-best tournament total this season and of her career, while it is her second-best finish of 2022-23.
María Villanueva Aperribay was just as consistent, finding a 1-over-par 73 Sunday for a 4-over-par 220 at the Clemson Invitational. She started and ended her round with birdies, recording four bogeys and one more birdie through the middle of the course. The Wildcat finished in 33rd place to close out the regular season.
Marta López Echevarría flew into to relieve Jensen Castle (rib), who never teed off in the tournament. López Echevarría competed in two rounds at The Reserve at Lake Keowee, without a practice round, turning in an 80 Saturday and an 82 Sunday.
Kentucky concluded the regular season with three top-three finishes and five top-five finishes. The Wildcats boast a 289.1 scoring average through 27 rounds, which is currently on pace to breaking the single-season, scoring-average school record.
The team will look ahead to the 2023 Southeastern Conference Championship, which begins April 12 at Greystone Golf & Country Club in Hoover, Alabama.
Scorecard
T5 Laney Frye 74, 67, 72 … 213 (-3)
T8 Ivy Shepherd 72, 72, 70 … 214 (-2)
T19 Marissa Wenzler 72, 72, 72 … 216 (E)
T33 María Villanueva Aperribay 73, 74, 73 … 220 (+4)
N/A Marta López Echevarría 80, 82… 162 (+18)
For the latest on the Kentucky women's golf team, follow the team on Twitter, Facebook, and Instagram, as well as on the web at UKathletics.com.