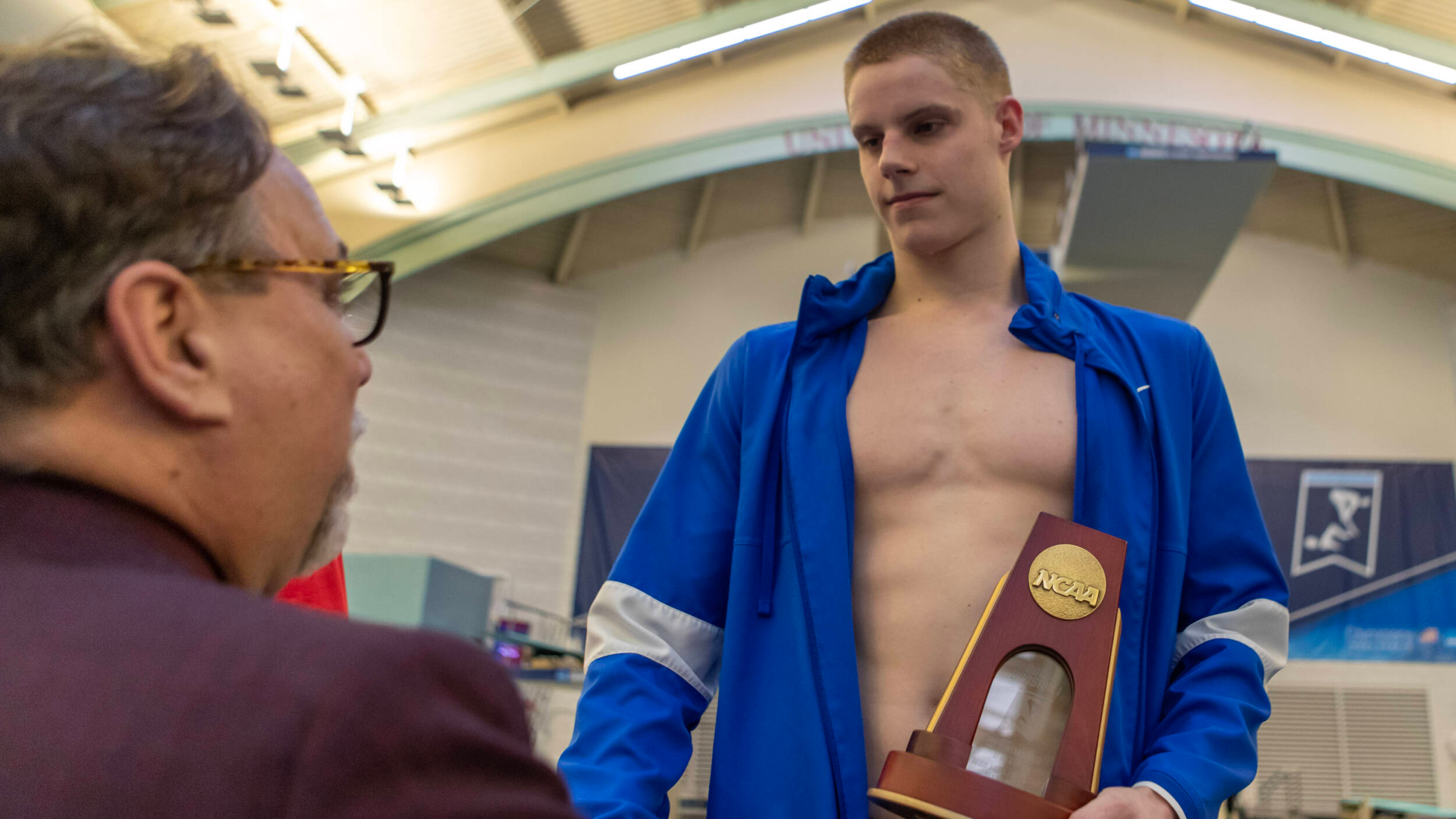 March 25, 2023 - 10:16 PM
Levi Sandidge Crowned First-Team All American as NCAA Championships Come to a Close
MINNEAPOLIS – Freshman Levi Sandidge was named a First-Team All American in the 1650 freestyle as Kentucky men's swimming & diving concluded the 2023 NCAA Championships on Saturday in 28th place at the Jean K. Freeman Aquatic Center.
The Wildcats finished the meet with 13 points, posting the program's best finish at the event since 2019.
Sandidge clocked a 14:40.05 in the 1650 freestyle to earn sixth-place, the highest finish by a Kentucky swimmer at NCAAs since Tyler Reed was fifth in the 100 freestyle in 2012. The 2023 Championships mark the second-consecutive year in which the UK men have had a swimmer gain First-Team All-America status. Mason Wilby earned the honor last season, placing eighth in the 200 butterfly.
The result caps a remarkable freshman campaign by Sandidge who, last month, became the first Kentucky male swimmer to win an SEC Championship since 2006. His time of 14:31.47 stands as the fastest mile in UK history, as does his 1000 split of 8:48.68.
In other Saturday action, Max Berg started the day off by cracking the top 30 in the 100 freestyle, clocking a 42.47 to take 29th. Berg split 20.07-22.40 in the swim, his third event entered this week overall.
Fifth-year Mason Wilby and freshman Ryan Merani were next in the water for Kentucky in the 200 butterfly. Wilby wrapped up his decorated collegiate career with a 25th place finish at 1:43.07, while Merani, who raced in a team-high three individual events this week, grabbed 38th at 1:44.82.
Swimming in the early heats of the mile, sophomore Nick Caruso posted a 14:55.22 to take 24th for the Wildcats, wrapping up his first NCAA Championships.
For the latest on UK Swim & Dive, follow the Wildcats on Twitter and Instagram at @UKSwimDive, and on Facebook at Kentucky Swimming and Diving.