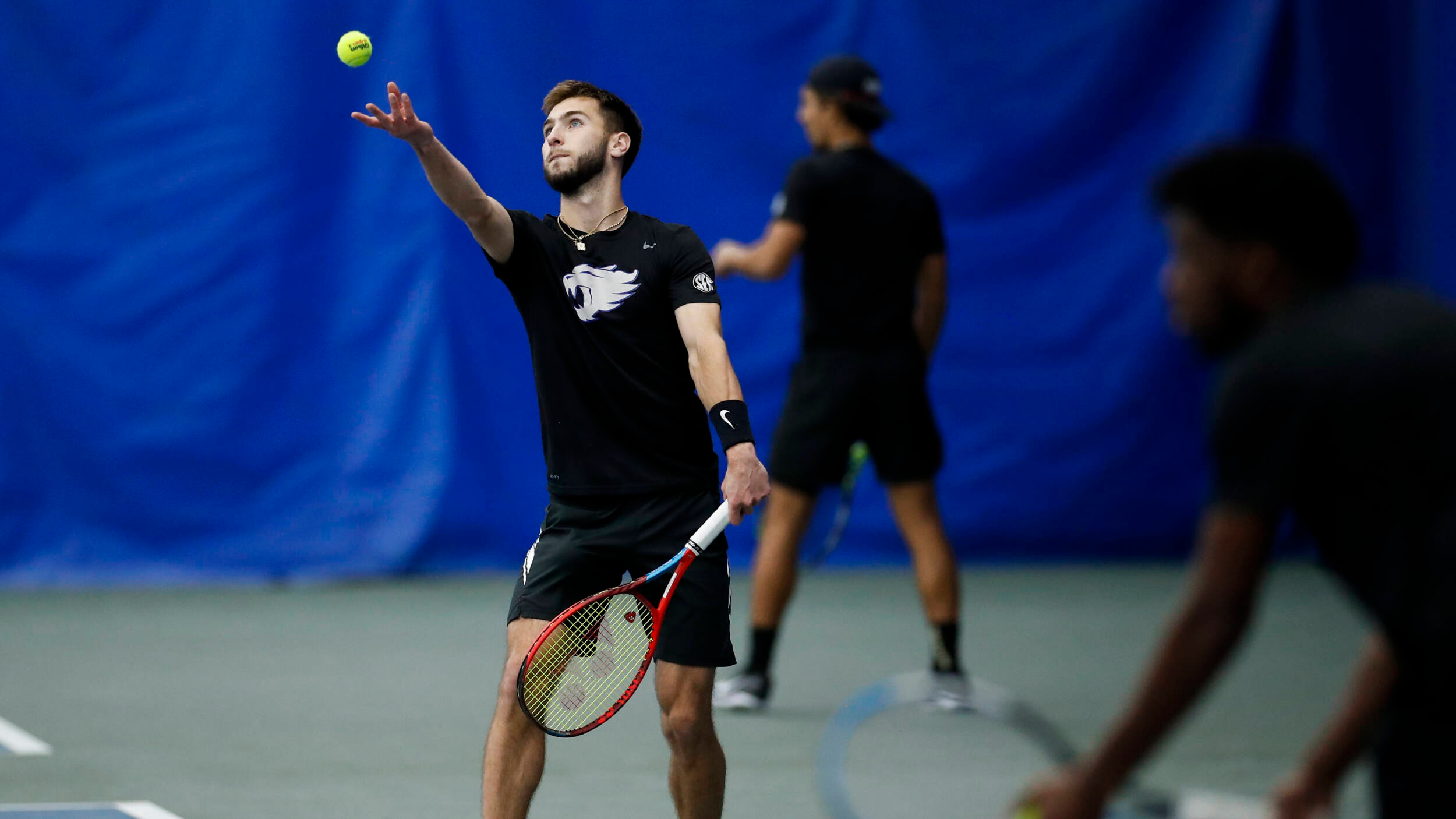 March 24, 2023 - 08:00 PM
No. 6 Kentucky Routs Rebels, Extends Win Streak
LEXINGTON, Ky. – No. 6 Kentucky (18-2, 6-1 SEC) swept No. 33 Ole Miss (12-5, 2-3 SEC) 4-0 on Friday evening inside the Hilary J. Boone Varsity Tennis Center. Led by two-win days from Taha Baadi and Joshua Lapadat, the Wildcats did not allow the Rebels to score a point in the dual. With the win, the 'Cats have now won their sixth straight match in conference play, sitting a half game back of first place.
For the sixth straight match, Kentucky opened competition by taking the doubles point. After debuting at No. 25 in this week's ITA doubles ranking, Baadi, and partner Alafia Ayeni, took care of business to win their fifth straight match at No. 1 doubles. The other half of the Wildcats' ranked doubles set, No. 38 Lapadat and JJ Mercer, swiftly provided the home team with the clinching set.
In singles action, Kentucky continued its domination, winning three of the four first sets of play. No. 44 Lapadat steamrolled through his No. 3 singles match, not allowing Simon Junk to claim a game in either set. The win improves Lapadat's record to 15-3, 6-1 (SEC), a team-high tying mark.
On court No. 4, Baadi joined his teammate in the winner's circle, claiming a straight set victory of his own by knocking off Noah Schlagenhauf.
With his team needing one more point to clinch, Liam Draxl delivered once again. Despite losing an early break in the first set, the senior from Newmarket, Ontario rebounded to win the final two games of the first set. After he and No. 66 Nikola Slavic split the first pair of games in the second frame, Draxl rattled off five straight to hand his team the victory. The win ties Draxl with Lapadat at a 15-3, 6-1 (SEC) clip in singles action. Additionally, the triumph gifted Draxl his team leading seventh win over a ranked opponent in 2023.
The two teams elected not to play the remaining matches, leaving Courts 5 and 6 unsettled. Freshman Jaden Weekes was down an early break in the first set when play concluded, while his classmate, Charlelie Cosnet, did not see his match commence.
The Wildcats will close out their two-match SEC homestand on Sunday, March 26 with a top-15 showdown against No. 12 Mississippi State. The Wildcats and Bulldogs will square off at the Boone, with first serve slated for 1 p.m. EST. Admission for all home regular season matches is free of charge, and fans can follow along with live stats or watch on Track Tennis.
RESULTS
Doubles
No. 25 Alafia Ayeni/Taha Baadi (UK) def. Junk/Lithen (OM) 6-3
No. 38 Joshua Lapadat/JJ Mercer (UK) def. Engelhardt/Stromberg (OM) 6-3
Liam Draxl/Jaden Weekes (UK) vs. Schlagenhauf/Slavic (OM) 5-4 (unfinished)
Singles
No. 22 Liam Draxl (UK) def. No. 66 Slavic (OM) 6-4, 6-1
No. 27 Alafia Ayeni (UK) vs. Lithen (OM) 4-6, 6-3, 0-2 (unfinished)
No. 44 Joshua Lapadat (UK) def.  Junk (OM) 6-0, 6-0
Taha Baadi (UK) def. Schlagenhauf (OM) 6-2, 7-5
Jaden Weekes (UK) vs. Engelhardt (OM) 1-3 (unfinished)
Charlelie Cosnet (UK) vs. Stromberg (OM) 0-0 (unfinished)
Order of Finish:
Doubles—1, 2
Singles—3, 4, 1
For the latest on UK Men's Tennis, follow the Wildcats on Twitter and Instagram at @UKMensTennis.