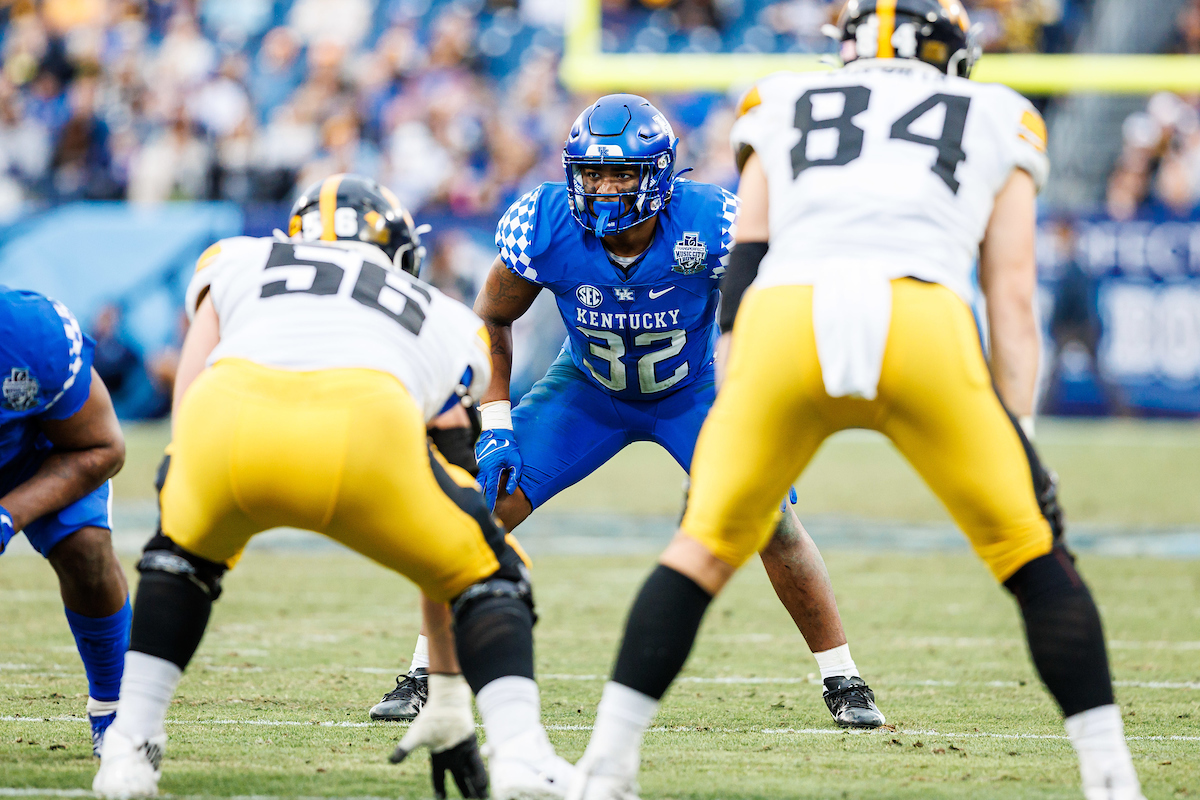 It seems like it's been a long time since the Kentucky football team lined up for a game without DeAndre Square and Jordan Wright at linebacker. The fact is, it actually has been a long time.
Square started playing for the Cats in 2018. That's two years before the COVID-19 pandemic began. Wright actually got to campus in 2017, redshirting his first year before playing five seasons from 2018-22.
Those two players combined for nearly 500 tackles during their careers in Lexington. And both made huge plays throughout, including bowl-clinching plays by each (Square in the 2022 Citrus Bowl and Wright in the 2019 Belk Bowl).
Defensive coordinator Brad White recognizes that those departures, as well as that of Jacquez Jones, will have an impact on the 2023 Cats.
"We lost a lot of veteran leadership from last year," White said. "Guys who were ''alphas' for us on the field."
The leadership that those two players brought to the team will be hard to replace. Super senior JJ Weaver has been one of the primary players stepping into the leadership role.
"It clearly defined in the outside backer room, it's JJ Weaver," White said. "I think he's doing a great job thus far. It's a consistency thing with him leading and coming out of his shell vocally."
White has also seen other players embracing new roles as leaders. Among those are Zion Childress in the defensive backfield and Octavious Oxendine on the defensive line. White likes that there are multiple players stepping into those roles.
"I don't think it has to be a one-man show, which is great," White said. "Because if it's a one-man band and that guy has an off day, everybody feels it. I think we've got the ability to spread it around."
Replacing Jones and Square in the middle of the defense will be very important. Kentucky has D'Eryk Jackson and Trevin Wallace both prepared to step into starting roles. White likes how those two players have performed.
"Those two inside backers, I have been really pleased with how they've developed so far," White said. "Maybe not quite yet as vocal but they are getting more than they ever have."
Wallace knows that this year, without Square, Jones and others, will be something new.
"It feels a whole lot different," Wallace said. "They're gone so we've got to step up now."
As far as being a leader, Wallace has accepted the challenge from White and is embracing the role.
"It's heavy on us. Coach White is looking at us to be the leaders now," Wallace said. "So, we're going to step up and do that. I love being a leader because you have young guys who look up to you. You have young guys who look up to you and you can lead them. I like being a leader."
Wallace has been known as a playmaker during his UK career. What's the next step in his development?
"The next step is being consistent," Wallace said. "I feel like last year I wasn't as consistent as I want to be."
That next step also includes Wallace, along with Childress, Jackson, Oxendine and Weaver, being the leaders of this year's UK defense.