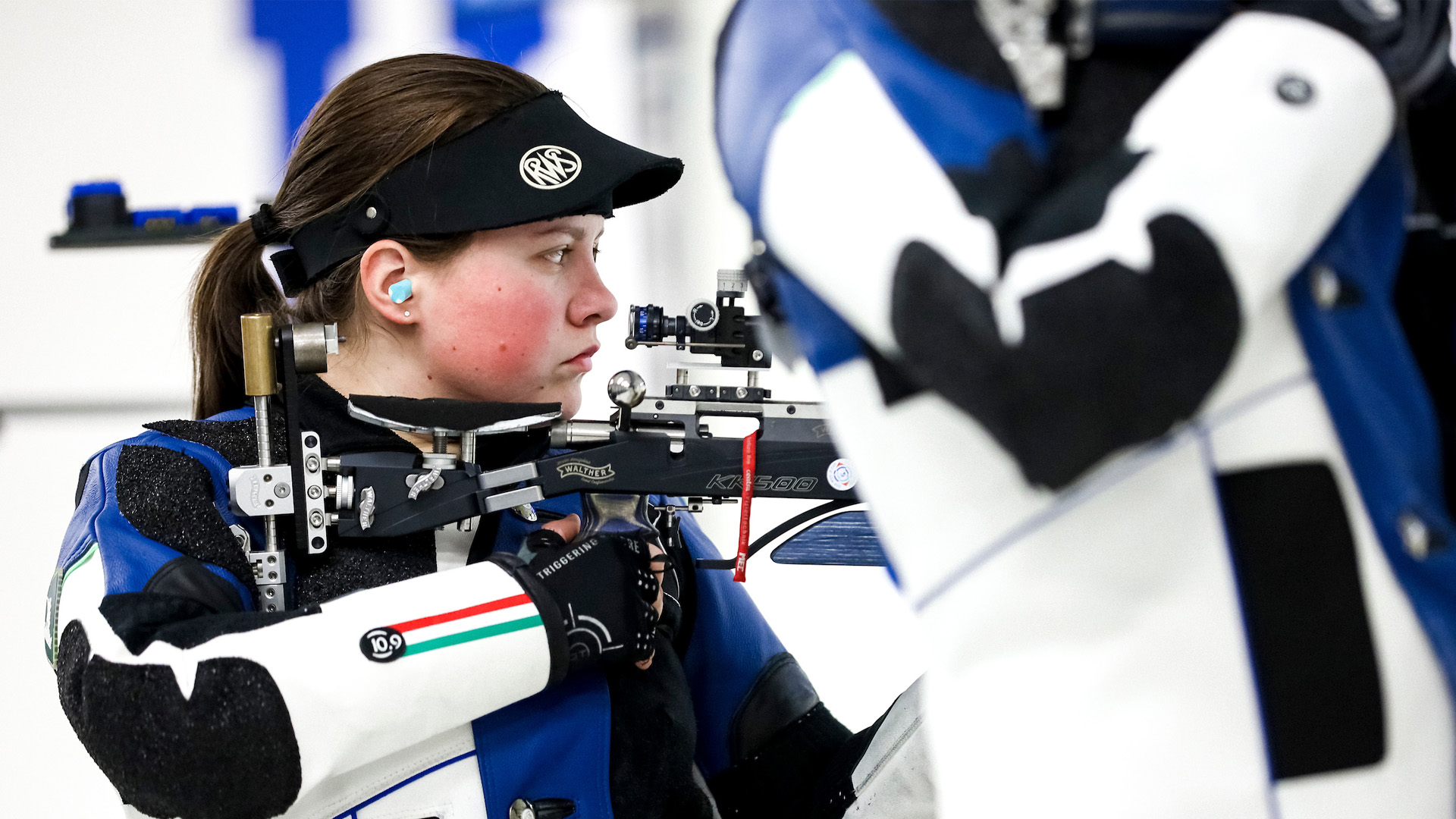 LEXINGTON, Ky. – University of Kentucky rifle star Sofia Ceccarello capped off her incredible freshman season by being named Collegiate Rifle Coaches Association First-Team All-America in all three possible categories – combined, smallbore and air rifle – it was announced this week by the association.
Ceccarello becomes the latest in a long line of All-Americans for the Wildcats. On top of her All-America honors, Ceccarello was named first-team All-Great America Rifle Conference in combined, smallbore and air rifle and was tabbed the conference's rookie of the year. Fifth-year seniors were not eligible for CRCA All-America team recognition as both Will Shaner and Richard Clark had impressive averages that would have been recognized.
"I am very happy for Sofia to earn her first All-America honors," UK head coach Harry Mullins said. "She had a great season, and we are very lucky to have her in our program. I know the future is very bright for her and cannot wait to get back to training with her."
Ceccarello had a great season for Kentucky, leading the Wildcats in smallbore average at 589.333, air rifle average at 598.231 and aggregate average at 1187.564. Ceccarello's best smallbore of the season was her 595 score in Alaska against Georgia State, while she scored 592 or higher in the discipline five times. In air rifle, Ceccarello scored a 599 eight times while her lowest air rifle score of the season was 595. The freshman had two aggregate scores of 1193 during the season, making her one of three athletes in the nation to accomplish that feat. During the GARC Championships, Ceccarello took home gold in the individual air rifle final after qualifying for the final with an impressive 599 score.
The native of Ravenna, Italy, helped Kentucky win the GARC Regular-Season Championships this season and qualify for the NCAA Championships. Ceccarello did not compete in the NCAA Championships due to a previously made obligation with the Italian National Team that played a significant role in her potentially solidifying a spot in the 2024 Olympics.
For more information on the Kentucky rifle team, visit UKathletics.com or follow UKRifle on Twitter, Instagram and Facebook.