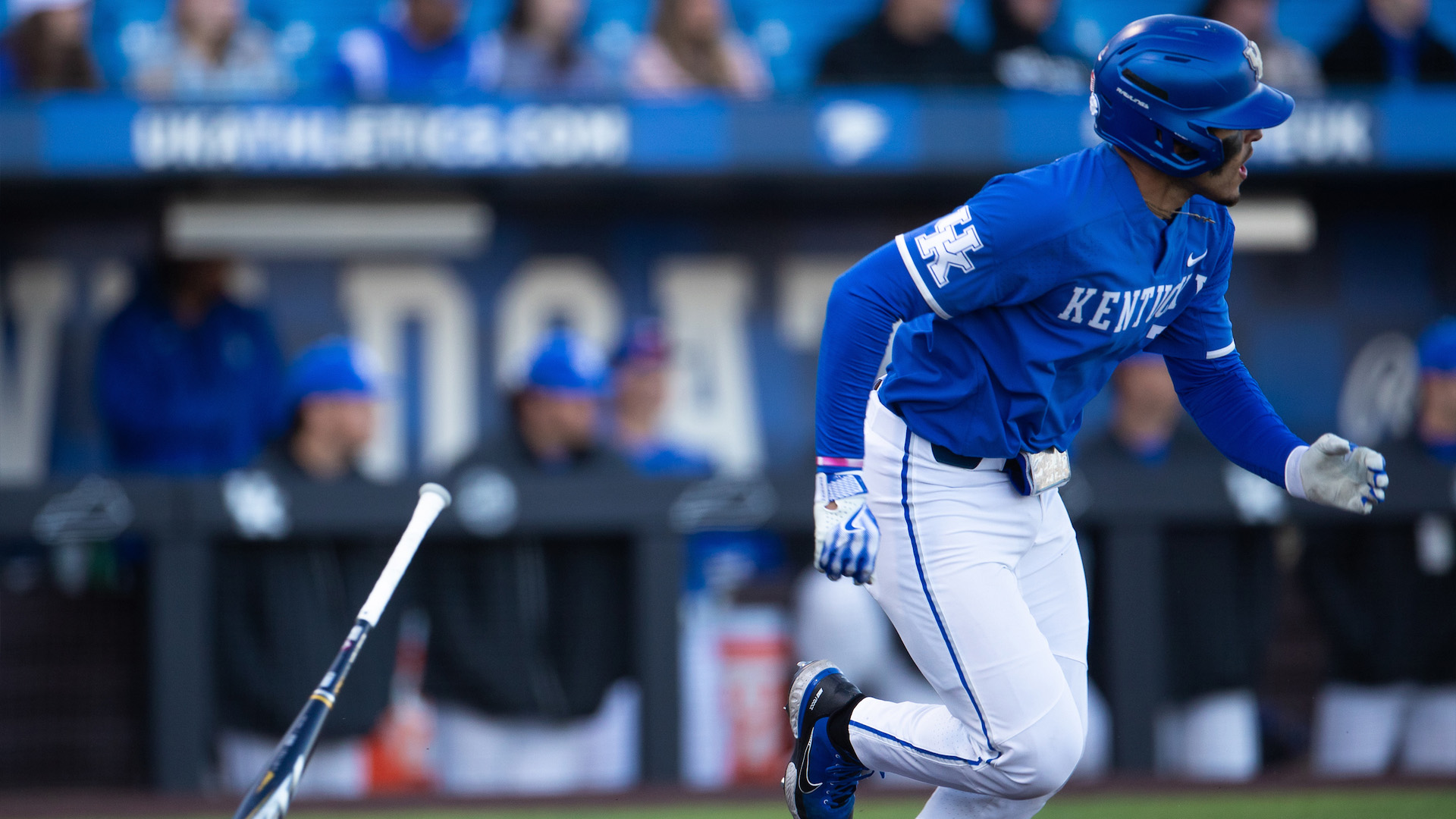 Devin Burkes loves the moment.
The sophomore catcher launched a two-run, go-ahead moonshot into orbit in the seventh inning as Kentucky extended the nation's longest active win streak to 15 games in a 9-3 victory over Eastern Kentucky on Tuesday at Kentucky Proud Park.
Trailing 3-2, Burkes pulverized a 3-1 pitch 424 feet to left-centerfield to give the Cats (19-2, 3-0 SEC) an advantage they would not relinquish. The blast came after lefty Jackson Nove, who earned the win, recorded three straight strikeouts in the top half of the inning after an EKU leadoff triple. Nove, Zach Hise and Austin Strickland struck out seven straight Colonels in one stretch to give the Cats' offense time to find its footing as EKU brought out a parade of pitchers against it.
UK took a 2-0 lead through two innings but EKU got a hit by pitch and single to open the fifth before a sinking liner to left skipped past a diving Ryan Waldschmidt to score a run. A grounder past a diving Grant Smith then scored two to give the Colonels the lead.
Burkes' homer gave UK the lead and big at-bats by Chase Stanke and James McCoy made sure there would be no EKU comeback.
NOTES
Kentucky has won 15 consecutive games, currently the longest active win streak in DI.

It is the Cats' longest win streak since starting the 2012 season 22-0.

Kentucky is 26-5 over it's last 31 games dating to last season.
UK Coach Nick Mingione is in his seventh season at the helm and now owns a 195-131 career record.

Kentucky is 125-38 in non-conference games under Coach Mingione.
UK is 110-16 vs. non-Power Five opponents.
UK is 81-33 in the month of March under Coach Mingione.
UK is undefeated this March (13-0).
Mingione now is 6-1 vs. Eastern Kentucky.

UK pitchers had 13 strikeouts and have struck out 203 through 21 games.
UK pitchers have limited opponents to three or fewer runs in 16 of 21 games.
UK has scored in 320 of 326 games under Coach Mingione.
UK scored four runs in the eighth inning and upped their total to 19 times it has done that this season it has scored four or more runs in an inning.
UK has scored 77 runs in the past 47 innings.
The Cats stole four bases in four attempts and now are 37-of-48 on the season.
Catcher Devin Burkes went 1-for-3 with a run, three RBI, a home run and sacrifice fly.

He blasted his fourth home run of the season, a go-ahead two-run shot in the seventh.
Burkes logged his seventh multi-RBI game of the season.

Infielder Grant Smith has started all 137 games of his collegiate career.

With an RBI single in his first at bat Smith extended his hitting streak to nine games.
He now has seven multi-hit games this season.

Infielder Emilien Pitre has reached base safely in 19 consecutive games.
Catcher Chase Stanke smoked a pinch hit, RBI double in the seventh.
Pitchers Jackson Nove and Austin Strickland each struck out the side in their one innings of work.
Outfielder Ryan Waldschmidt has reached safely in 15 straight games.
ON DECK
Kentucky will return to SEC play on Friday at 7 p.m. ET at Alabama. The game will be streamed on the SEC Network+. The radio call will be on the UK Sports Network (630 AM WLAP, locally).