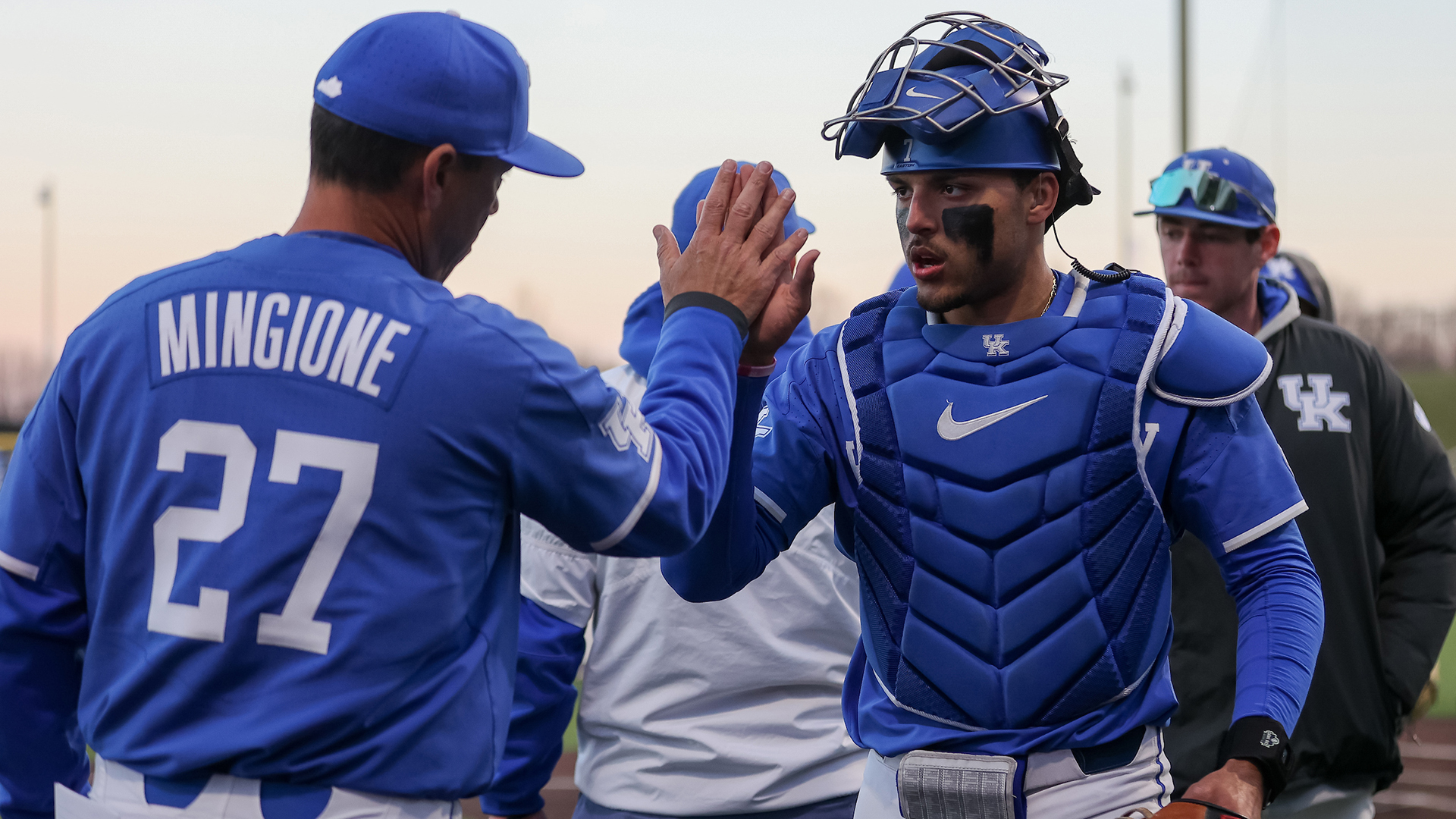 The Kentucky baseball team was in need of a spark. Trailing Eastern Kentucky 3-2 in the bottom of the seventh on Tuesday, the Cats were in danger of seeing their 14-game winning streak come to an end.
Enter Devin Burkes.
The UK catcher came to the plate with a runner on first and his team down a run. The sophomore then hit a blast into the night sky in left center field. By the time it landed, 424 feet later, the Cats had a 4-3 lead.
Those would be the first two runs in a three-run seventh that led to a 9-3 UK win, its 15th straight. The 23rd-ranked Cats moved to 19-2 in 2023 and have now won 26 of their last 31 games dating back to last season.
Burkes was excited about the homer but also about providing his team with the spark that it needed.
"It was a good feeling," Burkes said of his mammoth blast. "I felt like we got off to a little bit of a slow start today. I felt like we just weren't clicking. I'm grateful that I made us click. We started to really put it on them, really do what we're capable of after that."
After taking the lead, the Cats' bullpen did the rest. UK relievers Jackson Nove, Austin Strickland and Colby Freida shut the Colonels out over the final three innings, allowing just two hits and two walks while striking out six.
UK head coach Nick Mingione was pleased with how his team did not panic, nor did it ever give up.
"Devin Burkes just shared this with the team. He was like 'Guys, we were down but we didn't panic.' And that's what good teams do," Mingione said. "And when you play in a lot of close games like we did early, you just get comfortable in those moments."
Burkes went even a step further, talking about the team's mentality.
"We're all gritty. We just get after you," Burkes said. "If we can't get you one way, we're going to get you another way. We come from all different angles, whether that be bunting, home runs, hitting. We're going to come."
Kentucky now carries its winning streak, and momentum, into the first Southeastern Conference road trip of the weekend. UK will travel to Tuscaloosa, where the Cats will face the Alabama Crimson Tide in a battle of nationally-ranked teams. Now that the Cats are finished with Eastern Kentucky, they can turn their attention to Alabama. The Cats' ability to compartmentalize has been key this season, according to Mingione.
"I just love how this team is focused on what's in front of them," Mingione said. "It's how we've been able to stay locked in. We're focused on the task at hand."
That task was a tough one on Tuesday night, until Burkes' blast broke this game open for the Cats.