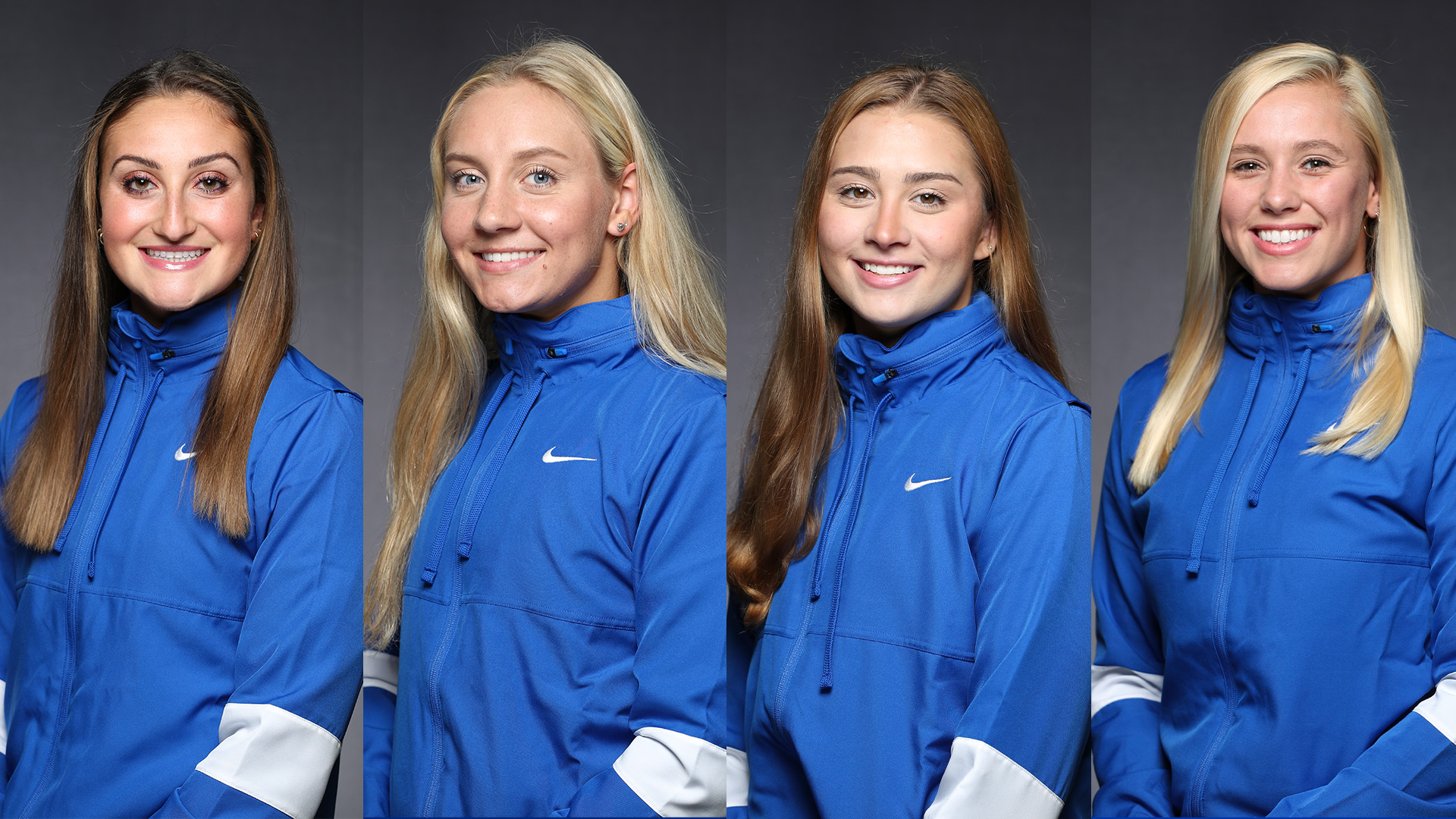 March 20, 2023 - 12:36 PM
Women's Swimming & Diving Puts Four on CSC Academic All-America Teams
LEXINGTON, Ky. – College Sports Communicators announced its first ever women's swimming & diving Academic All-America teams on Monday, a distinguished group which features four Kentucky student-athletes.
Caitlin Brooks, Izzy Gati, Lauren Poole and Anna Havens Rice were each recognized for their athletic and academic excellence, with Brooks, Gati and Poole earning a first-team selection, while Havens Rice received a third-team nod.
Kentucky is one of three schools to garner four Academic All-America representatives (Virginia, Tennessee) and one of just two with three members on the first team (Virginia).
2022-2023 marks the first year in which College Sports Communicators has featured swimming & diving as an individual sport in its Academic All-America program. Previously, swimmers and divers had been included in the "At-Large" honorees.
All four of the Wildcats recognized possess a perfect 4.00 GPA at Kentucky. In all, thirteen of the 31 members of the Academic All-America Division I women's swimming & diving teams boast a 4.00 GPA in their undergraduate work or graduate school.
Brooks, a native of Gainesville, Fla., received her undergraduate degree at UK in Communication and is currently pursuing her masters in Instructional Systems Design. Brooks is a four-time NCAA qualifier, seven-time CSCAA All-American and a nine-time SEC medalist. She has also been named to the CSCAA Scholar All-America First Team in each of the past three seasons.
Gati, a fifth-year graduate student, majored in Biomedical Physiology & Kinesiology before beginning her graduate studies in Sport, Fitness and Recreation Management. A native of El Dorado, Ark., Gati is a five-time qualifier for NCAAs, earning a silver medal in the 800-freestyle relay in 2021. She is a ten-time CSCAA All-American and a four-time CSCAA Scholar-All-America First Team member. Gati was also tabbed to the CSC Academic All-District Women's At-Large team in 2021. At the SEC level, Gati has earned seven medals throughout her career, including gold in the 800 freestyle relay in 2021.
Poole, the NCAA Elite 90 award winner at the 2023 Championships this past week, received her Bachelor's Degree in sociology at Kentucky. She is currently enrolled in graduate school studying sports psychology and is a two-time CSCAA Scholar All-American First Team honoree. Poole is a three-time NCAA qualifier and the 2021 NCAA bronze medalist in the 400 IM. A six-time All-American, Poole finished eighth in the 400 IM at the NCAA Championships this past week. She is the 2021 SEC Champion in the 400 IM and a four-time medalist at the conference meet.
A junior chemistry major from Greenville, S.C., Havens Rice is a two-time qualifier for NCAAs and a 2021 All-American Honorable Mention in the 400 IM. She has been named to the CSCAA Scholar All-American First Team each of the past two seasons.
The complete list of CSC Academic All-America awardees can be found here.
For the latest on UK Swim & Dive, follow the Wildcats on Twitter and Instagram at @UKSwimDive, and on Facebook at Kentucky Swimming and Diving.