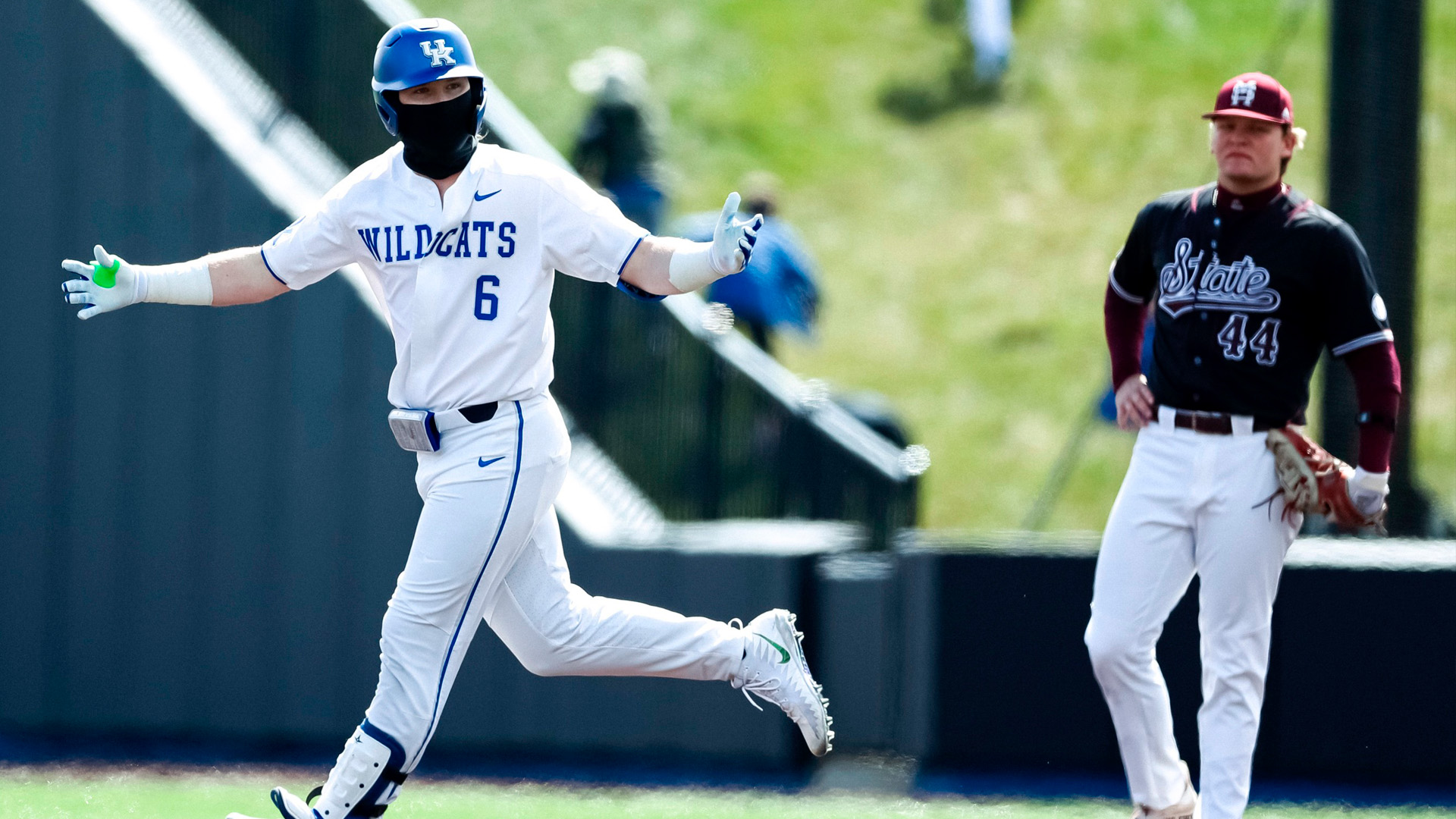 The weather was cold but Kentucky was blistering hot, run-ruling Mississippi State 17-3 on Sunday afternoon to sweep the opening Southeastern Conference series and win its 14th consecutive game overall. It is UK's first conference series sweep since doing so at Auburn in March 2021.
Kentucky is now 18-2 overall and 3-0 in league play after dispatching the 2021 national champions.
For the second time in the series Kentucky's patient plate approach directly led to a four-run first inning and early lead. After a leadoff bunt single by Jackson Gray, four consecutive Wildcats drew walks and then a throwing error added to Mississippi State's troubles. In the series, the Wildcats drew 22 walks and six hit by pitch.
State closed the gap to 4-3 and had bases loaded in the fourth but Ryder Giles used his sidearm style to strike out a batter and strand the runners. From there, it was all Kentucky, as Reuben Church, Hunter Gilliam and Ryan Waldschmidt all homered and an eight-run sixth inning helped end the game early. Five different Cats had two or more RBI and multi-hit games.
NOTES
Kentucky has won 14 consecutive games.
This is UK's first SEC sweep since March 2021 at Auburn.
UK Coach Nick Mingione is in his seventh season at the helm and now owns a 194-131 career record.

UK is 80-33 in the month of March under Coach Mingione.
UK is undefeated this March.

UK pitchers have struck out 190 through 20 games.
UK pitchers have limited opponents to three or fewer runs in 15 of 20 games.
UK has scored in 319 of 325 games under Coach Mingione.
UK has drawn 22 walks and six hit by pitch in the series
UK stole 10 bases in the series. The Cats were 10-for-10.
UK scored four runs in both the first and fifth innings and eight in the sixth, now 18 times it has done that this season it has scored four or more runs in an inning.
UK has scored 68 runs in the past 38 innings.
UK outscored State 35-11 in the series.
UK had two four-run first innings in the series.
First baseman Hunter Gilliam has started 133 consecutive games at the collegiate level.

He has reached safely in all 20 games this season and owns a 14-game hit streak.
He hit a home run in the sixth inning. He homered in three of four games this week.

Infielder Grant Smith has started all 136 games of his collegiate career.
Outfielder Jackson Gray went 4-for-5 with three runs, three RBI, a triple and a double.

He has three triples this season, tying him with Marcus Carson (2017) and Riley Mahan (2017) for the most in a single-season under Mingione.

Infielder Emilien Pitre has reached base safely in 18 consecutive games.
Infielder Reuben Church clubbed his first home run of the season.
Outfielder Ryan Waldschmidt went 2-for-5 with two runs, three RBI, a triple and a home run.

He has homered each of the past two Sundays.

Pitcher Ryder Giles earned his first win at Kentucky with a massive strikeout to strand the bases loaded in the fourth in a 4-3 ballgame.
ON DECK
Kentucky will host Eastern Kentucky on Tuesday at 6:30 p.m. ET at Kentucky Proud Park. The game will be streamed on the SEC Network+. The radio call will be on the UK Sports Network.