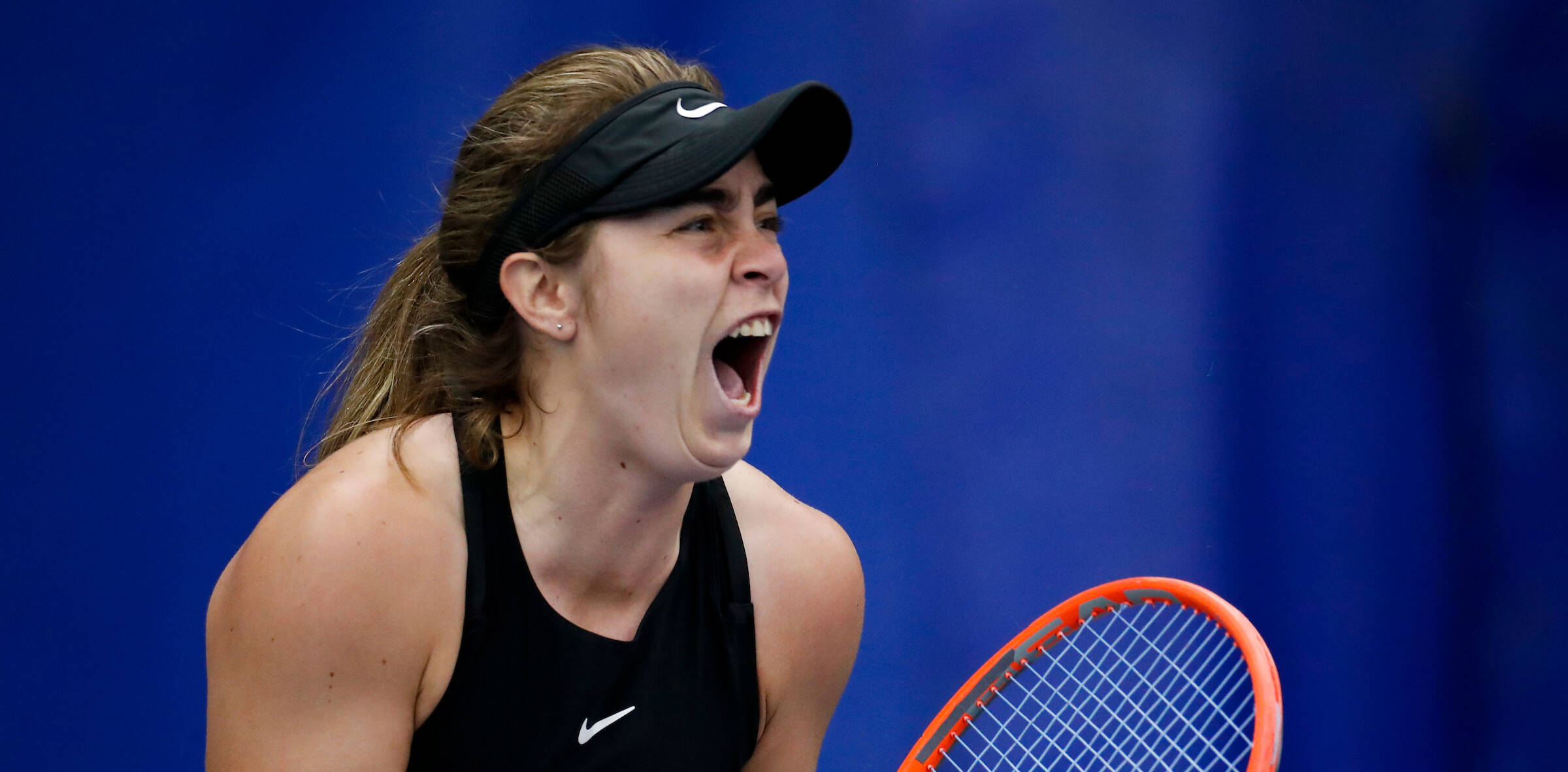 March 19, 2023 - 05:35 PM
SWAMPED: No. 68 Kentucky Upsets No. 18 Florida in Gainesville
Gainesville, Fla.– No. 68 Kentucky (8-7, 2-4 SEC) pulled off its biggest win of the season, knocking off No. 18 Florida (8-4, 3-2 SEC), 4-2, at the Alfred A. Ring Tennis Complex in Gainesville. The victory was the program's first in Gator territory.
With the win, the Wildcats recorded the first top-25 victory since the 2021 Southeastern Conference Tournament, when Kentucky defeated No. 19 Ole Miss in second round. The victory marked the third road win of the season for Kentucky, allowing the Cats to notch the first conference victory since opening day. Both of Kentucky's SEC wins this season have come on the road.
The Wildcats capitalized on the momentum they had been building in recent losses, which saw Kentucky take the doubles point off No. 3 Georgia, before scoring multiple singles points against both No. 16 Tennessee and No. 34 South Carolina.
Kentucky never trailed in the match, thanks to excellent doubles play from a revamped lineup. Despite the changes, the Wildcats continued their winning ways on the doubles court, claiming the match's first point for the 12th time in 15 matches this season. Ellie Eades and Zoe Hammond were not victorious in the move back up to second doubles, but the team of Florencia Urrutia and Lidia Gonzalez followed swiftly to even the sets. The senior-sophomore duo took their No. 3 doubles match by a final score of 6-4. With the doubles point coming down to the top court, Elizabeth Stevens and Carlota Molina buckled down and clinched the doubles win, 6-4. The win for UK's top pair was their third in a row, and marked the second straight match in which the pair clinched the lead for Kentucky.
Needing just three singles matches to pull off the upset, Kentucky was able to take the opening sets on exactly three of the six courts.
Senior Maialen Morante put a bow on her stellar weekend, finishing her singles match first for the second straight match. Playing at No. 6 singles, the senior from Bilabao, Spain raced out to a fast start and never looked back, defeating Emma Shelton, 6-2, 6-0. Morante did not drop a set all weekend.
Florida was able to respond, however, as Ellie Eades fell short at No. 2 singles, 6-2, 6-2.
In the match's only ranked matchup of the day, Urrutia buckled down to extend her team's advantage. The senior from Santa Fe, Argentina, ranked No. 74 in the latest ITA computer ranking, claimed victory over No. 47 Carly Briggs. Urrutia won the opening set, but failed to win a game in the second, forcing a decider. The top Kentucky singles player showed her resolve, winning six of the seven games in the frame to record Kentucky's third point.
The final three matches on court all ended up in third sets, with Kentucky coming back from first set losses at both No. 4 and No. 5.
Lidia Gonzalez recorded nine of of twelve games in the middle of her match, forcing a third after losing the first, but ultimately fell short, 3-6, 6-1, 1-6.
With the Gators within one point once more, Molina, a senior from Gran Caneria, Spain, produced the most magical moment of the young 2023 season. Molina opened her No. 3 singles match strong, claiming the opening set. Rachel Gailis of Florida did not go quietly, however, and pushed the match into a decider. Molina was able to claim an early break and hold serve on crucial deciding points to maintain her advantage. With Gailis serving to keep her team in the match, Molina raced to a 40-0 lead before finishing off the upset, 6-3, 1-6, 6-3.
One final match remained unfinished, as Zoe Hammond was locked in a tight, three-set affair when Molina clinched. After dropping a close first set, Hammond stormed to a 6-1 second set win to even up the score. She was trailing by a break when play concluded.
Kentucky returns to action at the Hilary J. Boone Varsity Tennis Complex on Tuesday for a doubleheader with Eastern Kentucky. The Wildcats and Colonels will first faceoff at 11 a.m. EST followed by a second match at 3 p.m. Fans can follow along with both matches via live stream and live stats or attend in person for free.
RESULTS
Kentucky vs. Florida
Doubles
Stevens/Molina (UK) def. Dudeney/Spee (UF) 6-4
No. 60 Briggs/Gailis (UF) def. Hammond/Eades (UK) 6-2
Gonzalez/Urrutia (UK) def. Shelton/Williams (UF) 6-4
Singles
No. 74 Florencia Urrutia (UK) def. No. 47 Briggs (UF) 6-3, 0-6, 6-1
Dudeney (UF) def. Ellie Eades (UK) 6-2, 6-2
Carlota Molina (UK) def. Gailis (UF) 6-3, 1-6, 6-3
De Oliveira (UF) def. Lidia Gonzalez (UK) 6-3, 1-6, 6-1
Zoe Hammond (UK) vs. Spee (UF) 4-6, 6-1, 3-5 (unfinished)
Maialen Morante (UK) def. Shelton (UF) 6-2, 6-0
Order of Finish:
Doubles— 2, 3, 1
Singles— 6, 2, 1, 4, 3
For the latest on UK Women's Tennis, follow the Wildcats on Twitter and Instagram at @UKWomensTennis.