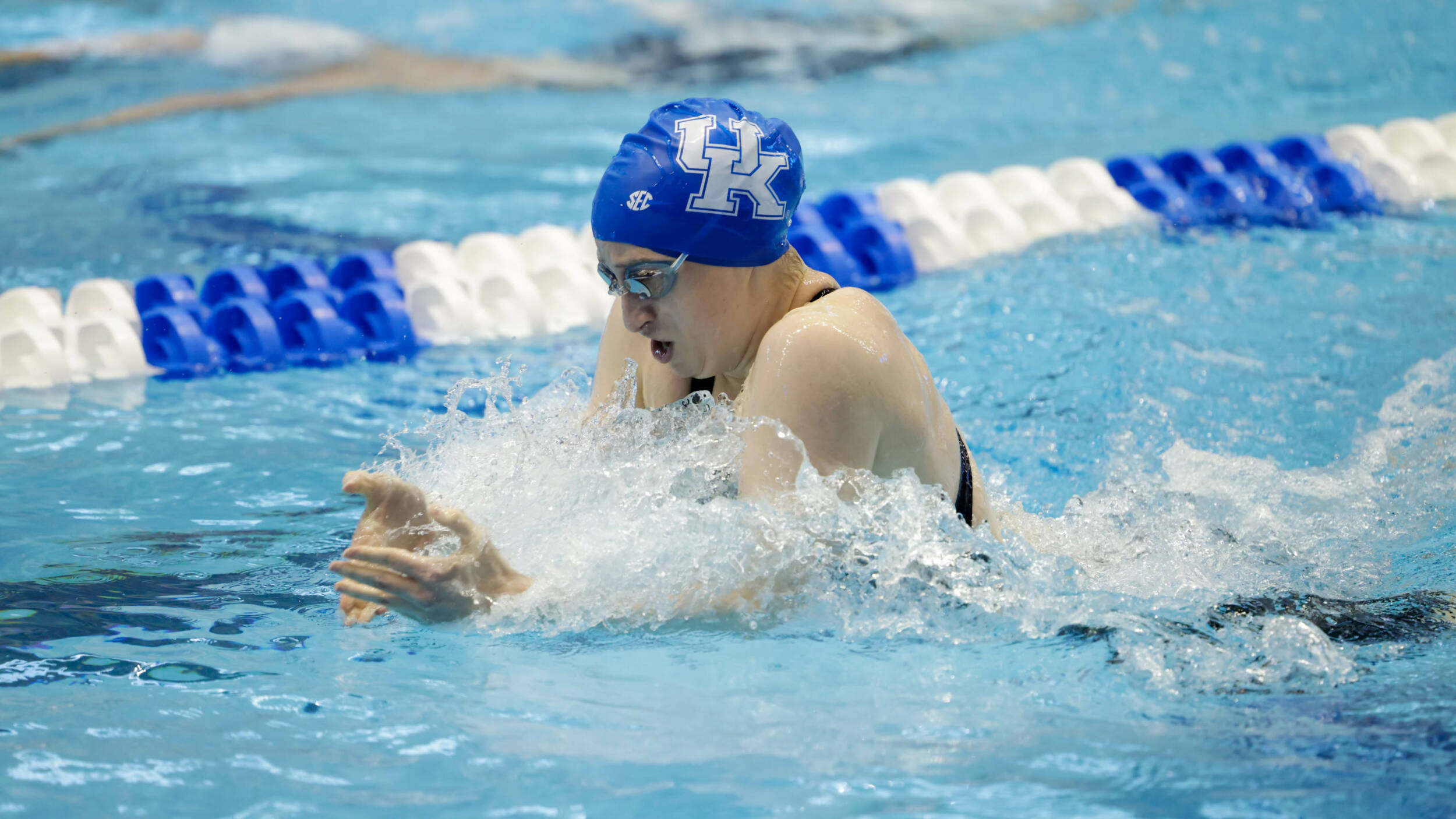 March 18, 2023 - 09:53 PM
Women's Swim & Dive Finishes NCAA Championships in 19th
KNOXVILLE, Tenn. – Kentucky women's swimming & diving wrapped up its season with a 19th place finish at the 2023 NCAA Championships, totaling 49 points over the four-day event which reached its conclusion on Saturday night at the Allan Jones Aquatic Center.
The result marks the sixth consecutive top 20 finish for the Wildcats, a streak which dates back to 2017. Saturday's action was highlighted by All-American performances from both Caitlin Brooks and Gillian Davey, as the Kentucky seniors gave the Cats eight All-Americans for the meet overall.
"I thought we had a really good meet and a good season," head coach Lars Jorgensen said. "We left a few points on the table unfortunately, but that's what happens at championship meets. I thought we had a lot of great performances from some freshmen and our seniors were outstanding as well."
For Davey and Brooks, 2023 marks the third-straight year earning All-American status in their respective events. Brooks would qualify for the consolation final in the 200 backstroke with a season best time of 1:52.35, before ultimately placing 15th overall. Davey, meanwhile, saved her season-best swim for the 200 breast "B-Final", posting a 2:07.26 to take 13th.
Brooks, a senior from Gainesville, Fla., led a group of four Wildcat entries in the 200 backstroke. Freshmen Lydia Hanlon (24th, 1:53.40), Grace Frericks (27th, 1:53.68) and Paige Taber (34th, 1:54.19) completed their first NCAA 200 backstroke swims.
Senior Kaitlynn Wheeler was UK's lone representative in the 100 freestyle, earning a new career best finish at 52nd with a time of 49.20. Kentucky again featured four representatives in the 200 breaststroke, with Davey at the front of the pack at 2:07.88. Freshmen Denise Phelan clocked her second personal best of the meet with a time of 2:08.36 to finish 17th, just .06 seconds outside the cut for finals. Junior Bridget Engel (29th, 2:10.30) and sophomore Olivia Mendenhall (30th, 2:10.47) also made their NCAA debuts in the event.
In the 200 butterfly Izzy Gati managed a season-best time at 1:55.23, dropping nearly a second from her seed time. Gati's effort narrowly missed a place in the finals as the fifth-year was .05 seconds removed from the consolation final cut line. Senior Lauren Poole, the 2023 Elite 90 award winner, concluded her meet by swimming the 200 fly for the first time at NCAAs. Poole placed 51st with a time of 1:59.47.
Kyndal Knight and Abby Devereaux took to the tower for the platform diving competition, placing 37th and 40th respectively. For Devereaux, the appearance was her first at the NCAA Championships, while Knight capped a highly successful meet which saw the fifth-year earn two All-America accolades.
UK was represented in the mile by Megan Drumm and Beth McNeese. Drumm finished 29th at 16:13.62, a pace which included a personal best 1000 split of 9:42.36, while McNeese touched in 16:17.73, placing the senior in 33rd.
First Team All-America Count: 2
Kyndal Knight – One-meter diving, 7th
Lauren Poole – 400 IM, 8th
All-America Honorable Mention Count: 4
Gati, Wheeler, Frericks, McNeese – 800 Freestyle Relay, 10th
Kyndal Knight – Three-meter diving, 12th
Caitlin Brooks – 200 Backstroke, 15th
Gillian Davey – 200 Breaststroke, 13th
Personal Record Count: 5
Izzy Gati – 200 Freestyle, 1:44.04*
Megan Drumm – 500 Freestyle, 4:45.58
Olivia Mendenhall – 100 Breast, 1:00.66
Denise Phelan – 100 Breast, 59.38
Denise Phelan – 200 Breast, 2:08.36
*Relay split
For the latest on UK Swim & Dive, follow the Wildcats on Twitter and Instagram at @UKSwimDive, and on Facebook at Kentucky Swimming and Diving.