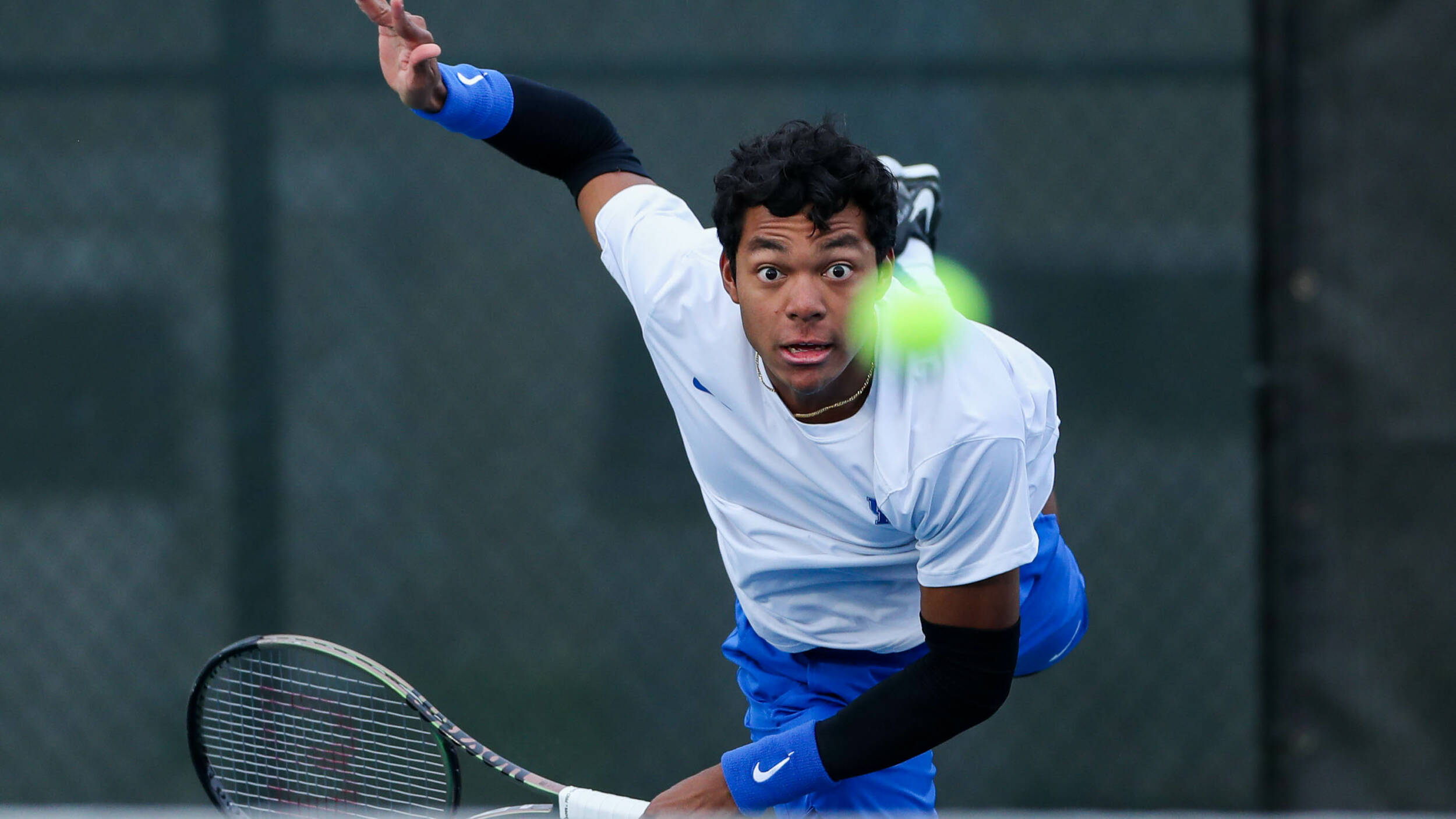 March 18, 2023 - 05:53 PM
No. 6 Kentucky Wins Fifth Straight, Thumps Tide
TUSCALOOSA, Ala. – No. 6 Kentucky (17-2, 5-1 SEC) completed its two-game SEC road trip, knocking off No. 46 Alabama (9-9, 1-4 SEC) 6-1 in Tuscaloosa. The Wildcats have now won their last five conference matches and improve their unblemished road record to 6-0.
The Wildcats continued their stellar doubles play, winning the opening point for the fifth straight match. Kentucky has not lost this season when winning the doubles point.
The senior-freshman Canadian duo of Liam Draxl and Jaden Weekes continued their domination at the No. 3 doubles spot, moving their record as a team to 7-1. The pair raced out to a 5-0 lead before finishing off Zach Foster and Roan Jones, 6-1.
Alafia Ayeni and Taha Baadi clinched the doubles point once again, defeating the top Crimson Tide pair of Enzo Aguiard and Filip Paninsek, 6-4, claiming their fourth straight victory on the doubles court.
In singles action, Kentucky won the first set on three of the six courts. Freshman Jaden Weekes led the Wildcats once again, steamrolling his Crimson Tide opponent in straight sets to claim the second Kentucky point on the day. The freshman from Montreal, Quebec has defended his first SEC Freshman of the Week honor in a major way, putting together another 4-0 week to move his undefeated streak over all competition to eight matches.
Fifth-year senior Alafia Ayeni was not far behind Weekes, claiming the only ranked win of the day for the Wildcats. Ranked No. 28 by the ITA, Ayeni defeated No. 63 Aguiard 6-3, 6-2 to tally his fifth ranked victory of the 2023 season.
Alabama would score their only point of the day at No. 6 singles, as a comeback attempt by No. 112 Charlelie Cosnet fell short. After dropping the first set, the freshman from Le Mans, France recovered for a 6-1 second frame win. However, he could not sustain the momentum and dropped the decider.
Despite failing to close out the match in straight sets, 2021 ITA National Player of the Year Liam Draxl would bounce back in a major way, claiming a 6-2, 5-7, 6-2 triumph at the top singles court to clinch the dual victory for Kentucky.
The two teams played the match out, allowing two Wildcats to secure comeback wins. No. 102 Taha Baadi would cruise through his final two sets at No. 4 singles to mark a 4-6, 6-2, 6-2 win. The match would end with a three-set victory from senior Joshua Lapadat. The senior from London, Ontario found similar success to his Quebecois compatriot, notching a 3-6, 6-3, 6-2 victory to bring the match to its conclusion.
Kentucky will return to the friendly confines of Hilary J. Boone Tennis Complex next week for a two-match homestand against No. 30 Ole Miss and No. 14 Mississippi State. The 'Cats will open the weekend on the evening of Friday, March 24, squaring off against the Rebels at 5 p.m. Kentucky will conclude the week with a top-15 showdown against the Bulldogs, with first serve scheduled for 1 p.m. on Sunday, March 26. Admission for all home regular season matches is free of charge, and fans can follow along with live stats or watch on Track Tennis. Additionally, Friday's match against Ole Miss will be featured on Cracked Racquet's SEC Crosscourt Cast, streaming live on SEC Network +.
RESULTS
Kentucky vs. Alabama
Doubles
Alafia Ayeni/Taha Baadi (UK) def. Aguiard/Planinsek (UA) 6-4
No. 56 Joshua Lapadat/JJ Mercer (UK) vs. Ferreira/Ponce de Leon (UA) 5-4 (unfinished)
Liam Draxl/Jaden Weekes (UK) def. Foster/Jones (UA) 6-1
Singles
No. 23 Liam Draxl (UK) def.  Planinsek (UA) 6-3, 5-7, 6-2
No. 28 Alafia Ayeni (UK) def.  No. 63 Aguiard 6-3, 6-2
No. 47 Joshua Lapadat (UK) def. Ponce de Leon (UA) 3-6, 6-3, 6-2
No. 102 Taha Baadi (UK) def. Samofalov (UA) 4-6, 6-3, 6-2
Jaden Weekes (UK) def. Jones (UA) 6-4, 6-1
Sarouk (UA) def. No. 112 Charlelie Cosnet (UK) 6-2, 1-6, 6-2
Order of Finish:
Doubles—3, 1
Singles—5, 2, 6, 1, 4, 3
For the latest on UK Men's Tennis, follow the Wildcats on Twitter and Instagram at @UKMensTennis.