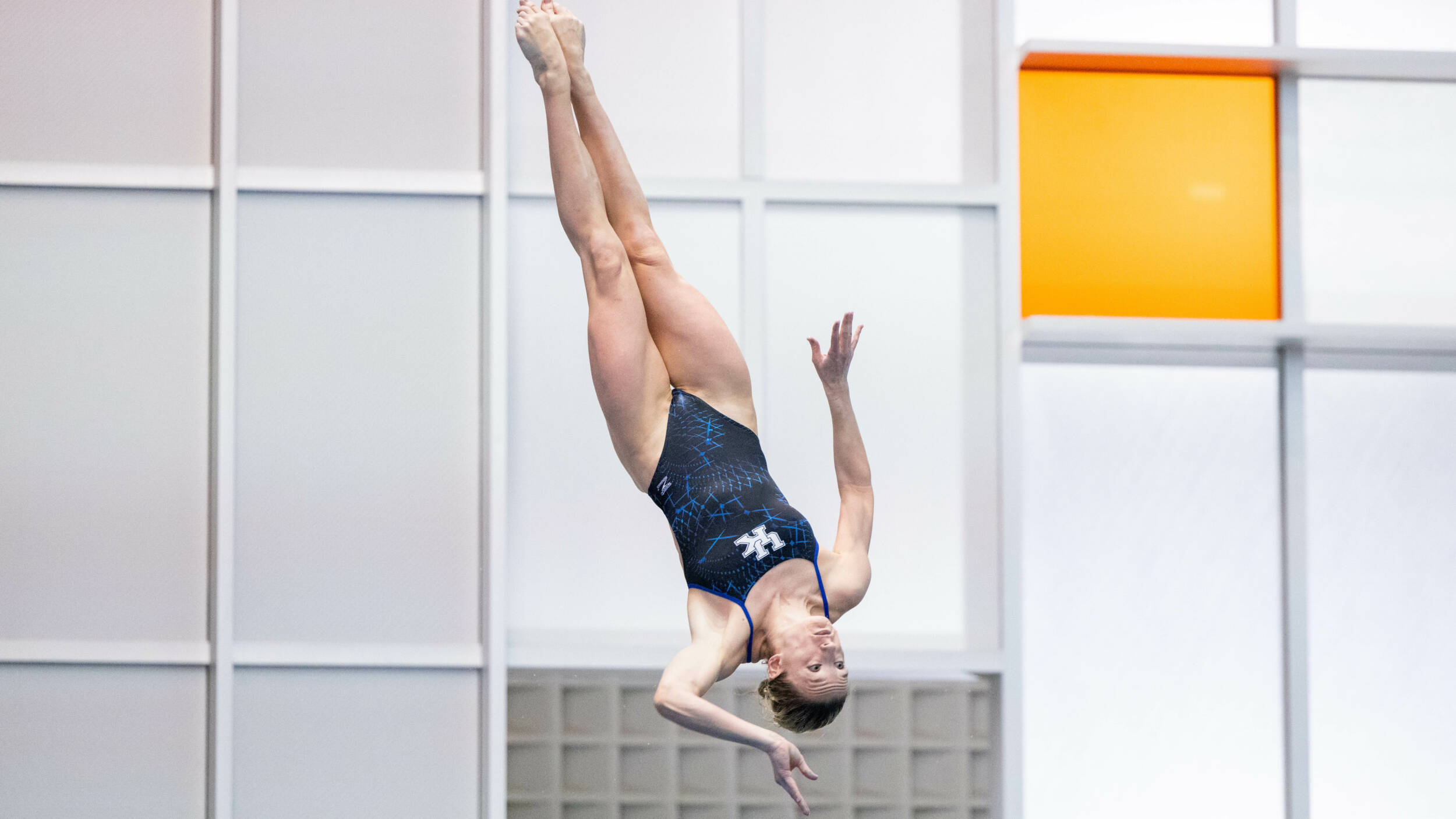 March 17, 2023 - 11:02 PM
Knight, Poole Add All-America Accolades on Day Three at NCAA Championships
KNOXVILLE, Tenn. – A pair of Big Blue veterans shined as Lauren Poole and Kyndal Knight each earned All-American honors on day three of the NCAA Championships, combining to score 16 points for Kentucky, its highest single day score of the meet thus far.
With just one day of competition remaining at the Allan Jones Aquatic Center, the Wildcats sit in 17th place as a team with 42 points. Virginia leads the championships with a score of 374.5.
A day after receiving the NCAA's Elite 90 award, Poole made her mark in the water earning first-team All-American status for the third consecutive year in the 400 IM. A bronze medalist in the event back in 2021, Poole took eighth this time around, recording a 4:05.74 in the event's A-final. The senior's effort resulted in 11 points scored for UK, making her the second individual to earn points for Kentucky thus far alongside Knight.
In diving, Knight reached her second final of the championships, this time qualifying for the consolation final in the three-meter springboard with a preliminary score of 324.15. Knight went on to post her best career finish in the 3-meter, coming in 12th after registering a 332.55 in final. The native of Stanley, N.C. has now managed new career-high results on both springboards and will look to make it three for three when she competes in platform tomorrow.
The morning swim session kicked off with the 400 IM, where Poole was joined by teammate Gillian Davey, who picked up a top-20 finish with a 4:10.76. In the 200 freestyle, fifth-year Izzy Gati paced the Wildcats with her best NCAA finish in the event at 18th. Gati's swim of 1:44.68 missed a place in the finals by just .21 seconds. Senior Kaitlynn Wheeler won her heat at 1:45.29, good for 24th overall, while Beth McNeese, swimming the 200 free for the first time at NCAAs, took 51st.
The Wildcats added a pair of personal best swims in the 100 breast prelims as both Olivia Mendenhall and Denise Phelan improved upon their previous career bests in their NCAA debuts. Mendenhall's time of 1:00.66 moves the sophomore to eighth in UK history while Phelan is now tied with Madison Winstead for Kentucky's second fastest time at 59.38. Bridget Engel also made her debut on the national stage in the 100 breast, touching the wall in 1:00.09 to take 35th.
Kentucky featured four swimmers in the 100 backstroke, including three freshmen making their NCAA debuts. The pack was led by senior Caitlin Brooks, who finished 29th at 52.53. She was followed by the three first-year participants: Paige Taber (39th, 52.99), Lydia Hanlon (41st, 53.08) and Grace Frericks (44th, 53.26).
The final day of championship action is set for Saturday back at the Allan Jones Aquatic Center. Kentucky will compete in the 1650 freestyle, 200 back, 100 free, 200 breast, 200 fly and platform diving. Saturday's schedule will follow the cadence of the previous two days with prelims beginning at 10 a.m. and finals at 6 p.m. ESPN+ will stream the action, while live results will be available on the Meet Mobile app.
First Team All-America Count: 2
Kyndal Knight – One-meter diving, 7th
Lauren Poole – 400 IM, 8th
All-America Honorable Mention Count: 2
Gati, Wheeler, Frericks, McNeese – 800 Freestyle Relay, 10th
Kyndal Knight – Three-meter diving, 12th
Personal Record Count: 4
Izzy Gati – 200 Freestyle, 1:44.04*
Megan Drumm – 500 Freestyle, 4:45.58
Olivia Mendenhall – 100 Breast, 1:00.66
Denise Phelan – 100 Breast, 59.38
*Relay split
For the latest on UK Swim & Dive, follow the Wildcats on Twitter and Instagram at @UKSwimDive, and on Facebook at Kentucky Swimming and Diving.