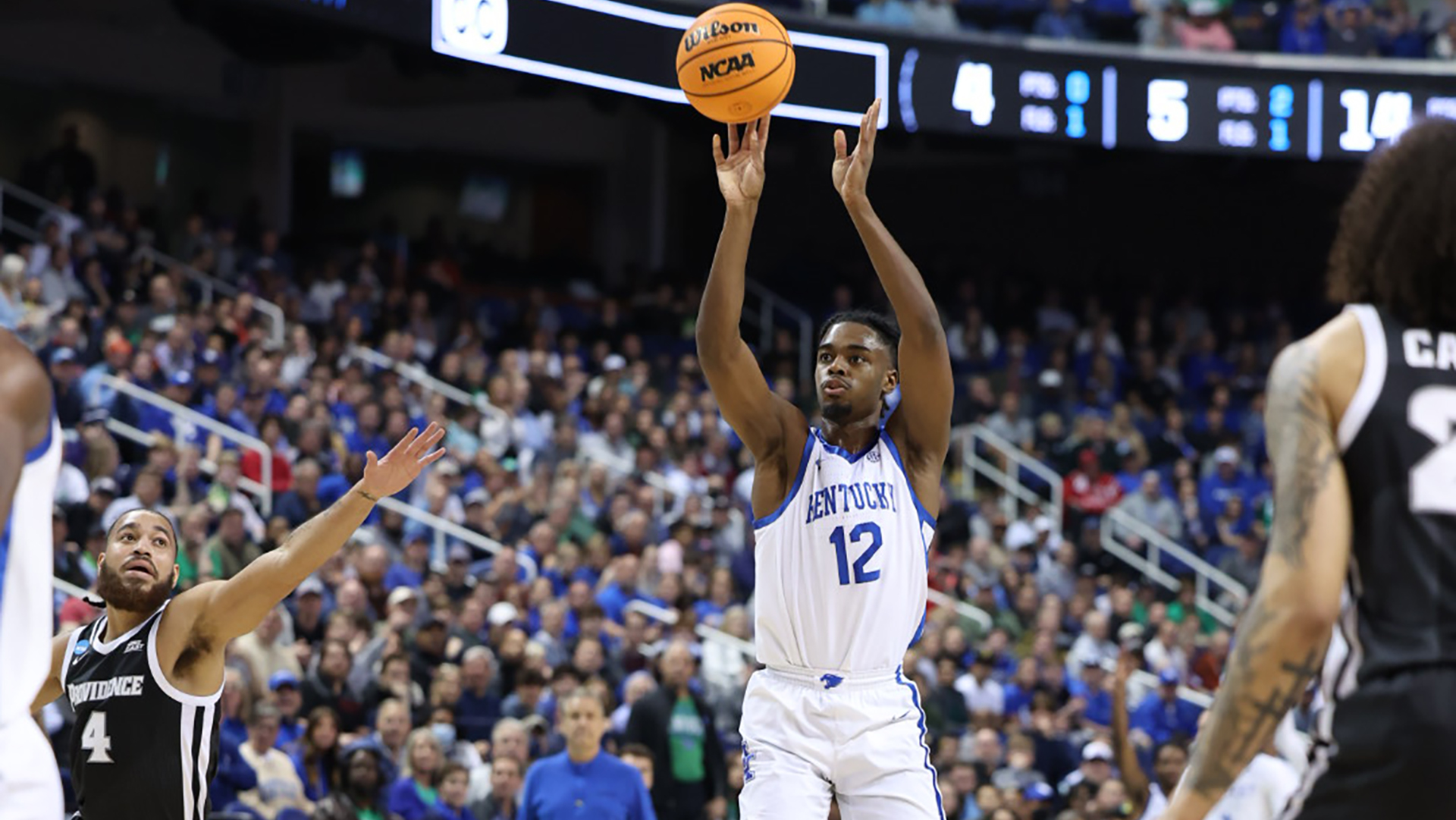 March 17, 2023 - 10:12 PM
Kentucky-Providence Postgame Quotes
NCAA Men's Basketball Championship: First Round – Providence vs Kentucky
Friday, March 17, 2023
Greensboro, North Carolina, USA
Greensboro Coliseum
Kentucky Wildcats
John Calipari
Antonio Reeves
Jacob Toppin
Oscar Tshiebwe
Media Conference
Kentucky – 61, Providence – 53
JOHN CALIPARI: Hard-fought game. That's a team that makes plays. They mix it up. They played physical. Their guard play, they run downhill. You know, I thought our team fought like crazy.
The first game is a hard game for guys, and we missed probably seven straight shots where we could have extended the game or extended the lead, and we missed them. But I'll tell you what we did, we made every free-throw down the stretch we needed to make to keep them at bay.
So our out-of-bounds stuff wasn't the best, but we had a big enough lead that it didn't matter. Thank you.
THE MODERATOR: Questions.
This is especially for Jacob and Oscar: I know you guys have much bigger plans in this tournament, but what kind of relief was it to get this win after last year?
JACOB TOPPIN: Yeah, it was a big relief, obviously. I knew what this team was capable of, so we got the job done. So props to my teammates. We all stuck together. Even when they made their runs, we didn't put our heads down. We kept fighting. Defensively, Oscar had 25 rebounds. That's insane. But, you know, we did the little things that won us the game.
OSCAR TSHIEBWE: Say again the question, please.
Sure. I know you guys have bigger plans for this tournament, but after last year's loss to St. Peters, what kind of relief was this? How relieved are you to get the win?
OSCAR TSHIEBWE: We just come in. I told all my teammates, I told them, I said this year we come in and fight. Last year doesn't matter anymore. Now you know this tournament is about fighting. It's about who fights the most. That's the one who is going to keep moving. So we came in with the mentality, and we forget the past, and we're just fighting right now.
This one is for Jacob: I know you had Bryce as your primary defensive assignment, held him to 7 points on 2-of-9 shooting. What's so tough about guarding him, and what did you do that so effectively contained him?
JACOB TOPPIN: Yeah, Bryce, I love him with all my heart. We got so close last year. He is a really good player. It was definitely hard to guard him because he is so physical.
It didn't just take me. It took the whole team, being in gaps, being my help, and we just slowed him down. He is a really good player, and it took five players to stop him, not just me.
This question is for you, Coach. What is your description of the dominance that Oscar shows inside the paint on the offensive and defensive end when it comes to the rebounds?
JOHN CALIPARI: Defensively when he is alert and bouncing, he is really good. When he stands behind the defender, he is not really that good in there. They just turn and score on him. I don't know why he chooses to do that because the other guy is really good, but there are times he stops. I'm probably playing him too many minutes. And then he only scored eight points. He got 25 rebounds.
Like, I don't know how many times that's been done in the NCAA Tournament. Do you guys know?
First time since (off microphone.
JOHN CALIPARI: Since when?
THE MODERATOR: 1970.
JOHN CALIPARI: That can't be right. You know, that's how old — when I watched The Waltons, that's how old that is, so it's about that old. I would tell you that he did something that hadn't been done for 50 years.
And he is the greatest kid. He didn't pass one to Jacob. We got on him. He looked and said, I'm good. My fault.
He gets held, grabbed, hold, and they call him for pushing off. He said one time this year he just had enough, but I've just enjoyed the heck out of coaching him and seeing him grow as a person, seeing him grow as a basketball player. But this one, I don't think it was — if in this tournament winning is a relief, what the heck are you doing here? This is joy.
You winning this tournament, it doesn't matter how you win. There are teams that have gotten knocked out. You just keep playing and have joy and enjoy. We're not, like, well, we're going to win because everybody will be mad if we don't. What? No. We could care less if they're mad or happy or sad. This is about this group of young people.
I want them to enjoy this experience. No one is going to put added things on their shoulders. I won't let them. Like I told them, have a ball today, and they did. Now, I just told them, I knew we missed eight straight shots. Like, just make one or two.
We shot 25 percent in the second half and won, which is crazy. You can't have those gaps in this tournament because you're going to play a good team that can go score.
We almost had 40 at half. I'm thinking great, we're on line to get 80. That's where you want to be. Then we come up dry on layups, stick-backs, jumpers, floaters, but we still won. That's a good sign for these guys.
Coach, your last comment kind of segues into my question. The players, yesterday you talked about having fun and keeping things loose, and it really looked like you guys were having fun out there yesterday. Can you describe what that was like?
JACOB TOPPIN: When we're having fun, when we're not on the court, we're trying to have fun with each other because it lifts all the pressure off of us. When we're not worried about the outcome and we're just playing loose and free, that's when we play our best basketball. And it started off the court. It started us not worrying about anything but just spending time together.
I said it yesterday, just living in the moment. That's what we did, and we played possession by possession and came out with a W.
JOHN CALIPARI: Can I say this? They took their earphones off at dinner. I don't know if one of you told them take them off. There was so much chatter at dinner. There was so much laughter, but it's hard when you put the earphones on and the hoodie over, and you are looking at your phone to have that kind of experience.
This should be enjoyed. Coaches don't get here. Players don't get here. I want them to enjoy each other and to enjoy this.
THE MODERATOR: You want to take a crack at it, about enjoying it.
ANTONIO REEVES: Just bonding with each other. Like Coach said, know took off their headphones. Previous times we ate, guys had their headphones in. It wasn't too much chatter, but, as leaders, the three of us, we told everybody basically, you know —
JOHN CALIPARI: What was the game you guys were playing?
ANTONIO REEVES: It's like a little TikTok game or something.
JOHN CALIPARI: They're going nuts over there. What are they doing? Then they got on the bus and did it, and they laughed so hard, but it makes me feel good because my job is to get them to understand, enjoy this experience.
Now, whoever we play is going to be a really hard game, but we're not worried about that right now. We'll go back and enjoy this, meet in my room later tonight, know who we're playing. Go have a great night. Sleep in. We'll get up tomorrow and figure things out tomorrow. This has been a great group.
Antonio missed shots, and he looked over, what did I tell you?
ANTONIO REEVES: "Keep shooting."
JOHN CALIPARI: You better keep shooting. I told Chris, Chris Livingston missed three 15-footers, and I said "keep shooting." Then he missed another one, and I said "take him out."
John, you mentioned Oscar's impact on the defensive boards, but he also dominated on the offensive boards. I think you had an 18-2 end in second-chance points. Obviously, you look at the difference in the game. When you are not maybe making every shot the way you would like, having that ability, what kind of impact does that have on the outcome of the game?
JOHN CALIPARI: Well, he has had ability. People want to forget that he had a knee operation and was out four weeks to start the season and should have been out two more. He forced his way back. "I want to play. I'm good. I can do this." Should have been out two more weeks. And it's been in the last, I'm going to say, month that he has gotten back to where he was. Now he is going beyond, but, no, he impacts the game.
The other thing is how about you have a guy that will go fight and go get all those rebounds. If he doesn't get the ball, he may come over to me in a time-out and say, Coach, may tell him to throw it to me. That's the extent. He is not saying anything. What's better than playing with a guy like that who will do all the dirty work, do everything, and all he wants is every once in a while, please throw me the ball.
But his impact obviously in the last two years has been enormous.
Coach, in the spirit of enjoying things, how much did you enjoy having the crowd behind you in this state particularly?
JOHN CALIPARI: Those were Carolina and Duke fans too. That's what was amazing about it.
No, our fans travel. We've got great fans. Now, they're engaged and, you know, they live and die with wins and losses. You have some of them that are out there a little bit, but we've got the greatest fans. They travel. They're excited. I've got a stack of letters this year like this when we struggled to hang in, and some of them were unbelievable. I hand-wrote notes to every one of them because that's our fans.
This group will go crazy, and there's this group coming over and sending you letters. "Stay the course. You're doing this the right way. You have these kids. Stay the course. You keep your faith."
So, no, our fans, they travel. Like, I would have been surprised if we didn't have this kind of crowd.
John, I'm going to stay on this enjoyment theme. How great was it to have your dad out there?
JOHN CALIPARI: It was even better having him in the locker room after. I said my dad, Vince, and CJ was calling him Vinnie. My dad is 90, had his knee operated on, and that's the first game he had seen in nine years. With COVID, and all the other stuff, he hadn't been able to go to games. The tournament was canceled the year before, and then COVID.
He is 90, and I hope — well, he has no wrinkles on his face. We sat there and looked at him. You don't have a wrinkle on your face. You're 90 years old. What the heck? He just wants to be told he is handsome. He said, I don't need to hear that stuff. Just tell me I'm handsome.
My sister and brother-in-law were here too. Obviously, Ellen was here, so…
I know obviously very focused on finishing out that game. I wonder if as they were showing some of the end of the Fairleigh Dickinson win over Purdue on the jumbotron, if you snuck a peek at that?
JOHN CALIPARI: What did you just say? What did you say?
You have a 16 seed FDU beat No. 1 Purdue.
JOHN CALIPARI: I've been telling these guys. You don't watch the games. If you think you're going to be playing somebody, they're going to get knocked off. That's how this works. We can write our own story. We didn't know that. Did you guys know that? None of us knew that.
We're not watching games. We're focused on us and enjoying this moment. Thank you for letting us know, though, they got beat. I didn't know. I feel bad. Matt painter is a terrific guy, and I know what you go through with that kind of stuff.
In this tournament, are you ready, I said it. Anything can happen. It's one game. If they played them, FDU, and Tobin has done a great job, Anderson, but if they played them seven times, what? But that's not what this tournament is.
So people will go crazy when this team was a low seed and a high seed beat them. It can happen. We shot 25 percent in the second half. Could have happened to us.
FastScripts Transcript by ASAP Sports
NCAA Men's Basketball Championship: First Round – Providence vs Kentucky
Friday, March 17, 2023
Greensboro, North Carolina, USA
Greensboro Coliseum
Providence Friars
Ed Cooley
Ed Croswell
Jared Bynum
Media Conference
Kentucky – 61, Providence – 53
ED COOLEY: First, we want to give Kentucky all the credit. It was a well-played game, low-scoring game, a defensive game. I thought that was the best defense we played in about a month. You know, we didn't capitalize on — we didn't capitalize on some of the mistakes they made, and they capitalized on ours.
At the end of the day the game was won on the backboard. When you look at that, game, set and match. Plus 17 on the glass, 18 offensive rebounds. That's the game right there. Take everything out, you limit them to one shot. You know, five or six of those, it's a different game. They made the plays they had to make to win the game.
In this tournament, it's do anything you can to advance, and that's what they did.
Very proud of our players. I'm proud of our grit. I was proud of our toughness. We just couldn't overcome our lack of offense. We had some open shots we missed early.
Credit them. I thought their length was somewhat bothersome around the rim, but I thought we had open shots we made all year. This may have been the lowest point production we had all year as well.
You know, I'm very proud of our guys. Especially Jared and Ed that's here on the dais being here with me three and four years respectively. They won a lot of games for us. They played in back-to-back tournaments, so I don't want them to put their head down because we lost a game. We're still winning the game of life, and hopefully we have an opportunity to get back here next year.
THE MODERATOR: Questions.
For the players, when Tshiebwe picked up his fourth foul going out there, did you feel like that was an opportunity for you to make a run? Looking back, how was that not able to capitalize on that?
ED CROSWELL: We just continued to play basketball, and at that point we were just trying to put the ball in the hoop. It didn't matter if he was on the court or not, but we were just trying to get something going to put some points on the scoreboard.
JARED BYNUM: I thought we had a lot of opportunities to make a run throughout the game. I mean, you know, their best player comes out, you think you have an even better chance. I felt like we had a lot opportunities. A couple of shots we usually make didn't go down. We played through a lot, and then, you know, you could say if this shot goes down, this happens, or this person comes out, this happens, but at the end of the day I felt like we had a lot of opportunities.
Ed Croswell, obviously we knew that Oscar was going to be a problem. What is it like to go against him off the glass?
ED CROSWELL: I mean, he just gets the ball, man. He is a world class rebounder. You know, you have to box that guy out. Two, three people. You know, he really displayed his dominance on the board today.
Just the kind of frustration to not advance this year after what you went through last year.
JARED BYNUM: Yes, you know, it's a lot of frustration. At the end of the day I feel like we had a good year. We made it to the Tournament. We had a lot of naysayers throughout the year after we dropped a couple of games, and I couldn't be more proud of the group this year for what we did and what we overcame and what we accomplished.
Everybody doesn't get the opportunity to play in the tournament at the end of the day, and we had that opportunity, so I'm grateful for that. You can say you wish you could win this game and all that, but you have to embrace the moment at the end of it.
This question is for Coach, but players can chime in also. When you see somebody like Tshiebwe, you know he is a great rebounder, but the guy gets 25 boards. We're told that's the only time it's been done in the last 40 or 50 years. Were you surprised that even his rebounding prowess, even knowing what you knew about him?
ED COOLEY: No, it's not the first time he had 20-plus rebounds in a game. He is an elite. He was the National Player of the Year for a reason, and his defensive and offensive rebounding was probably the number one reason why he was awarded that last year. He is very quick to the ball. He has a knack for the ball.
Sometimes you just have an "it," ala Dennis Rodman, Ben Wallace. Those guys just have an "it" for it. Some guys have an "it" to score. Some people have an "it" to pass. He has an incredible "it," an elite "it" to rebound.
I think the players did a great job trying to prepare for it. You know, he is quick. He is long. He is athletic. You know, credit him. It's not like we were out there not trying, so I think it's double the credit to him.
Ed, will we see you on the bench with the Friars next season?
ED COOLEY: Next question.
Is there a chance that this was your last game as a coach at Providence?
ED COOLEY: You know, guys, there's all kinds of rumors and speculation, and I know you guys are trying to do your job. I get it. But after a game like this, I just think it's fair to talk about our players. I think it's fair to talk about the game.
That, man, I'm right here right now. I think those are very hard questions when you just are going off of speculation. Doing your job, but it's about this game, and it has nothing to do with my future or my present.
To the players, what's it been like to play for Coach Cooley these last few years and what are the memories that you'll take from these years going forward, whatever your next stop is?
JARED BYNUM: It's been a blessing to play for Coach Cooley and the coaching staff we have at Providence. I don't feel as a transfer I was looking for a home coming in, and they embraced me for who I was and who I was going to be at the end of the day, and they helped shape me into the man, into the player that I am today. So I'm going to be forever grateful.
I feel like this is like a second family to me. I spent a lot of time in Providence. Just not even on the court, but just around the coaches, around the coaching staff, around the players, around everybody that's part of the program. It's been a blessing. I'm just very appreciative of the opportunity that Coach gave me. Coming here and recruiting me. I just get emotional thinking about it's going to be some — it's going to be a long time probably after the season until I see him again, but, you know, I'm just going to be forever grateful for Coach and everybody around the program.
ED CROSWELL: I want to take this time to appreciate Coach Battle and Coach Cooley for taking a chance on me. I'm a kid that didn't have a lot of offers coming out of high school, and to see that Providence College took a shot on me and believed in my abilities to get to this level playing like this is like a dream come true. I wouldn't expect nothing like this to happen.
I've built a good community up in Providence College. You know, teachers, everybody, my teammates. I love them all, man. I appreciate all the hard battles that we went through, Providence College, and it's just been a wonderful opportunity here for me and my family.
This is for you, Coach Cooley. It does look like you're holding back a lot of emotion at the podium. No matter what happens after today or the future, what is it about this team that is so special to you that kind of has you holding back tears right now?
ED COOLEY: When you get into coaching, you try to change people's life. I didn't get into coaching for money. I didn't get into coaching for recognition. When you see these young men grow, where Ed Croswell, where Jared Bynum is coming from, all the guys that we have had an opportunity to coach to get to this moment and then you hear the words of family, care, taking care of people. When you are a true guardian of the game and represent the Big East in college basketball, that's the most important thing to me.
Both these young men will be graduates. Every player we've ever coached for four years have graduated. As much as I wanted to win this game not just for our players and not just for our school, for our community, our city and state, that means to me more than anything. When you can change people's lives and give them hope and give them opportunity and they'll walk across the stage with a degree, as much as all of us want to win, they already won. That's what's holding me back. That's what I care about.
There will be some people frustrated because we lost. I tell them to grow up because we still have 18 to 22-year-olds, and when they understand the seat that we sit in in leadership and you can change people's lives, that's what it's about.
Everybody wants to win. Give the credit to the teams that do win and advance, but don't forget how hard it is to get here, but appreciate the ones that are leaving.
FastScripts Transcript by ASAP Sports