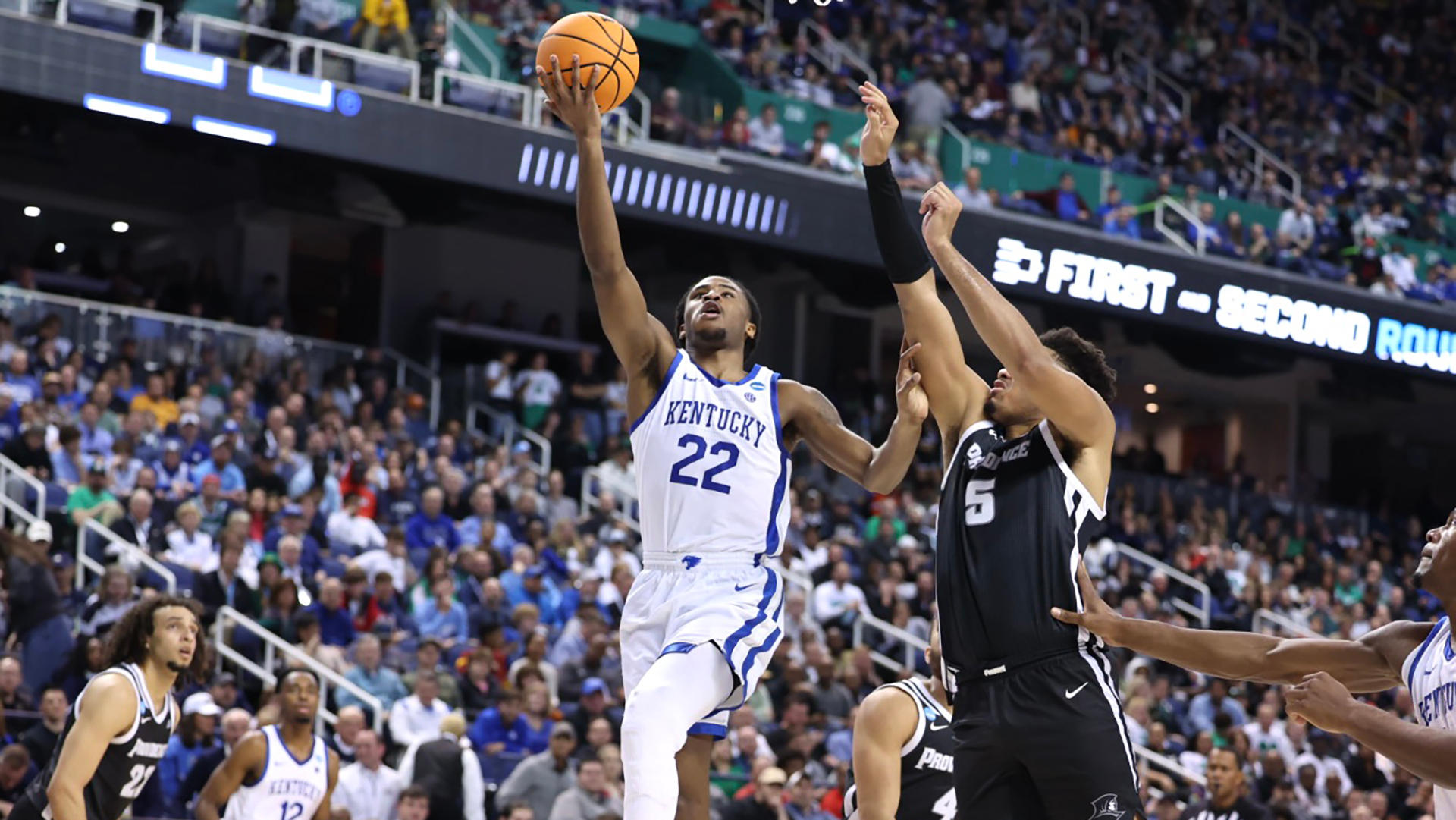 March 17, 2023 - 11:06 PM
Kentucky-Providence Postgame Notes
UK MEN'S BASKETBALL POSTGAME NOTES
KENTUCKY vs. PROVIDENCE
NCAA TOURNAMENT, EAST REGION FIRST ROUND
GREENSBORO COLISEUM | GREENSBORO, N.C.
MARCH 17, 2023
ATTENDANCE: TBA
Final Score: Kentucky 61, Providence 53
Team Records and Series Notes
Kentucky is 22-11 overall. Providence is 21-12.
UK leads the series 4-0 and this was the teams' first meeting in the NCAA Tournament.
Next for the Wildcats: on Sunday, Kentucky takes on the winner of Kansas State and Montana State. Time and television assignment are TBA.
Kentucky and Coach John Calipari in the NCAA Tournament
Kentucky is now 130-53 all-time in the NCAA Tournament.
Kentucky holds NCAA records for most tournament appearances (60) and most games played (183). UK is second for most victories (130) and fourth in winning percentage (.710, 130-53).
UK is 49-11 in its opening game in the tourney (regardless of seeding/position in the bracket).
UK is 1-1 as a No. 6 seed in the tournament since seedings began in 1980.
UK is 32-9 in the NCAA Tournament under Calipari. Since he took over in the 2009-10 season, going into this year's tournament, no team has more:

NCAA Tournament wins – 31
Final Four appearances – four
Elite Eight appearances – seven
Sweet 16 appearances – eight
Team Notes
Kentucky limited Providence to 53 points, the fewest UK had allowed in an NCAA Tournament game since a 78-39 win over West Virginia in 2015.

Providence had entered the game averaging 78.1 points per game.
In the decisive second half, UK held Providence to 22 points on just 29.6% shooting (8 of 27).
UK is now 89-0 under Calipari when keeping the opponent to 55 points or less, including 6-0 this season and three times in the last seven games.

UK held Providence to 36.2% from the field (21 of 58). UK is 233-24 (90.7%) under Calipari, including 11-0 this season, when the foe shoots 40 percent or less.
UK won the rebounding 48-31, leading to an 18-2 advantage in second-chance points.

UK is 22-6 this season when winning the rebounding.

Kentucky led by as many as 11 points. UK is 329-14 (95.9%) under John Calipari when leading by at least 10 points at some time during the game.
Kentucky has a 2-2 record in the Greensboro Coliseum. The previous three games were regular-season tilts vs. North Carolina in December of 1960, 1967 and 1973.
Player Notes
Antonio Reeves led all players with 22 points, his 10th 20-point game of the season.

He made 5 of 9 3-point shots, most made by a Wildcat since Doron Lamb made five vs. Iowa State in 2012.
He has averaged 22 points per game over the last six games.

Jacob Toppin had 18 points and six rebounds.

He has scored double figures in 15 of the last 16 games.

Oscar Tshiebwe scored eight points and the nation's leading rebounder snared 25 tonight. He also led the Wildcats with three steals and two blocked shots.

The 25 rebounds mark a Kentucky record for an NCAA Tournament game. The previous mark was 24 boards by Jerry Bird vs. Iowa in 1956.
25 rebounds are the most for any player in an NCAA Tournament game since Phil Hubbard of Michigan had 26 in 1977.
Has 934 rebounds in two seasons at UK, moving past Chuck Hayes (910) for seventh place on the UK career list.
Has 419 rebounds on the season, becoming the first player in Kentucky history to grab at least 400 caroms in two seasons.
Has 1,092 points at Kentucky, needs eight to become the 48th player in UK history to reach 1,100.
Coach John Calipari
Calipari has an 832-252 all-time on-court record and is 387-112 in 14 seasons at UK.
UK is 318-64 (83.2%) against unranked competition under Calipari.
Calipari is 169-57 (74.8%) as a collegiate head coach in games played in March and April.
Calipari is 4-1 vs. Providence, including 3-0 at Kentucky.
In the First Half
Kentucky starters were Cason Wallace, Antonio Reeves, Chris Livingston, Jacob Toppin and Oscar Tshiebwe for the seventh time. This lineup has a 5-2 record.
CJ Fredrick was the first substitute at the 13:41 mark.
The teams played evenly until late in the half, when a 10-0 run – sparked by eight points from Reeves – gave Kentucky its largest lead of the game at 36-25.
Providence hit two threes in the final minute and narrowed the gap to 38-31 at halftime.
Reeves and Toppin led all players with 14 and 12 points, respectively, while Tshiebwe led all rebounders with 13.
UK is now 19-0 this season when leading at halftime.
In the Second Half
Kentucky began the second half with the starting lineup.
Providence got the first four points of the half (38-35), prompting a UK timeout at 17:06.
Coming out of the timeout, Wallace quelled the advance with a pair of driving layups and the Wildcats eventually extended the lead to 46-37 at the 12:22 mark.
At that point, both teams went cold, with neither scoring a basket for more than five minutes, until Providence hit a 3-pointer at the 7:16 mark to make it 46-41.
UK finally got back on the board at 6:30 when Reeves followed his own miss (48-41).
Providence got no closer than four points the rest of the way; in the final 1:14, Toppin made 6-of-6 free throws and Reeves hit 1-of-2.