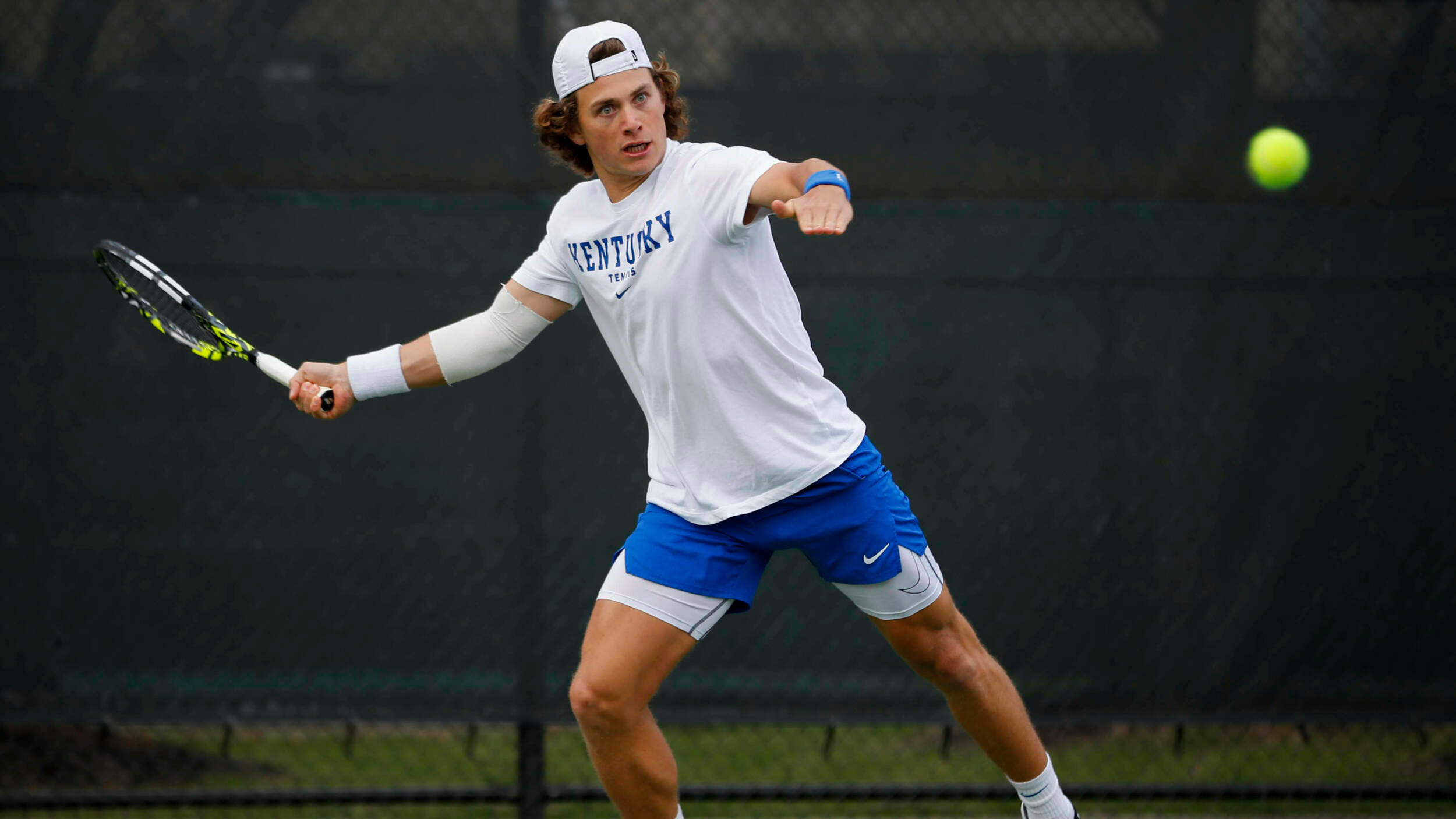 March 16, 2023 - 09:03 PM
No. 6 Kentucky Opens Alabama Swing With Victory Over No. 22 Auburn
AUBURN, Ala. – No. 6 Kentucky (16-2, 4-1 SEC) earned its fourth consecutive win in Southeastern Conference play, defeating No. 22 Auburn (11-6, 1-3 SEC), 4-3. The victory improved the 'Cats to 2-0 in true road matches in league play while also clinching the fifth win for the Wildcats against a foe ranked inside the ITA Top 25.
Kentucky opened the match by clinching the doubles point for the fourth consecutive match, improving the 'Cats doubles clip to 13-5 on the season. Liam Draxl and Jaden Weekes were the first pair to reach completion, claiming a smooth, 6-3 victory at third doubles. The opening advantage was secured by the top pair of Alafia Ayeni and Taha Baadi, who claimed their third straight victory over a ranked duo, knocking off Auburn's No. 33 Finn Murgett and Raul Dobai.
Needing just three points to clinch the victory, Kentucky was able to claim opening frames on half of the six singles courts.
No. 23 Draxl was the first Wildcat to add another tally to the scoreboard, claiming his sixth match over a ranked foe in 2023. The senior from Newmarket, Ontario knocked off Auburn's only ranked singles player, No. 124 Tyler Stice, in straight sets.
Auburn was able to gain one point back, as Jan Galka took two straight sets off the No. 102 Baadi at fourth singles.
The 'Cats were able to respond quickly, as No. 28 Ayeni rebounded from dropping a second set tiebreak to claim victory at No. 2 singles. The tightly contested middle frame was sandwiched by two 6-2 set triumphs by the fifth-year senior from San Diego, Calif. The win was the fourth in as many matches for Ayeni,  all coming at the second singles slot.
Auburn chipped at the Wildcat advantage once again, claiming victory at No. 6 singles. No. 112 Charlelie Cosnet responded from dropping the first set to tie the match, but ultimately fell, as he was not able to complete a comeback in the decider.
Reigning SEC Freshman of the Week Jaden Weekes brought his hot streak to Alabama, clinching the dual match for the visiting team. Despite dropping the first set, the freshman from Montreal, Quebec bounced back in an emphatic way, never trailing in either of the final two sets on his way to his third consecutive singles win. With his doubles victory earlier on the day, Weekes has now been victorious in each of the last six times he has stepped foot on a court.
The two teams played out the remaining singles match, allowing Auburn to score one final point. No. 47 Joshua Lapadat won the opening set and served for the match in the second, but he could not overcome a fierce comeback by Auburn's Alejandro Moreno.
The 'Cats will close out its two-game road trip with a Saturday matinee against No. 66 Alabama. The contest will kick off at 1 p.m. and take place at the Alabama Tennis Stadium in Tuscaloosa. Fans can tune in live on Track Tennis or follow along through live stats.
RESULTS
Kentucky vs. Auburn
Doubles
Alafia Ayeni/Taha Baadi (UK) def. No. 33 Dobai/Murgett (AU) 6-4
No. 56 Joshua Lapadat/JJ Mercer (UK) vs. Galka/Blaydes (AU) 5-5 (unfinished)
Liam Draxl/Jaden Weekes (UK) def.  Stice/Moreno (AU) 6-3
Singles
No. 23 Liam Draxl (UK) def. No. 124 Stice (AU) 6-3, 6-3
No. 28 Alafia Ayeni (UK) def. Murgett (AU) 6-2, 7-6 (3), 6-2
Moreno (AU) def. No. 47 Joshua Lapadat (UK) 4-6, 7-5, 6-2
Galka (AU) def. No. 102 Taha Baadi (UK) 7-5, 6-4
Jaden Weekes (UK) def. Nolan (AU) 4-6, 6-3, 6-4
Dobai (AU) def. No. 112 Charlelie Cosnet (UK) 6-1, 4-6, 6-4
Order of Finish:
Doubles—3, 1
Singles—1, 4, 2, 6, 5, 3
For the latest on UK Men's Tennis, follow the Wildcats on Twitter and Instagram at @UKMensTennis.