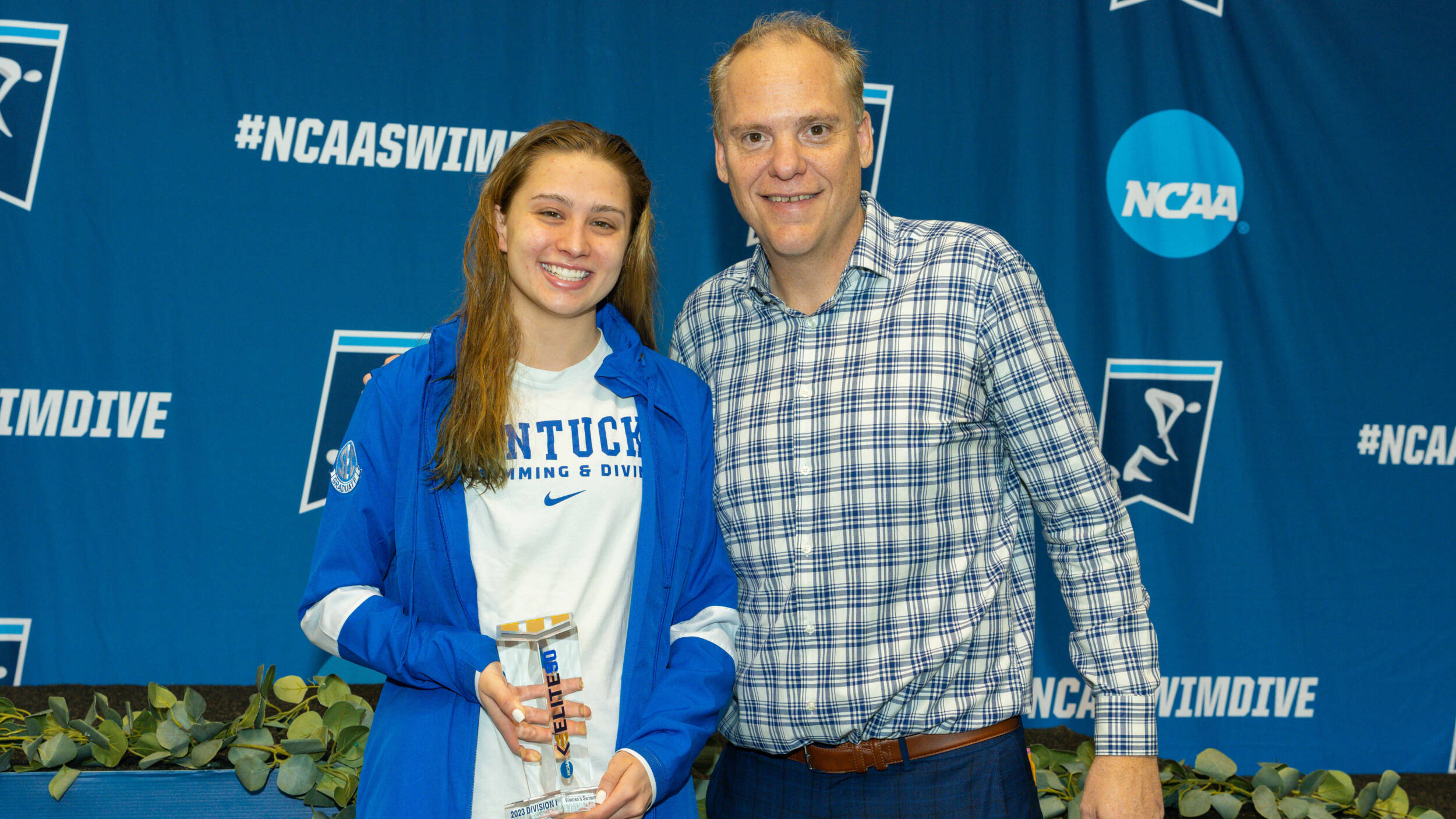 March 16, 2023 - 06:37 PM
Lauren Poole Named NCAA Elite 90 Winner
KNOXVILLE, Tenn. – Kentucky women's swimming & diving continued to make its mark on the national stage as Lauren Poole was presented with the NCAA's Elite 90 Award on Thursday night at the 2023 NCAA Championships inside Allan Jones Aquatic Center.
The Elite 90 Award is presented to the student-athlete with the highest cumulative GPA participating at the finals site for each of the NCAA's 90 Championships. Eligible student-athletes are sophomores or above academically who have participated in a sport for at least two years with their school. All ties are broken by the number of credits completed.
Kentucky has now won the Elite 90 in women's swimming four of the last seven years, with three different individuals claiming the honor. Poole joins Asia Seidt (2019) and Danielle Galyer (2016, 2017) as Wildcat recipients of the prestigious award.
Overall, Poole is the seventh student-athlete from Kentucky to receive the Elite 90. Past UK honorees include: Chelsea Oswald (Women's Track, 2013), Sam Malone (Men's Basketball, 2014), Aldila Sutjiadi (Women's Tennis, 2015, 2016) Galyer (Women's Swim & Dive, 2016, 2017), Seidt (Women's Swim & Dive, 2019) and Maddie Berezowitz (Women's Volleyball, 2021).
Poole has maintained a perfect 4.00 GPA throughout her studies at Kentucky, first earning her undergraduate degree in sociology before moving on to pursue a masters in sports psychology. She is a two-time CSCAA Scholar All-America First Team selection, as well as a two-time member of the SEC Winter Academic Honor Roll.
A five-time All-American, Poole has enjoyed tremendous success in the water with the Wildcats, qualifying for the NCAA Championships on three occasions. Poole's best NCAA result came in 2021 when she earned bronze in the 400 IM with a school record time of 4:02.73. She has also collected four SEC medals throughout her collegiate career, including a 400 IM gold in 2021, and is a two-time All-SEC honoree. In addition to holding the school record in the 400 IM, Poole also ranks second in program history in both the 200 IM and 200 breast, and 10th in the 200 fly.
At the 2023 Championships, Poole is competing in the maximum three individual events – the 200 IM, 400 IM and 200 fly. She enters the meet with the fifth fastest seed time in the 400 IM at 4:04.62.
For more information on the Elite 90 award winners, log on to ncaa.com/elite-90.
For the latest on UK Swim & Dive, follow the Wildcats on Twitter and Instagram at @UKSwimDive, and on Facebook at Kentucky Swimming and Diving