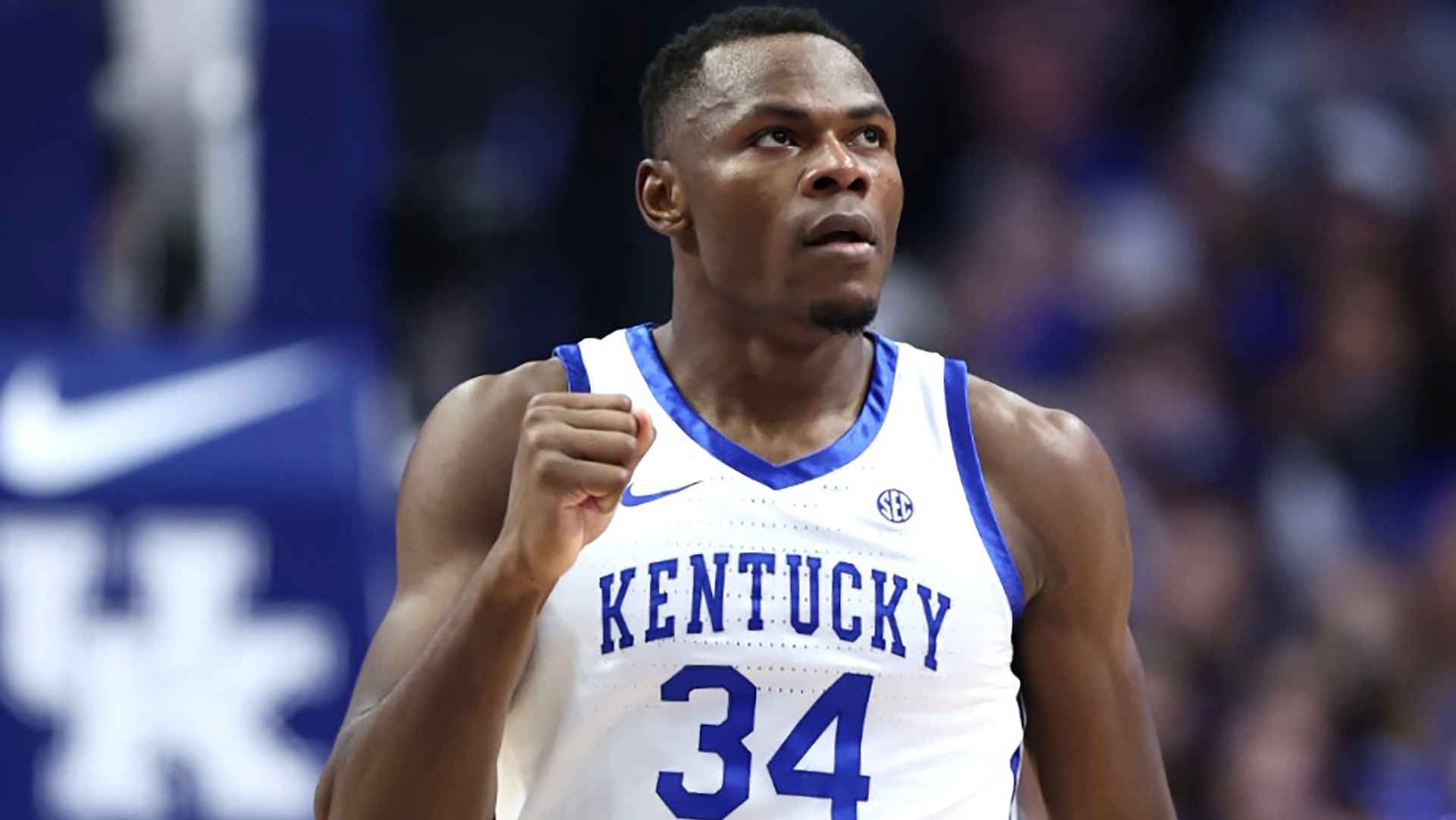 March 15, 2023 - 03:00 PM
Oscar Tshiebwe is UK's Ninth Consensus Two-Time All-American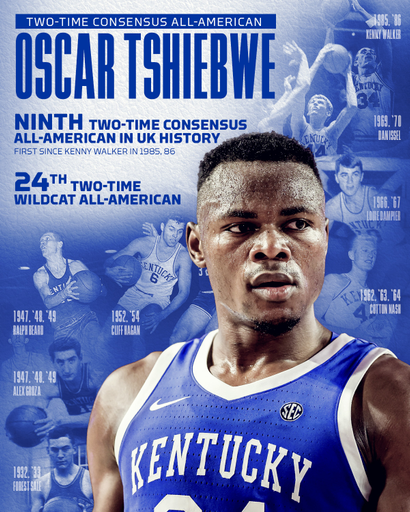 LEXINGTON, Ky. – Kentucky senior forward Oscar Tshiebwe continues to rewrite Kentucky's history books. The Lubumbashi, Democratic Republic of the Congo native became just the ninth consensus two-time All-American in program history with his inclusion on the second team of the All-America squad as selected by the United States Basketball Writer's Association on Wednesday. He is the first to capture the honor since Kenny Walker in 1985 and 1986.
Tshiebwe joins Forest Sale (1932, 33), Ralph Beard (1947, 48, 49), Alex Groza (1947, 48, 49), Cliff Hagan (1952, 54), Cotton Nash (1962, 63, 64), Louie Dampier (1966, 67), Dani Issel (1969, 70) and Walker (1985, 86) as the only Wildcats to earn the distinguished honor in at least two seasons.
The USBWA is one of the four "major" NCAA-recognized All-America teams that the NCAA uses for its consensus All-America teams. Tshiebwe claimed third-team accolades by The Sporting News last week and second-team honors by the Associated Press and by the National Association of Basketball Coaches. With all four major outlets recognizing Tshiebwe again in 2022-23, he is considered a consensus second-team All-America selection.
Tshiebwe leads the Wildcats in scoring (16.5) and rebounds (13.1) for the second-consecutive season. He is the only player in the country averaging at least 15.0 points, 10.0 rebound, 1.5 steals and 1.0 blocks per game in another banner season for the Wildcats.
Among notable achievements by Kentucky's only unanimous National Player of the Year include:
In just 64 games for Kentucky, Tshiebwe is eighth in program history with 909 rebounds. He is the fastest to that mark in UK allure
Had he played the entirety of his career at Kentucky, his 1,274 career rebounds would be the most all-time. Issel owns the UK record with 1,078
Only one player (Bill Spivey – 1,213) has scored more points in just two seasons than Tshiebwe (1,084). Tshiebwe ranks 49th overall in scoring history in program history
He is third all-time with 47 double-doubles. Only Issel (64) and Nash (48) have more
Tshiebwe had 37 points and 24 rebounds against Georgia this season. That was the first 35-point, 20-rebound game for a UK player since 1976 and just the fifth such game in program history
In 2022 he became one of just three players to amass at least 500 rebounds in a season. As a senior, his 394 rebounds are the most of any fourth-year player in school history bettering Issel's mark of 369
At Florida this season, Tshiebwe connected on 12 of 13 (92.3%) of his shots from the floor. That's the best field-goal clip with the most attempts in program history
He has amassed seven games of at least 20 rebounds as a Wildcat. All UK players combined since the 1970-71 season have totaled seven such games
In two seasons with UK, Tshiebwe has gobbled up 34.8% of Kentucky's rebounds. He's snared 39.2% of UK's offensive boards in that time
With Tshiebwe leading the way, the Wildcats were tops in the country in rebound margin (+9.7) in 2022 and are third (+8.8) in 2023. UK ranked fourth in the country in offensive rebounding percentage (37.7%) a year ago and is second this season at 38.7%
Tshiebwe is racking up postseason honors by the day. The major honors he's won or is a finalist for so far include:
USBWA Second-Team All-America
NABC Second-Team All-America
Associated Press Second-Team All-America
Sporting News Third-Team All-America
All-SEC First Team (coaches and media)
John R. Wooden Award finalist
Kareem Abdul-Jabbar Award finalist
Oscar Robertson Trophy late season watch list