Kentucky senior first baseman Hunter Gilliam was named the co-Southeastern Conference Player of the Week and one of Collegiate Baseball Newspaper's co-National Players of the Week for leading the league in hits and runs batted in last week.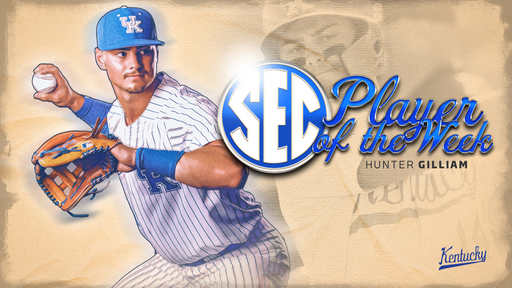 Gilliam, a Farmville, Virginia native, was unconscious at the plate during the Wildcats' 5-0 week that culminated in a three-game sweep of Southern Illinois on the road. He batted .619 (13-of-21) with four runs, five doubles, a triple, 11 RBI and 20 total bases. For the season he has started all 16 games and is batting .410 with nine extra-base hits and 22 RBI, tying Devin Burkes for the team lead.
Gilliam had multiple hits in all five games last week and multiple RBI in four of five while capping the week with five RBI and a pair of doubles on Sunday.
A look at Gilliam's performance over the full week:
Five games, 13-for-21 (.619) with four runs, five doubles, a triple, 11 RBI, two walks and an HBP . He had 20 total bases, .952 slugging percentage and 1.592 OPS.
First baseman Hunter Gilliam has started 129 consecutive games at the collegiate level.

He has reached safely in all 16 games this season and owns a 10-game hit streak.
He has a team-high eight multi-RBI games and seven multi-hit games.
He had 13 hits for the week.
On Sunday, he was 3-for-5 with a career-high five RBI, two doubles and a run scored.
Previously, sophomore catcher Devin Burkes was named Collegiate Baseball's co-National Player of the Week as well.