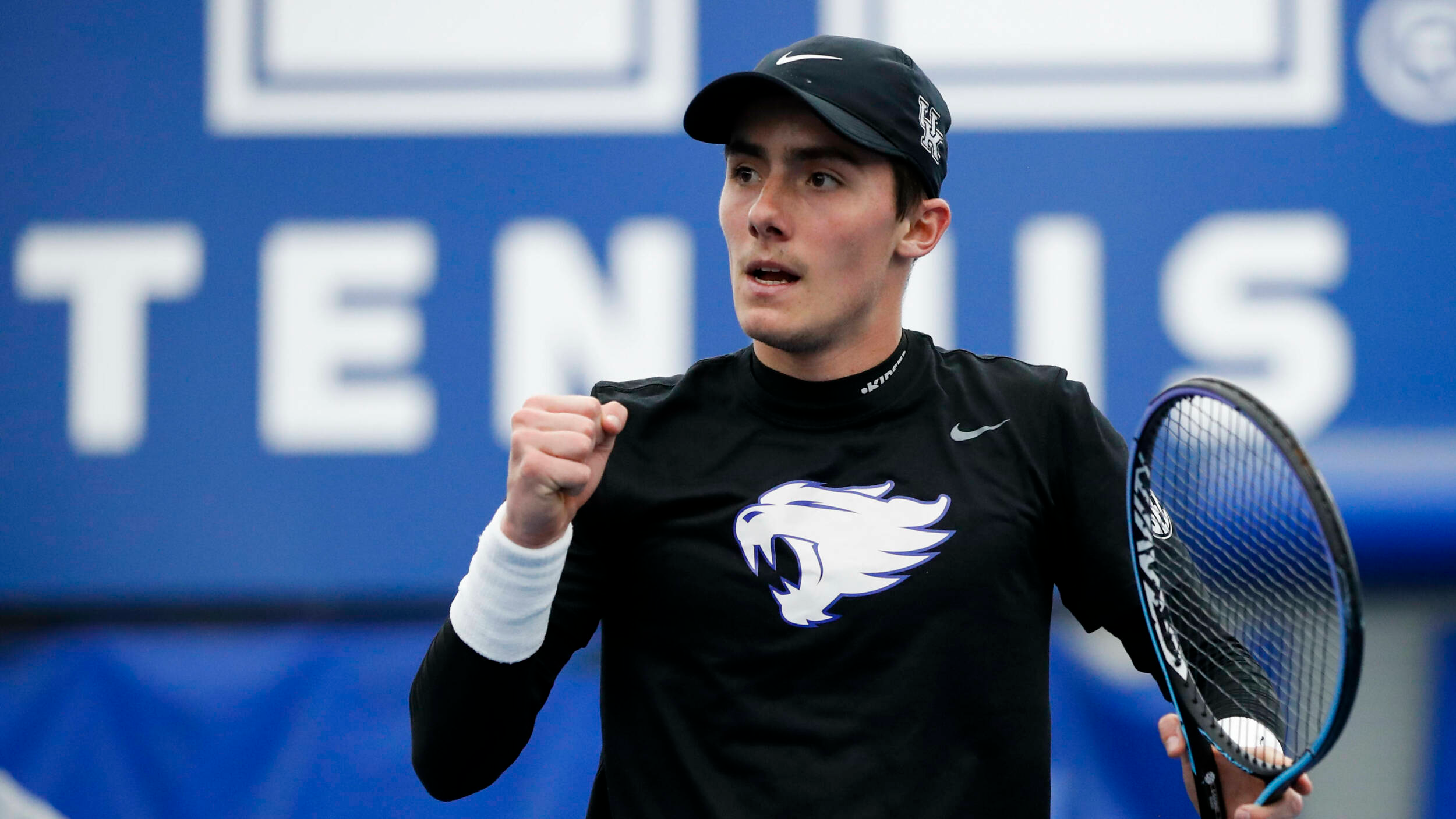 March 11, 2023 - 04:56 PM
Men's Tennis Wins Third Straight, Blanks Arkansas, 7-0
LEXINGTON, Ky. – The sixth-ranked Kentucky Wildcats (15-2, 3-1 SEC) completed a weekend sweep, downing the visiting Arkansas Razorbacks (12-4, 0-3 SEC) by a score of 7-0 at the Boone Tennis Center on Saturday afternoon.
The win was the first shutout of SEC play for the Wildcats, who have now won three consecutive league matches after falling in their conference-opener.
Playing indoors due to the cold temperatures, UK took the doubles point for the third time in as many matches, powered by Alafia Ayeni and Taha Baadi's second-straight win over a nationally ranked opponent. The duo defeated No. 75 Adrien Burdet and Melvin Manuel, 6-2, and now is 3-1 in ranked matchups this spring. Third doubles Liam Draxl and Jaden Weekes put the finishing touches on doubles' action with a 6-3 victory against the Razorbacks' Jake Sweeney and Foster Rogers, the pair's third-straight win together. Kentucky improves 12-5 in doubles this season as a team.
Playing at first singles, Draxl buried Arkansas' Stefanos Savva, 6-2, 6-2, boosting the senior's singles record to 12-3 on the dual season. On court three, junior Joshua Lapadat remained consistent, winning his eighth singles match in a row, 6-2, 6-1 versus Adrien Burdet. Lapadat's eight-match active winning streak is the longest on the team, while his 13 total singles victories this spring are also a team best.
With Kentucky in front, 3-0, Baadi served as the clinching match at fourth singles, dismissing Benedikt Emesz in straight-sets, 6-3, 6-4, ensuring victory for the Big Blue. Second singles Ayeni followed, claiming a decisive 10-point tiebreaker after splitting sets against the Hogs' Melvin Manuel.
Freshmen Weekes and Charlelie Cosnet padded the score for the Cats with straight-set wins as Weekes topped Alan Sau Franco, while Cosnet upended Gerard Planelles Ripoll.
Kentucky gets on the road this coming week, when the team will pay visit to No. 15 Auburn on Thursday, before facing Alabama next Saturday. Match times are set for 4 p.m. and 2 p.m. EST.
Doubles:
Ayeni/Baadi (UK) def. No. 75 Burdet/Manuel (ARK): 6-2
No. 56 Lapadat/Mercer (UK) vs. Savva/Sau Franco (ARK) 3-4 (unfinished)
Draxl/Weekes (UK) def. Sweeney/Rogers (ARK): 6-3
Order of finish: 1, 3
Singles:
No. 23 Liam Draxl (UK) def. Stefanos Savva (ARK): 6-2, 6-2
No. 28 Alafia Ayeni (UK) def. Melvin Manuel (ARK): 7-5, 5-7, (10-7)
No. 47 Joshua Lapadat (UK) def. Adrien Burdet (ARK): 6-2, 6-1
No. 102 Taha Baadi (UK) def. Benedikt Emesz (ARK): 6-3, 6-4
Jaden Weekes (UK) def. Alan Sau Franco (ARK): 6-3, 6-3
No. 112 Charlelie Cosnet (UK) def. Gerard Planelles Ripoll (ARK): 6-3, 6-4
Order of finish: 1, 3, 4, 2, 5, 6
For the latest on UK Men's Tennis, follow the Wildcats on Twitter and Instagram at @UKMensTennis.