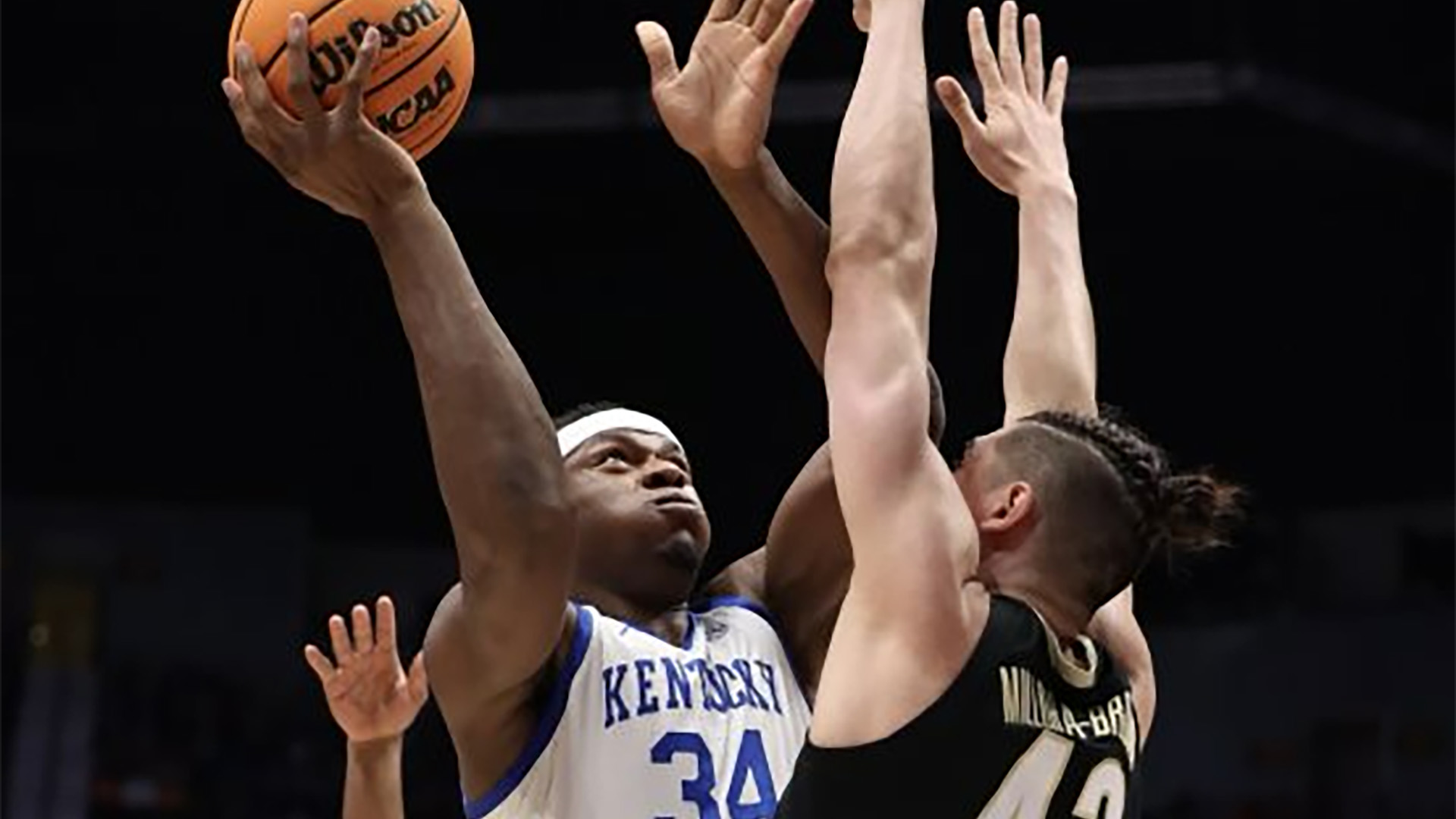 March 11, 2023 - 01:12 AM
Kentucky-Vanderbilt Postgame Notes
KENTUCKY MEN'S BASKETBALL POSTGAME NOTES
BRIDGESTONE ARENA | NASHVILLE, TENN.
MARCH 10, 2023
ATTENDANCE: 17,989
Final Score: RV/RV Vanderbilt 80, No. 23/24 Kentucky 73
Team Records and Series Notes
Kentucky is 21-11 overall.
Vanderbilt is 20-13 overall and has won 10 of its last 11 games.
Kentucky leads the overall series, 155-49.   VU leads 6-5 in SEC Tournament games.
The teams split during the regular season — Kentucky winning 69-53 at Vanderbilt on January 24 and VU winning 68-66 in Rupp Arena on March 1.
Next for the Wildcats: Kentucky returns to Lexington to await Sunday's NCAA Selection Show.
Kentucky in the SEC Tournament
Kentucky is now 135-29 all-time in the SEC Tournament.
UK is 46-12 in the quarterfinal round of the tourney but tonight ended a seven-game win streak in the quarters.
Team Notes
UK won the rebounding 43-26, leading to a 20-4 advantage in second-chance points.

UK is 21-6 this season when winning the rebounding.

Kentucky led by as many as 10 points. UK is 328-14 (95.9%) under John Calipari when leading by at least 10 points at some time during the game.
UK had two 20-point scorers for the seventh time this season. UK is 5-2 in those games.
UK had two players with double-doubles. It is the fifth time this season, UK is 4-1 in those games.
Player Notes
Antonio Reeves had 22 points, his ninth 20-point game of the season.
Jacob Toppin had 21 points and 11 rebounds, his eighth double-double of the season. This was UK's first loss of the season when he had a double-double.

He has scored double figures in 14 of the last 15 games.

Oscar Tshiebwe collected 19 points and 15 rebounds.

This is his 19th double-double of the season and 47th in 64 games at Kentucky.

Cason Wallace returned from injury and played 37 minutes, totaling seven points, four rebounds and five assists.
Coach John Calipari
Calipari has an 831-252 all-time on-court record and is 386-112 in 14 seasons at UK.
UK is 317-64 (83.2%) against unranked competition under Calipari.
Calipari is 168-57 (74.7%) as a collegiate head coach in games played in March and April.
Calipari is 25-6 vs. Vanderbilt, all coming at Kentucky.
In the First Half
Kentucky starters were Cason Wallace, Antonio Reeves, Chris Livingston, Jacob Toppin and Oscar Tshiebwe for the sixth time. This lineup has a 4-2 record.
CJ Fredrick was the first substitute at the 16:17 mark.
Trailing 4-2, Kentucky went on a 12-0 run – finished with a pair of 3-pointers by Reeves – for a 14-4 lead and coax a Vanderbilt timeout at 13:42 on the clock.
Trailing 34-27 with 3:00 to go, Vanderbilt ended the half on a 12-0 run to take a 39-34 lead into halftime.
Reeves led UK in the first half with 11 points. Toppin had nine points and 10 rebounds.
UK is now 3-11 this season when trailing at halftime.
In the Second Half
Kentucky began the second half with the starting lineup.
VU got the first basket of the half to complete the run at 14-0 and go ahead 41-34.
VU eventually stretched the lead to 52-40.
UK came back with a 6-0 run to cut the lead to 52-46.
Trailing 63-52 with nine minutes left, an 8-0 run narrowed the gap to 63-60, but with 6:30 to go, VU hit a desperation 3-pointer at the expiration of the shot clock.
UK got back within four points on four occasions but got no closer.