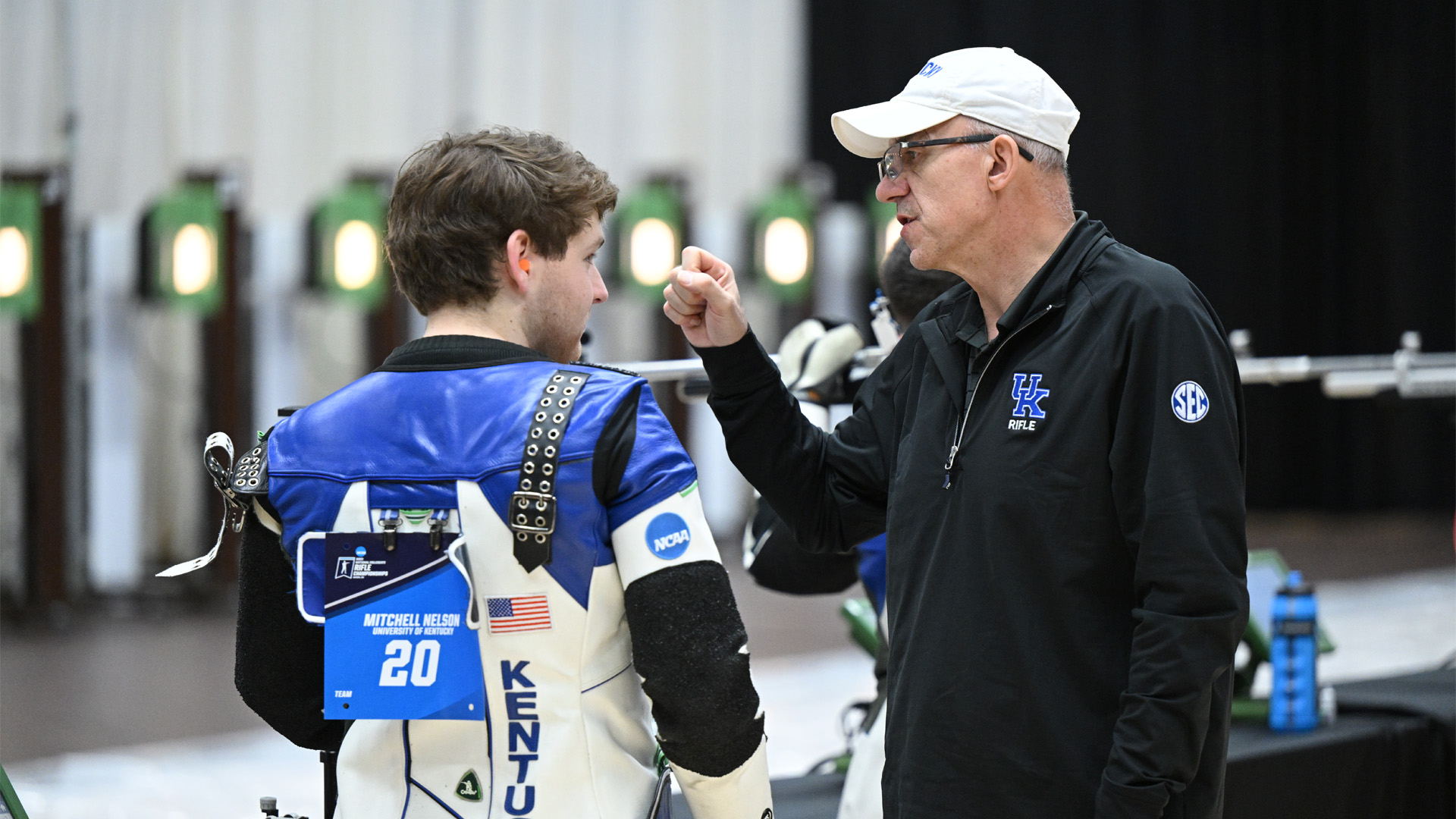 LEXINGTON, Ky. – Behind the fourth-best air rifle team score of the day, the University of Kentucky rifle team finished third overall at the 2023 NCAA Championships inside James A. Rhodes Arena in Akron, Ohio.
Kentucky, which entered the championships seeded fifth and were regular-season Great American Rifle Conference Champions, has won the national title four times – 2011, 2018, 2021 and 2022 – with six runner-up finishes.
"Proud of the team to really fight hard today and put up a big score to get on the podium," head coach Harry Mullins said. "This was arguably the most competitive season in NCAA rifle history with some big team scores across the board and to finish top three is a huge accomplishment. I am proud of how the team progressed this season. I want to say thank you to Will, Richard and Mitchell for competing in their final matches today. They have done so much for this program and we will miss them so much."
Super senior Richard Clark led Kentucky in air rifle Saturday, shooting a 596, which just narrowly missed making the air rifle individual final. Fellow super senior Mitchell Nelson posted a 595, ending with a perfect 100 in his final 10 shots to secure the impressive score. Super senior Will Shaner posted a perfect 100 in his final 10 shots as well to posted a 593 score, while sophomore Allison Buesseler finished off the UK lineup with a 589. Freshman Martin Voss earned a 583 score.
Alaska Fairbanks won the team national championship with a 4729 aggregate, while TCU finished second with a 4717. Kentucky and Ole Miss actually tied for third place at 4713, but UK broke the tie to get on podium based on having more centershots. West Virginia finished fifth, followed by Nebraska at sixth, Air Force at seventh and Murray State eighth.
For more information on the Kentucky rifle team, visit UKathletics.com or follow UKRifle on Twitter, Instagram and Facebook.