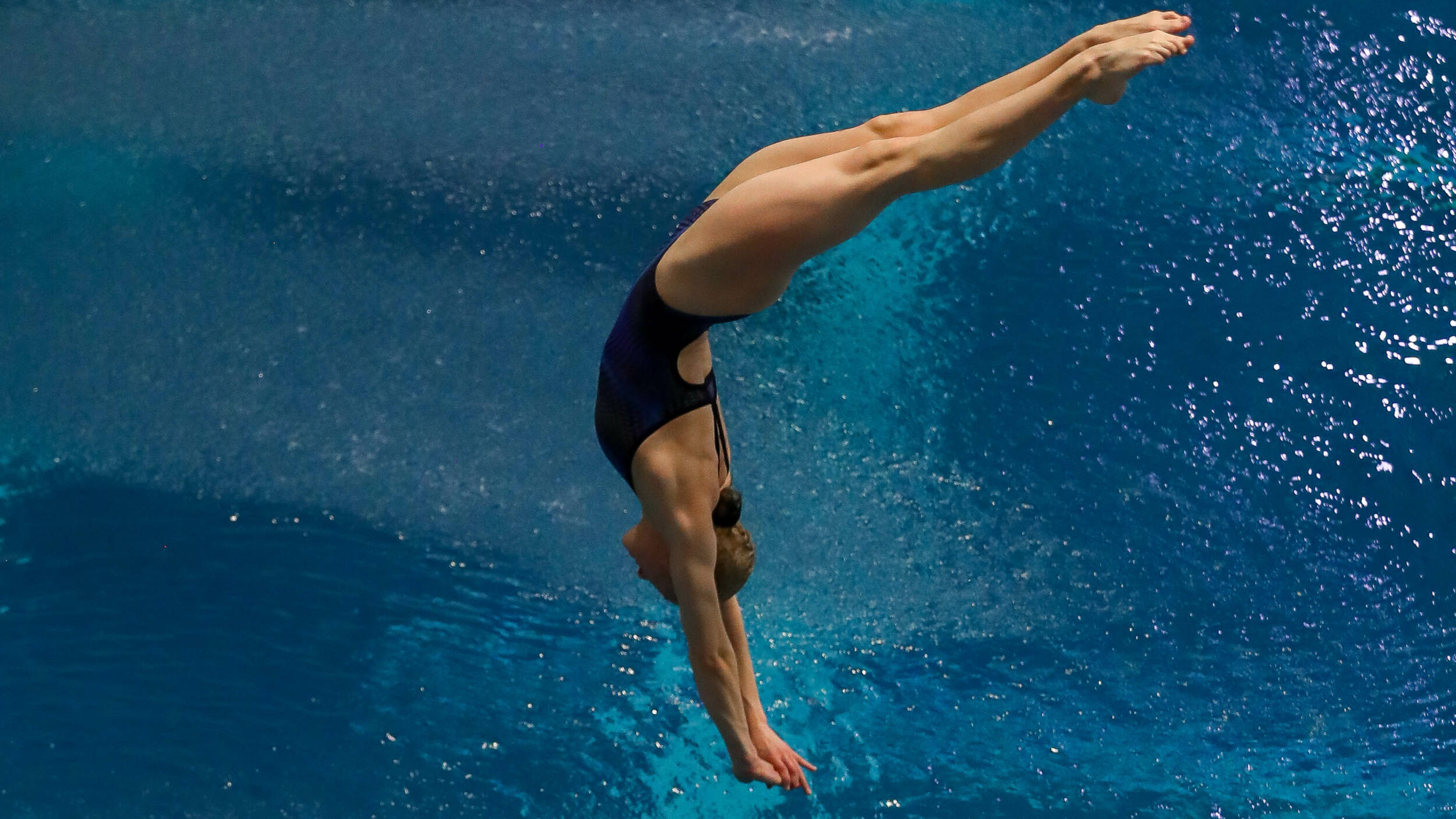 March 11, 2023 - 08:40 PM
Kentucky Diving Adds Three NCAA Bids at Zone C Championships
BLOOMINGTON, Ind – Kyndal Knight, Sam Duncan and Abby Devereaux secured their spots at 2023 NCAA Championships courtesy of the trio's performance at this weekend's Zone C Diving Championships at the Counsilman-Billingsley Aquatic Center on the campus of the Indiana University.
Knight led the way for the Wildcats, punching her ticket in all three diving events for the fifth time in her collegiate career. Duncan, meanwhile, advanced to the national meet on both the one-meter and three-meter springboard, while Devereaux qualified in platform.
All six divers on the Kentucky roster competed in Bloomington, having achieved zone standard scores in at least one discipline during the 2022-23 season. A total of 105 divers from 22 schools received entries to the meet, which featured both preliminary and final rounds.
Competition began on Thursday with the men's 1-meter and women's 3-meter. Sam Duncan ensured his NCAA return for the third-straight season, placing sixth in the 1-meter with a score of 669.75. Knight, Devereaux, Claire McDaniels and Morgan Southall were all in action for the women, with Knight advancing to the final, and ultimately placing fourth, at 670.50.
The men and the women switched boards on Friday, as Duncan and Knight continued their successful runs for the Cats. Duncan punched his ticket in the men's 3-meter for the first time in his collegiate career with a total of 692.15, while Knight took fourth place once more, tallying 595.15 on the 1-meter.
Divers took to the tower on Saturday, where three of UK's four entries made it through to finals. Knight, the SEC silver medalist on platform, paced Kentucky once again, diving to seventh place with a score of 563.85. Right behind her was Devereaux, who placed ninth at 538.60 to earn her first career NCAA bid. McDaniels was also a finals' participant, finishing in 15th with a total score of 475.60.
Knight and Devereaux will join 13 UK swimmers at the 2023 NCAA Women's Swimming & Diving Championships, March 15-18 in Knoxville, Tenn. Duncan becomes the sixth individual qualifier for Kentucky on the men's side, and will join his teammates in Minneapolis, March 22-25.
For the latest on UK Swim & Dive, follow the Wildcats on Twitter and Instagram at @UKSwimDive, and on Facebook at Kentucky Swimming and Diving.